US arming Kiev would 'explode' situation in E. Ukraine – Russian Foreign Ministry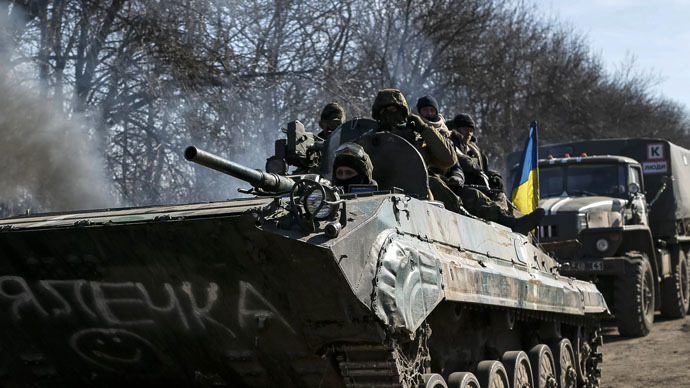 If the US were to supply Ukraine with ammunition and weapons, it would "explode the whole situation" in eastern Ukraine and Russia would be forced to respond "appropriately," Russia's Deputy Foreign Minister Sergey Ryabkov said.
"It would be a major blow to the Minsk agreements and would explode the whole situation," TASS quoted Ryabkov as saying.
Moscow would not be able to remain indifferent "to such provocative actions," he added. "We'll have to respond appropriately."
"Is that necessary for those who are allegedly calling for the normalization of the situation in Ukraine? I have serious doubts. People may be irresponsible in their actions, but there must be an end to this madness [of] indulging Kiev's warmongering," explained Ryabkov.
The deputy foreign minister's statement follows a renewed call by Ukrainian President Petro Poroshenko for the US to arm Kiev forces. Poroshenko made the most recent comments during a conversation with US Vice President Joe Biden.
It is high time to look back - @MFA_Russia's tweets on #Ukraine from 2013 till May 2014 https://t.co/nHs9FKFQpV

— MFA Russia (@mfa_russia) February 23, 2015
The head of the self-proclaimed Donetsk People's Republic, Aleksandr Zakharchenko, told reporters on Monday that the US is already supplying Kiev with ammunition and weapons on a "large-scale basis," noting that pro-government forces are not looking for peace.
Ryabkov added that there is a possible meeting in the works between Russian Foreign Minister Sergey Lavrov and US Secretary of State John Kerry, stating that it could take place next week in Geneva.
"Rather high chances are present that the Russian foreign minister and the US secretary of state will be in Geneva the next week due to the schedules of each of them. Probably, it...implies that they will meet in a bilateral format," he said.
Earlier, Russian Security Council Secretary Nikolay Patrushev stated that if Moscow were to respond to the supply of US arms to Kiev, it would only do so through "diplomatic means."
READ MORE: Putin: France, Germany genuinely want to find compromise over E. Ukraine
Meanwhile, Russian President Vladimir Putin stated in his latest interview that the leaders of France and Germany genuinely want to find a compromise that would help end the conflict in eastern Ukraine.
Speaking to Rossiya 1 TV channel on the conflict and the breakthrough of the Minsk agreement, Putin said that "it seemed to me [the leaders of France and Germany], have a genuine desire to find such compromise solutions that would lead to the final settlement [of the conflict]…"
"I had the impression that our partners have more trust in us than distrust, and in any case believe in our sincerity," Putin noted on Monday.
On Sunday, Kiev's military and self-defense forces in eastern Ukraine announced they would withdraw heavy weapons from the frontline following Saturday's exchange of 191 prisoners. The process is set to be completed by March 7 under the terms of the truce.
OSCE monitors are now waiting for the documented evidence of the pullout, such as inventory lists, routes, and locations of the weapons.
READ MORE: The Minsk ceasefire deal, point by point
The deputy commander of the Donetsk Defense Ministry, Eduard Basurin, said that the self-defense forces in Donetsk and Lugansk will begin the withdrawal of heavy weapons from the frontline in eastern Ukraine on February 24. He also confirmed that more than 30 pieces of heavy artillery have already been pulled out as of Monday.
On February 12, the leaders of Russia, Ukraine, France and Germany approved the long awaited peace deal in Minsk. The agreement introduced measures such as a ceasefire – which commenced February 15 – a pullout of heavy weapons, and constitutional reform in Ukraine by the end of the year.
READ MORE:Ukrainian President ratifies joint 4,500-strong military unit with Poland and Lithuania
Meanwhile, Ukrainian President Petro Poroshenko has signed a law ratifying the creation of a joint military unit with Poland and Lithuania. The unit is set to carry out tasks which have been given a UN Security Council mandate.
Earlier, Moscow criticized Kiev's plan to invite an EU police force under the bloc's aegis for a peacekeeping mission in war-torn eastern Ukraine, saying the move would undermine the Minsk ceasefire agreement.
You can share this story on social media: