Putin: France, Germany genuinely want to find compromise over E. Ukraine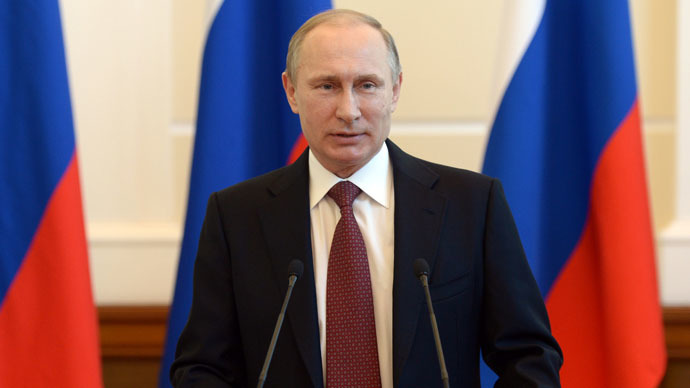 The leaders of France and Germany genuinely want to find a compromise that would help end the conflict in eastern Ukraine, Russian President Vladimir Putin said in his latest interview.
Speaking to Rossiya 1 TV channel on the conflict and the breakthrough of the Minsk agreement, Putin said that "it seemed to me [the leaders of France and Germany], have a genuine desire to find such compromise solutions that would lead to the final settlement [of the conflict]..."
He cited the Minsk protocol which includes the decentralization of power in Ukraine and a "reference explaining what it implies." The authors of the reference are "our German and French partners," he said, adding that this speaks of their sincerity in finding a compromise.
"I had the impression that our partners have more trust in us than distrust, and in any case believe in our sincerity," Putin said on Monday.
Putin once again underlined the importance of implementing the Minsk agreement reached on February 12 by the Normandy Four – Ukraine, Russia, France, and Germany. "If the Minsk agreement will be implemented, I'm sure the situation will gradually normalize," he said.
READ MORE: Arms pullback begins in E. Ukraine as OSCE releases footage of devastated Debaltsevo
While answering a question about the possibility of Russia waging war with Ukraine, Putin said that "such an apocalyptic scenario is hardly possible, and I hope this will never happen."
Putin also dismissed as "complete nonsense" claims made by Poroshenko and the head of the Ukraine's Security Service (SBU), Valentin Nalyvaychenko, that Russia's presidential aide Vladislav Surkov was involved in tragic events during last year's protests in Kiev.
Speaking on Crimea, the president urged the international community to respect the region's choice to rejoin Russia.
"With regard to nationality, the residents of Crimea have made their choice [when they voted to join Russia] and it should be respected. Russia cannot treat it otherwise," he said.
Commenting on Poroshenko's statement that Kiev intends to regain Crimea, Putin said that such actions have a "revenge nature." He stressed that as a large European country, Ukraine should focus on "strengthening the economy and social sector, and mend relations with the southeastern part of the country."
You can share this story on social media: