ISIS killers were 'high-fiving' after execution – US volunteer with Kurdish troops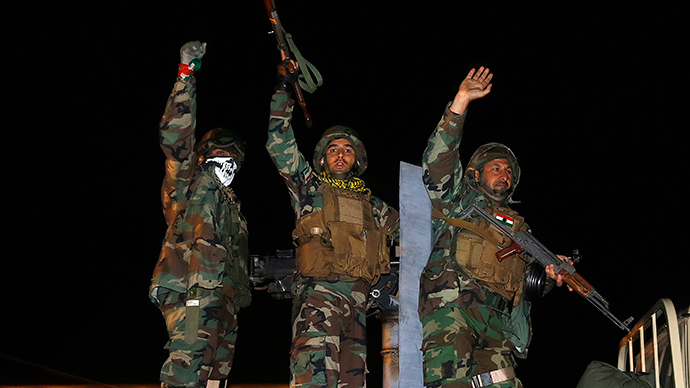 A Florida native told RT that he followed 'God's call' when he joined Kurdish fighters in the north of Syria to battle the Islamic State (formerly ISIS). He is one of dozens of westerners who have come to the region to fight against the terror group.
Dean Parker, 49, was a surfing instructor in Costa Rica with no prior combat experience when he saw the harrowing images of Yazidi refugees fleeing to Mount Sinjar before the IS onslaught last fall. "Overwhelmed with emotions" upon seeing a refugee child "with a look of sheer terror in his eyes," he decided to enlist with the Kurdish militia fighting the IS in northern Syria.
Parker ended up joining the Lions of Rojava, a unit of foreign volunteers attached to the Kurdish People's Protection Unit (YPG). Famously independent, the YPG began recruiting on social media in October 2014, when the Lions of Rojava Facebook page was created.
READ MORE: Int'l anti-ISIS brigade: Westerners flock to fight for Kurds
"Send terrorists to hell and save humanity" proclaims the page, asking for donations to a Germany-based Kurdish charity and volunteers for the fight against IS. The Lions of Rojava have been attracting a steady stream of Western volunteers.
The Kurds are "fighting hard and fighting strong," but "they are fighting this war against Da'ash in Syria all alone," Parker told RT, using the Arabic name for the Islamic State. Parker explained he came back to campaign for aid to the Kurds in weapons and supplies.
Even though the Kurdish fighters lack heavy weapons, boots and even elementary medical supplies, they have successfully defended the city of Kobani from IS attack and are holding the line. "They are doing all this great fighting… with so little," Parker said. "They need help across the board."
Parker recalled a particularly harrowing experience of observing the Islamic State fighters abusing and killing a prisoner. He described "fair-skinned" IS fighters parading a captive before the Kurdish positions, beating him bloody, and then executing him. "After a few minutes of throwing him around like a ragdoll, one of them grabbed the guy by the back of his shirt, pulled him away from the group, and cut his throat." After that, "they were all high-fiving each other and waving at us."
Parker invested everything he had to go to Syria, and come back – but rather than returning to his home in Colorado, he decided to travel to Washington and seek help for his new-found Kurdish friends. "I owe them that," he said.
"Dozens" of foreign fighters from Europe and America have joined the Kurdish militia in the fight against the IS. Meanwhile, the State Department has estimated that some 20,000 foreigners have flocked to the ranks of the terror group, including at least 3,000 Westerners.
READ MORE: 20,000 foreigners have joined ISIS in Iraq, Syria – reports
However, Sean McFate, professor of Foreign Service at Georgetown University and author of "The Modern Mercenary: private armies and what they mean to world order," told RT that it isn't just people like Parker who are staving off the terrorists, it's also America's heavy reliance on private contractors or "hired guns."
Describing military contractors as "cheaper and more efficient" than actual US military forces, McFate pointed out they provide the government with plausible deniability, don't count as "boots on the ground," and can be used on risky missions in order to avoid the politically problematic issue of US soldiers coming home in body bags. "The American public doesn't seem to care that much about dead contractors," he added.
You can share this story on social media: