Putin-Merkel-Hollande meeting follow up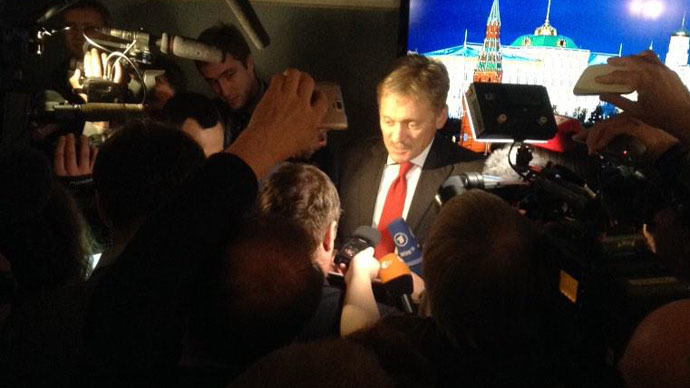 The much anticipated Moscow talks, shrouded in secrecy, have raised hopes of a possible breakthrough in resolving the bloody civil conflict that is tearing Ukraine apart.
The lengthy negotiations on Friday between the leaders of Russia, Germany and France on working out a solution to the protracted crisis in Ukraine have been called "constructive" by all the parties, and a possible document is in the works to implement the Minsk agreements. They are seen as a real way out if both warring parties in Ukraine – Kiev and the eastern Donetsk and Lugansk regions – stick to it.
08 February 2015

11:17 GMT

The leaders of Russia, Ukraine, France and Germany held a joint telephone call this morning, the German government says. The call follows Chancellor Angela Merkel and President Francois Hollande's visit to Moscow, where they attempted to hammer out a peace plan with Vladimir Putin.

Work to resolve the crisis will continue on Monday, a government spokesperson said as reported by Reuters. Wednesday may see a meeting in the Belarus capital of Minsk between the countries in the 'Normandy Four' format.

03:39 GMT

The Franco-German strategy to resolve the conflict in southeastern Ukraine is based on the Minsk agreements, but it also proposes new details on how to implement the peace treaty, including the timing of certain steps, Reuters quoted a senior State Department official as saying. The official spoke after he met with leaders from Germany and Ukraine.

"What is different is there is a bit more detail around how it will be implemented and more of a roadmap on timing, but it is broadly consistent with Minsk," the official said.

He denied there is any disagreement between US and Europe over supplying Kiev with more weapons.

07 February 2015

19:22 GMT

German Foreign Minister Frank-Walter Steinmeier met with his Russian counterpart Sergey Lavrov on Saturday in Munich. The ministers discussed Friday's meeting between Russian, German and French leaders in Moscow, which was held with the intention of finding a peaceful resolution to the conflict in Ukraine.

Sergey Lavrov with #German FM Frank-Walter Steinmeier/Встреча С.Лаврова с главой МИД Германии #MSC2015@RusBotschaftpic.twitter.com/9pjgNMotvZ

— MFA Russia (@mfa_russia) February 7, 2015

14:03 GMT

Speaking at the Munich Security Conference on Saturday, the German chancellor spoke bluntly against any plans to supply Ukraine with lethal weapons, something that Washington is reportedly pondering.

"I cannot imagine any situation in which improved equipment for the Ukrainian army leads to President Putin being so impressed that he believes he will lose militarily," Angela Merkel said, stressing that she would like to secure peace in Europe with Russia, not against it.

Progress in solving Ukrainian crisis impossible to achieve through arms supplies - Merkel http://t.co/ULTe0it5p0pic.twitter.com/6bgYJnGoRx

— RT (@RT_com) February 7, 2015

13:45 GMT

Hollande described the peace talks he and Merkel held with the presidents of Russia and Ukraine this week as "one of the last chances" for peace.

"If we don't find not just a compromise but a lasting peace agreement, we know perfectly well what the scenario will be. It has a name, it's called war," Hollande told journalists in the city of Tulle in central France, according to Reuters.

URGENT: If lasting #Ukraine peace not found 'scenario is war' - Hollande http://t.co/wof7mBM4A1pic.twitter.com/MDhE6Tkq2f

— RT (@RT_com) February 7, 2015

12:40 GMT

Lavrov: Russia set to promote peace process in Ukraine

12:27 GMT

"Ukraine is what the European Union ought to be — a participatory democracy," said the founder of the Open Society Foundations.

"There is a new Ukraine. This is a civil society that became very much engaged in politics, it enjoys a practically unique participatory democracy, and the volunteer spirit born on Maidan," Soros said, pointing out that Ukrainians are now "engaging in nation-building."

11:11 GMT

The text of the joint document currently being worked on by French and German experts and their Russian counterparts will be ready by Sunday's four-way phone negotiations, Interfax reported. The news agency's European source said neither Kiev authorities, nor representatives of the self-proclaimed Donetsk and Lugansk people's republics, are participating in the process.

"You've got to understand that this is a different format, not the one from the Minsk agreement," the source told Interfax.

10:06 GMT

Europe intends to maintain security together with Russia, not against it, said the German chancellor at the Munich Security Conference. It remains unclear whether the talks in Moscow will bring positive results, but they have been meaningful, Angela Merkel assured.

"Ukrainian crisis cannot be resolved militarily," Merkel said.

Germany is dedicated to the concept of 'big Europe' from Lisbon to Vladivostok, said the German chancellor, stressing that "security and cooperation in Europe are possible through dialogue."