​Europe reticent about supplying Ukraine with weapons & money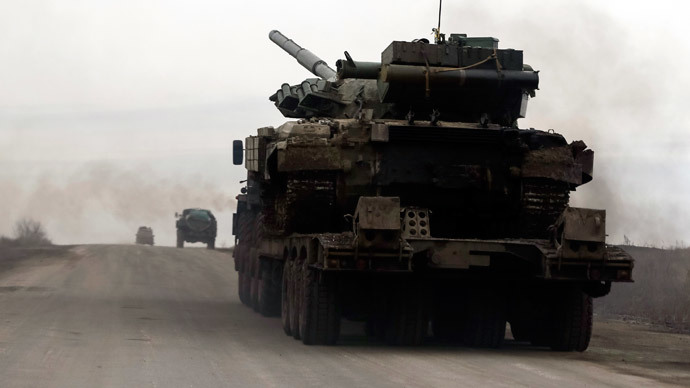 A single day of warfare in eastern Ukraine drains the nation's ailing economy of millions of euros, the Ukrainian president told German media. Poroshenko is asking for money and arms, but so far no European state has agreed to supply weapons to Kiev.
The military crackdown in the eastern regions of Ukraine, which has already claimed the lives of at least 5,300 people, is ruining Ukraine's economy.
"A day of war costs €5-7 million, infrastructure has been destroyed, and industrial downturn has reached 20 percent," President Petro Poroshenko acknowledged in an exclusive interview with Germany's Die Welt media outlet.
Poroshenko accused the Donetsk militia of attacking civilians and claimed that the "increasing number of civilian casualties" in Ukraine's Volnovakha, Mariupol and Donetsk "should move the [NATO] alliance to provide Ukraine with more support," which includes delivering modern weapons, Poroshenko said.
READ MORE: Kerry in Kiev shifting blame from Poroshenko govt as US mulls arms for Ukraine
A number of the NATO member states have officially refused to provide Ukraine with military aid, and certainly not free of charge.
On Monday, Chancellor Angela Merkel said Germany would not supply weapons to Ukraine, a line echoed on Wednesday by the French defense minister.
European defense ministers attending the NATO meeting in Brussels opposed sending lethal weapons to Ukraine – among them Germany, the UK, Denmark and the Netherlands.
Finland and the Czech Republic have also spoken against the idea of giving Kiev any military help, saying it would only deepen the crisis in Ukraine.
READ MORE: Less than half of Britons, French, Germans support EU's involvement in Ukraine – poll
However, the Obama administration is considering providing Kiev authorities with some sort of military aid.
Ukraine's money pit
The deep crisis in Ukraine makes borrowing from abroad the only option to keep the economy going.
"We need financial help to overcome the difficulties and conduct reforms," Poroshenko said.
Last year, the IMF opened a $17.1 billion credit line for the Ukrainian government, of which $4.6 billion has been paid, while the rest is expected to be allocated in 2015.
READ MORE: IMF wary of providing Kiev with extra bailout funds
At the end of January, European Union finance ministers agreed to loan Ukraine €1.8 billon to stave off a default.
John Kerry, who is on a visit to Kiev, said the US has pledged to allocate $US 1 billion for reforms in Ukraine, and plans to invest another $US 1 billion to help the Ukrainian government.
In fact, Ukraine's economy is teetering on the verge of default.
The Ukrainian hryvnia has hit a historic low of 24.5 per 1 USD, losing 34 percent of its value. The head of the country's central bank signaled it can no longer support the national currency with regular interventions, which in turn will create even greater fluctuations.
READ MORE: Ukrainian hryvnia in free fall after Central Bank scraps currency support
You can share this story on social media: