Ron Paul: 'US provoking war with Russia, could result in total destruction'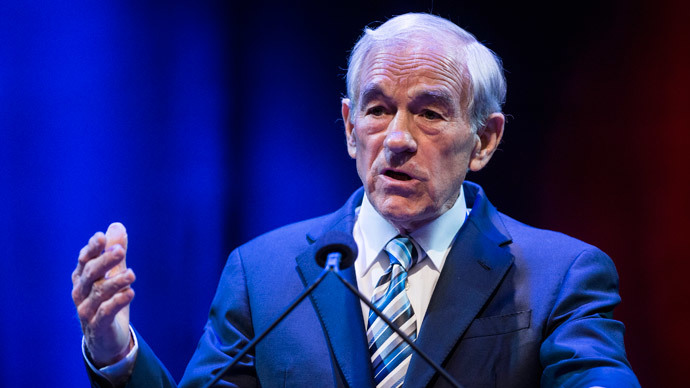 Former congressman Ron Paul has lashed out at the resolution the House passed against Russia, branding it "one of the worst pieces of legislation ever." It could even pave the way for a potential war with Russia, as it was with Iraq, he warns.
Resolution 758 strongly condemns the actions of Russia under Vladimir Putin, for what it describes as a policy of "aggression against neighboring countries," in a motion that describes Moscow's political and economic domination in the region.
However, Ron Paul says the bill was nothing but "16 pages of war propaganda that should have made even neocons blush."
Speaking to RT, Paul added that the resolution was "part of the war propaganda machine."
"It's this kind of stuff that stirs up trouble. I'd rather dissipate the problems and have our government tone the rhetoric down a little bit. This was terrible; this was just a very provocative resolution," he said.
Most worryingly for the once-presidential nominee of the Libertarian Party is the statement that "military intervention" by Russia in Ukraine "poses a threat to international peace and security."In his Facebook blog, Paul says it is not an accident that such wording was used as it will allow more aggressive resolutions to follow and this is merely sowing the seeds for this.
"If we accept that Russia is posing a 'threat' to international peace, how can such a thing be ignored? These are the slippery slopes that lead to war," Paul says.
READ MORE: House of Representatives passes resolution against Russia
Paragraph 45 of the resolution gives the green light to Ukrainian President Petro Poroshenko to restart Kiev's military campaign against anti-government militias in the southeast of the country, which would be contradicting the Minsk Agreement signed in Belarus on September 5 to end hostilities in Ukraine, Paul said.
He believes this will potentially lead to the deaths of thousands more civilians, while the bill also calls on President Barack Obama to "provide the government of Ukraine with lethal and non-lethal defense articles, services, and training required to effectively defend its territory and sovereignty." The 79-year-old politician questions the sanity of putting US weapons in the hands of US-trained troops, who would be "engaged in a hot war on Russia's border."
House of Representatives passes resolution against Russia - RT http://t.co/YDPwfVOQVi

— US House Rep (@USHouseRep) December 5, 2014
On September 18, Ukrainian President Petro Poroshenko made a speech to the US Congress, saying that Kiev needed lethal aid to help them overcome anti-government forces in the east.
"Blankets and night-vision goggles are important, but one cannot win the war with blankets. You cannot keep the peace with a blanket," the Ukrainian president told lawmakers, adding that Ukraine urgently needs "more military equipment, both lethal and non-lethal," which drew a round of applause from those assembled.
According to Paul, the US resolution is littered with hypocritical statements. It accuses Russia of violating Ukraine's sovereignty, despite not being able to provide any proof despite Washington having numerous high powered satellites that can read number plates from space. The House also overlooks the role the US played in overthrowing a democratically elected government in February, Paul points out.
READ MORE: Obama: Putin 'scares heck out of neighbors' with 'nationalist, backward-looking' policy
"We have all heard the tapes of State Department officials plotting with the US Ambassador in Ukraine to overthrow the government. We heard US Assistant Secretary of State Victoria Nuland bragging that the US spent $5 billion on regime change in Ukraine. Why is that OK?"
House passed terrible H.Res.758 today - Insane neocon propaganda for war on #Russia. How did your Rep. vote? http://t.co/yUzzBENxNS

— Ron Paul (@RonPaul) December 4, 2014
The United States has for decades championed the rights of self-determination for peoples around the globe, but Paul believes this is only when it suits Washington. He cites the example of the people in the east of Ukraine holding what the US stated where "illegal" and "fraudulent" elections. "Aren't the people of eastern Ukraine allowed self-determination? Isn't that a basic human right?" he said.
READ MORE: Russia won't get involved in geopolitical intrigues and conflicts - Putin
Paragraph 16 condemns Russia for selling weapons to the Assad government, however Paul points out that at least these arms were used to fight Islamic State, rather than the US who armed the Syrian rebels, but then saw the weapons supplied end up in the hands of Islamic State. Equally, paragraph 17 which hits out at Russia for the US believes are economic sanctions imposed on Ukraine, completely ignoring the fact that the US has "repeatedly hit Russia with economic sanctions and is even considering more."
VOTE ALERT: I voted for HRes 758, Strongly condemning the actions of the Russian Federation...passed 411-10 http://t.co/X67l8aJJCI

— Markwayne Mullin (@RepMullin) December 4, 2014
To put the final nail into the coffin, Paul was astounded that so few members of the House of Representatives voted against the resolution.
"This dangerous legislation passed today, December 4, with only 10 (!) votes against! Only 10 legislators are concerned over the use of blatant propaganda and falsehoods to push such reckless saber-rattling toward Russia," Paul said.
You can share this story on social media: