Obama declines to give Ukraine 'lethal aid' despite Poroshenko's plea
President Barack Obama has declined to supply Ukraine with "lethal aide" despite the passionate plea for more military equipment that Ukrainian President Petro Poroshenko made to Congress earlier on Thursday.
During a White House meeting between the two leaders that occurred after Poroshenko's address to Congress, President Obama said the United States would keep working to mobilize the international community in order for the conflict in Ukraine to be solved diplomatically, Reuters reports.
Following the meeting, Poroshenko said he was pleased with Washington's help, and expressed hope that the shaky ceasefire in Ukraine would eventually lead to stability and peace.
Earlier in the day, however, Poroshenko suggested that NATO give "special" security status to Ukraine. Addressing the US Congress, he called on Washington to provide Kiev with "more military equipment, lethal and non-lethal" to "keep peace" in the eastern part of his country.
While President Obama has continued to say that only non-lethal assistance will be supplied to Kiev – bullet-proof vests, helmets and the like – Poroshenko said this would not be enough.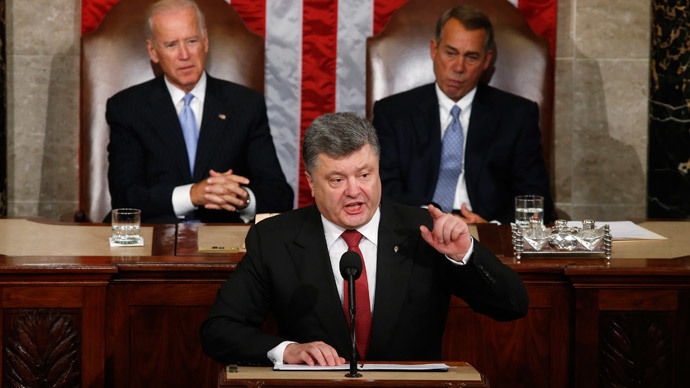 "Blankets and night-vision goggles are important, but one cannot win the war with blankets. You cannot keep the peace with a blanket," he told lawmakers, adding that Ukraine urgently needs "more military equipment, both lethal and non-lethal."
As his statement drew applause from the audience, the Ukrainian leader went on to call on NATO for closer ties.
"I strongly encourage the United States to give Ukraine a special security and defense status which reflect the highest level of interaction with a non-NATO ally," he said.
Russia has warned that NATO's progress towards the east and Ukraine, which the military bloc sees as a potential member, will trigger a strong reaction.
'We will react to NATO build-up!' Key Putin quotes from defense policy address
Poroshenko accused Russia of having an "imperial mindset" and "nostalgia for the Soviet Union," referring to Crimea's breakaway and Russia's alleged support of rebels in eastern Ukraine.
"I urge you not to let Ukraine stand alone in the face of this aggression," he said, also recalling events in Georgia's break-away regions of Abkhazia and South Ossetia in 2008 as well as the 1992 military conflict in Moldova, which resulted in Transnistria unilaterally proclaiming independence.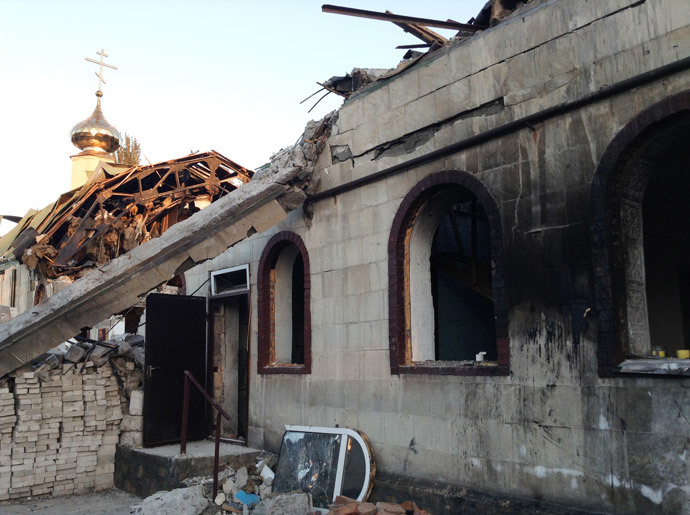 He then drew a sudden parallel with Israel:
"Just like Israel, Ukraine has the right to defend her territory, and will do so with all the courage in her heart and dedication in her soul."
Ukraine has been engulfed in violent internal conflict since April, when Kiev's military began its crackdown on the southeastern regions of the country.
According to United Nations' estimates, over 2,249 people have been killed so far and more than 6,033 wounded in the fighting in eastern Ukraine. The number of internally displaced Ukrainians has reached 260,000, with another 814,000 finding refuge in Russia.
READ MORE: Kiev, E. Ukraine militia agree on ceasefire
Aside from asking for military assistance, Poroshenko called on the US to continue its economic pressure on Russia.
"And I also ask that the US be forceful and stand by its principle with respect to further sanctions against the aggressor. Economic sanctions are important for many reasons. They help to distinguish between good and evil. They help us to defend and stand the moral high ground and not to sink into indifference, disgust and pragmatism," the Ukrainian president said.
Meanwhile, the United States has pledged $53 million in fresh aid to Ukraine. The new assistance would include $46 million to bolster Ukraine's security in its conflict in eastern Ukraine and $7 million in humanitarian aid.
You can share this story on social media: