​Protesters dump Ukrainian deputy in rubbish bin (PHOTO, VIDEO)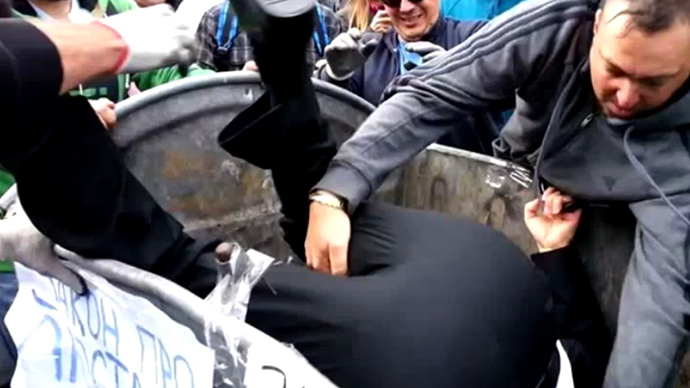 Crowds outside the Ukrainian parliament seized a deputy, as he left the building for a break, and put him in a trash bin. The move puzzled politicians, as the deputy was behind the lustration law which the protesters had gathered to support.
A crowd gathered outside the parliament, Verkhovna Rada, in Kiev on Tuesday to rally while MPs were voting on a new bill banning the closest allies of Ukraine's deposed President Yanukovich from politics.
Vitaly Zhuravsky, deputy for the Economic Development group, stepped outside the parliament building for a break, and was immediately seized by a large crowd of men. Zhuravsky was forced into a trash can full of rubbish, while the crowd cheered "Glory to Ukraine!"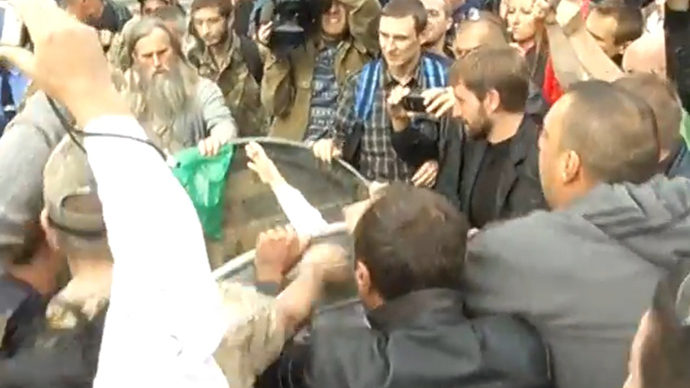 Several men held Zhuravsky by his head, preventing him from getting out of the bin. They threw a car tire at him and poured some liquid over him, saying he was "to blame for bloodshed."
The deputy was carried in the bin across the street, before police intervened.
Правильный депутатомобиль- #Журавский и мусорный бак... http://t.co/xt5k6qJDZz #рада #украина#ато #приколы #киевpic.twitter.com/pnrmdobapD

— Я Украинец! (@Ya_Ukrainec) September 16, 2014
Zhuravsky later said he considered the attack to be a hit, ordered by political competitors, adding that he pardons the offenders.
"I am still shocked by what has happened. I take this incident as a hit by my competitors, running for the vote in the Zhitomir region. I don't think that's the way Maidan people could have treated me, it can't be true, I simply don't believe it," the deputy said at a Rada briefing.
The deputy said he was among the draftsmen of the new so-called lustration bill, which was adopted by the Ukrainian parliament on Tuesday. If signed into law by President Petro Poroshenko, MPs who worked under Viktor Yanukovich will be forced to quit parliament and will be permanently banned from occupying seats.
MORE: Tires on fire: Right Sector rallying in Kiev as govt votes for purging (VIDEO)
Several of the Maidan activists later publicly apologized to Zhuravsky. The deputy said he would not press charges.
You can share this story on social media: