Kerry in Kiev: Shifting blame from Poroshenko govt as US mulls arms for Ukraine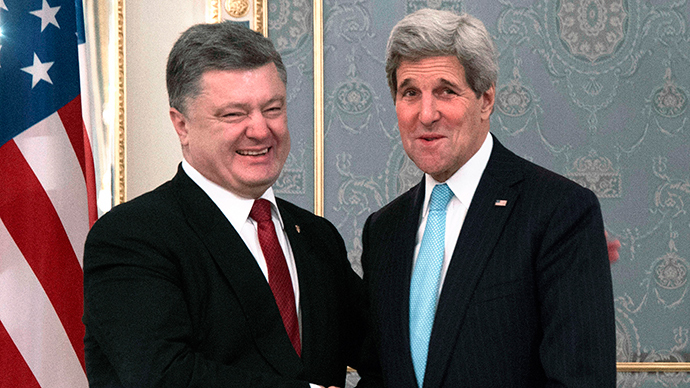 US Secretary of State John Kerry, who is in Ukraine to discuss Kiev's plea for weapons, laid all of the blame for the conflict's escalation on Russia, and disregarded Kiev's intensified assault on rebel-held areas.
On Thursday, the White House admitted that possible military assistance from the US to Ukraine could increase bloodshed in the region. Earlier in the day, Kerry said Washington preferred a diplomatic solution to the conflict and argued "Russian aggression" was the greatest threat to Ukraine.
Following his meeting with Ukrainian President Petro Poroshenko, Kerry told journalists it was impossible to ignore "tanks crossing the border from Russia" and "Russian fighters in unmarked uniforms crossing the border, and leading individual companies of so-called separatists in battle."
Russia has long rejected allegations of its troops being engaged in the eastern Ukraine conflict.
"I say it every time: if you are so sure in stating that, confirm it with facts. But no one can or wants to provide them," Russian Foreign Minister said in January.
READ MORE: Lavrov on Obama speech: Efforts to isolate Russia will fail
Kerry has urged the Russians to comply with the Minsk peace agreements signed in September and said the rebel fighters were to pull their heavy artillery from the areas where civilians could be affected. He neglected to mention Kiev's compliance with the peace agreements, and the heavy weapons used by the government troops.
The Secretary of State pointed out that the Minsk ceasefire agreements are being increasingly violated and also recalled Kiev's commitments to a promised special status for the troubled regions. "The special status law is currently on the books," Kerry said, referring to his conversations with President Poroshenko.
READ MORE: Poroshenko considers canceling law on special local governance of Donbass
The US will provide $1 billion in loan guarantees to Ukraine, Kerry announced at a joint press briefing with Ukraine's Prime Minister Arseny Yatsenyuk on Thursday. A further $1 billion of economic aid will be provided to the country later this year, should it carry on with its reforms, he added. Kerry has also brought with him an offer of $16.4 million in humanitarian aid, according to US officials.
Great to see Amb @GeoffPyatt. Whole @USEmbassyKyiv team doing terrific job on behalf of U.S. here in #Ukrainepic.twitter.com/yrMA9sb5oC

— John Kerry (@JohnKerry) February 5, 2015
President Obama will make his decision on the possibly of sending lethal aid to Ukraine next week, Kerry announced in Ukraine, saying that Obama's choice will be based on his [Kerry's] comments and recommendations following his visit to the country, as well as a result of Angela Merkel's visit.
READ MORE: US defense sec. nominee 'inclined' to arm Ukraine, defends ISIS strategy
Despite Poroshenko's constant pleas for "modern weapons" to be sent to Ukraine from the west, it is primarily the US that is still mulling whether to deliver lethal aid to the country.
European defense ministers oppose sending weapons to Ukraine, with top officials from several European countries having firmly spoken out against any supply of arms this week. Following Angela Merkel's Monday announcement, when the Chancellor said that Germany would not be giving weapons to Ukraine and stated her support for negotiations and a diplomatic solution to the conflict, France also announced it would not deliver weapons to Ukraine.
READ MORE: US mulls providing Kiev forces with 'defensive' weapons – report
Pointing to a potential transatlantic split if Washington decides to supply arms, more European ministers, including Dutch, UK and the Netherlands officials, voiced opposition to sending weapons to the country, Reuters reported on Thursday. Finland and the Czech Republic have also spoken against the idea of giving Kiev any military help, fearing that lethal aid could only fuel the conflict. A political dialogue is the only way out of the crisis, European ministers believe.
READ MORE: Europe reticent about supplying Ukraine with weapons & money
"More weapons in this area will not bring us closer to a solution, and will not end the suffering of the population," German Defense Minister Ursula von der Leyen told reporters in Brussels.
The possible supplies of US weapons to Ukraine threaten Russia's security, TASS quoted the Russian Foreign Ministry's spokesman, Aleksandr Lukashevich, as saying on Thursday.
"We are very seriously concerned by these plans. Taking into account the revanchist plans of the 'party of war' in Kiev, this could not only escalate the conflict in the southeast, but also threaten the security of Russia," he said, adding that Russian territory has been shelled several times from the Ukrainian side.
Moscow has previously slammed Washington's readiness to supply weapons to Ukraine as double standards, with Russian Foreign Minister Sergey Lavrov saying that the west is calling for dialogue between the authorities and the opposition "everywhere in the world," except Ukraine. "Western colleagues say that in Ukraine the most important thing is to support Kiev's actions," Lavrov said on Monday.
Factsheet: #NATO'S practical support to #Ukrainehttp://t.co/4z86oR1PpX#DefMin

— Oana Lungescu (@NATOpress) February 5, 2015
READ MORE: 30,000 troops, 6 rapid units: NATO increases military power in Eastern Europe
A series of US top officials' visits to Europe this week all focused on the Ukraine crisis, and come as German Chancellor Angela Merkel and French President Francois Hollande are visiting both Kiev and Moscow, pledging to come up with a peace deal acceptable to all parties. Kerry won't come to Moscow with Merkel and Hollande, Russian presidential aide Yury Ushakov told journalists.
READ MORE: Kremlin confirms Hollande, Merkel visit to discuss end to Ukraine civil war
The latest escalation of violence in eastern Ukraine started in mid-January after Kiev announced a mass operation against Donetsk airport, in violation of a previous ceasefire agreement. There have since then been almost daily reports of civilian casualties in the conflict. Five people died in shelling on a hospital in Donetsk on Wednesday.
The UN has warned of a looming humanitarian catastrophe in the region.
You can share this story on social media: