Lavrov on Obama speech: Efforts to isolate Russia will fail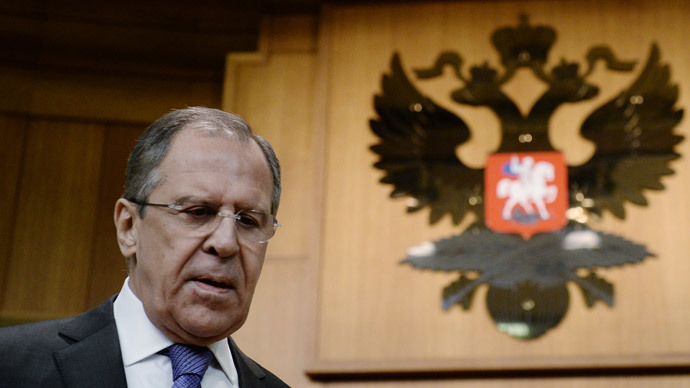 Attempts at isolating Russia will not work, Foreign Minister Sergey Lavrov said at a press conference on the outcome of 2014.
"We hear from our Western partners that Russia has to be isolated," Lavrov said. "Specifically, Barack Obama has just repeated that. These attempts won't be effective. Russian President Vladimir Putin said that Russia will never resort to self-isolation."
The minister said Moscow is calling on Washington to resume cooperation that was thwarted last year. "Relations between Moscow and Washington significantly deteriorated in 2014. We call for resuming effective cooperation at a bilateral and international level. But dialogue is only possible if based on equality and respect for each other's interests," he said.
Cutting ties with NATO was not Russia's choice, according to Lavrov.
#LAVROV Q&A: #NATO choses confrontational approach, still thinks in Cold War categories - LIVE NOW: http://t.co/DsyEYyz0fk

— RT (@RT_com) January 21, 2015
"NATO followed the US in its drive for confrontation. NATO made an absolutely politicized decision to halt civil and military cooperation. Almost all projects have been frozen," Lavrov said. Moscow "will not allow a new Cold War," he added.
Commenting on US President Barack Obama's State of the Union Speech, Lavrov said it showed Washington wanted to dominate the world and required all the rest to acknowledge their superiority.
"Americans are absolutely non-critical in assessing their own steps, and yesterday's speech by Obama shows that the core of their philosophy is: 'we are number one'. And all the rest should accept that."
Lavrov described US "aggressive" foreign policy as "outdated."
No proof of Russian military in southeastern Ukraine
Lavrov has denied allegations of a Russian military presence in southeastern Ukraine, calling on those who believe the opposite to prove their point. "I say it every time: if you are so sure in stating that, confirm it with facts. But no one can or wants to provide them," he said.
Lavrov said he would try to negotiate an immediate ceasefire in eastern Ukraine at talks in Berlin due to take place later in the day. The foreign ministers of Ukraine, Germany and France are expected to be present.
He said it was now vital to withdraw heavy artillery from the line separating militia-held territories from those under Kiev's control. The move would prevent civilian casualties. "Russia has already persuaded the self-defense fighters to withdraw heavy artillery," he said. "Now the Ukrainian authorities should do their bit."
Ukrainian President Petro Poroshenko is, according to Lavrov, ready to discuss the peace plan offered by President Putin on January 15, despite earlier reports of its rejection.
READ MORE:Poroshenko rejected Putin's artillery withdrawal plan, began assault – Kremlin
"Judging by the reaction of President Poroshenko, we feel he's ready to discuss it, but raises certain questions, some of those quite technical. They can all be agreed upon equitably."
In response, Poroshenko says that Kiev is committed to adhering to the Minsk agreement. The Ukrainian president also says that his country wants to see an end to the conflict in eastern Ukraine by "removing heavy artillery" and "starting a political process."
"We will do everything possible to turn the situation around to follow the Minsk agreement. This is very simple. The Minsk agreement is a peaceful option," the Ukrainian president said, as reported by RIA Novosti.
Recent days have seen an escalation of violence in eastern Ukraine. Government troops launched a massive assault on militia-held areas, in accordance with a presidential order.
Residential areas have come under fire with reports of several civilian casualties.
More civilian deaths in #Donetsk on Tuesday as shelling of residential areas continues. 3 non combatant deaths so far pic.twitter.com/E9FhIO8CjR

— Roman Kosarev (@Kosarev_RT) January 20, 2015
A hospital in Donetsk was severely damaged on Monday, when at least two shells struck it.
Human rights groups have called on both sides to protect civilians in conflict zones.
Amnesty International called on militias not launch operations from populated areas, and demanded that Kiev stops its indiscriminate shelling of residential blocks.
You can share this story on social media: