30,000 troops, 6 rapid units: NATO increases military power in Eastern Europe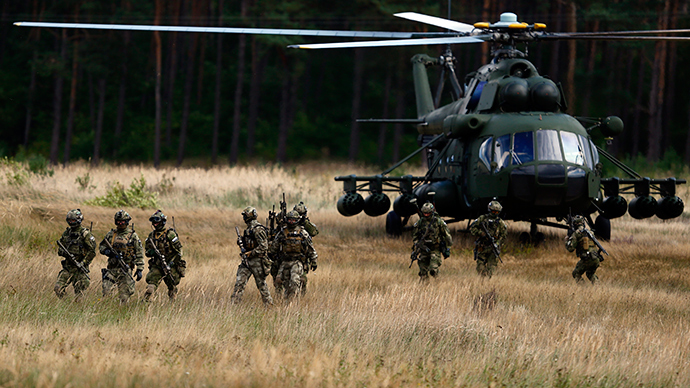 The NATO Response Force in Europe might increase to 30,000 troops, more than double the current 13,000, said the alliance's secretary general after a defense ministers' meeting in Brussels. Most of the troops are set to be stationed near Russia's borders.
NATO's rapid deployment forces will consist of a 5,000-strong brigade, sea and air-based elements and special task troops, said NATO's Secretary General Jens Stoltenber after meeting with the alliance's 28 defense ministers in Brussels on Thursday.
Before the meeting he noted that he expected the ministers to "agree on several important elements of a package that increases our collective defense."
The UK has already announced plans to deploy 1,000 troops and four multirole Typhoon fighter jets to join the Response Force in Eastern Europe.
The spearhead of that force will be 5,000 servicemen, distributed among six compact command centers in Eastern Europe, with about only 50 officers in each.
"It is a response to what we have seen from Russia over a period of time and it is in full accordance with our international obligations," NATO Secretary-General Jens Stoltenberg told reporters.
READ MORE: NATO to deploy extra troops in 6 E. European member states
These six Rapid Deployment Force units to be stationed in Bulgaria, Estonia, Latvia, Lithuania, Poland and Romania are expected to be capable of rapidly reinforcing the region" in response to any threat from Russia," Reuters reports.
"In Ukraine, violence is getting worse and the crisis is deepening. Russia continues to disregard international rules and to support the separatists," Secretary-General Jens Stoltenberg told reporters before the meeting.
When necessary, this force could be deployed in two days. The remaining 25,000 will be operational within a week.
READ MORE: Surprise drill puts over 100,000 troops through their paces in Russia's Far East
Last September, Ukraine, Poland, and Lithuania agreed to form a joint military force (LitPolUkrBrig) to take part in the first joint military drill in 2015.
READ MORE: Ukraine, Poland, Lithuania to form joint military force
The Ukrainian parliament ratified the document on Wednesday.
The brigade of approximately 4,500 servicemen (3,500 – Polish, 545 – Ukrainian and up to 350 Lithuanians) is slated to become the UN and EU peacekeeping force, or alternatively form a basis of a NATO battle group in the region bordering Russia.
The purpose of creating that kind of an international brigade raises concerns, Russian Foreign Ministry's spokesman Aleksandr Lukashevich said at a media briefing on Thursday.
Ukraine's internal conflict has already been internationalized to a great extent and adding the element of joint armed forces to it is absolutely counterproductive and would endanger the situation in the region, Lukashevich said.
READ MORE: Putin: Ukraine army is NATO legion aimed at restraining Russia
The alliance significantly boosted its presence in Eastern Europe last year, citing a growing threat from Russia in the wake of the Ukrainian crisis.
READ MORE: Pentagon confirms military buildup along Russian borders for 'peace and stability'
Today, despite the fact that NATO suspended all military cooperation with Russia in 2014, the alliance is keeping open channels with Russian authorities "for political contacts," Stars and Stripes reported.
On Saturday, Secretary-General Jens Stoltenberg is expected to meet Russian Foreign Minister Sergey Lavrov at the annual Munich security conference.
Volen Siderov, a Bulgarian opposition leader and MP, told RT that Western propaganda presenting Russia as an aggressor in Ukraine "is being actively spread in Bulgaria by media which serve the American masters."
"There are plans to establish a NATO command center in Bulgaria," Siderov acknowledged, pointing out that this will require an amendment to the national legislation.
Siderov's parliamentary group is categorically against turning Bulgaria into a bridgehead in the aggression against Russia and has introduced a bill to prevent any NATO troop formations entering the country. But the group is too small to pass its proposal through.
You can share this story on social media: