​Arab Israelis declare nationwide strike over Bedouin deaths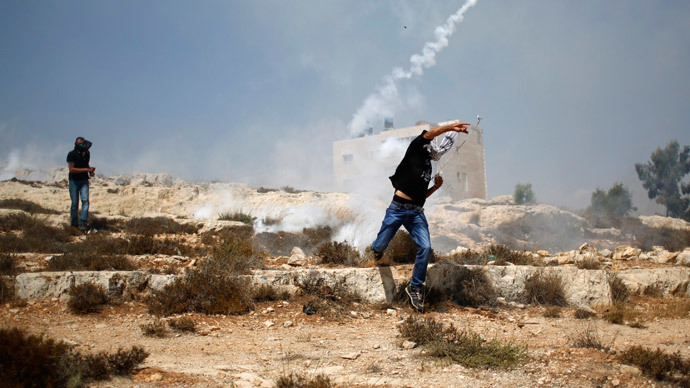 Leaders of Israel's Arab population have declared a general strike to protest the recent deaths of two Bedouin men during clashes with police in two separate incidents in the city of Rahat.
The Arab Higher Committee, a central political body that represents Israel's 20-percent Arab minority, announced that Arab-owned businesses and local schools would close throughout the country on Tuesday.
March in Rahat pic.twitter.com/8AIo29HXzm

— Rabbi Arik Ascherman (@RavArik) January 20, 2015
Former Knesset member and chairman of an umbrella organization of Arab Israeli groups, Taleb al-Sana, who is himself a Bedouin, told Israeli army radio that the strike will "send a strong message that the entire Arab community...strongly protests the murders of two citizens of the State of Israel whose only crime is being Arab."
Last week, during a police drug raid on Rahat, a Bedouin town in the Negev, 20-year-old Sami al-Jaar died of a gunshot wound to the stomach. Police are currently investigating whether the shot was fired by officers or townspeople.
In a statement, local authorities called al-Jaar's killing "cold-blooded murder that proves the police's aggression and the policy of light trigger fingers when it comes to Arab citizens," according to Haaretz.
Palestinians march from the house of martyr Sami Al Ja'ar to the house of martyr Sami Zayandeh in Rahat. #Palestinepic.twitter.com/C6rteMAs2B

— Palestine Social (@PalestineSocial) January 20, 2015
Clashes erupted during his burial, which was attended by more than 8,000 mourners on Sunday. Sami al-Zayadna, 47, died of a heart attack during the altercations, while 22 others were injured as police fired tear gas at the crowd.
Rahat's mayor, Talal Al-Krenawi, called the police's handling of the riots "totally criminal."
"This just can't be ignored," he said.
According to police, crowds surrounded a police vehicle and began hurling rocks at the officers, as the car approached the cemetery when the funeral was underway.
Residents of Rahat have been on strike since Sunday.
You can share this story on social media: