Israeli president bans singer from event over 'anti-Arab' song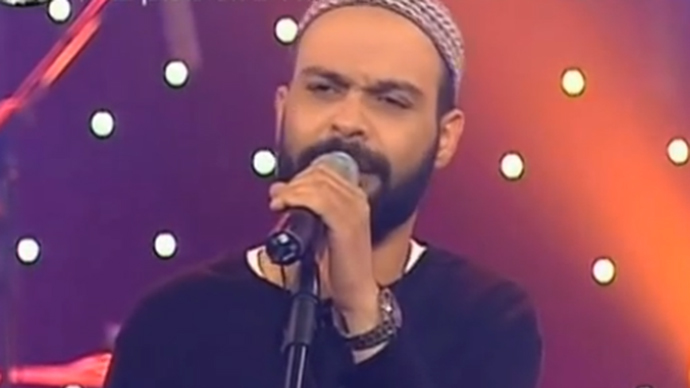 Israeli singer Amir Benayoun has had his invitation to perform at a presidential event withdrawn, after his song, describing an Arab student's plans for a terror act, sparked accusations of racism and incitement of violence.
Benayoun, who is known for responding with his songs to the most pressing issues of the day, has said his latest song titled "Ahmed Loves Israel," was inspired by the recent attack on a synagogue.
READ MORE: 3 US & 1 UK rabbis killed, 7 injured in attack at Jerusalem synagogue
"It's true that I am just ungrateful scum," an Arab youth says in the song, as cited by the Jerusalem Post. "It's true, but I am not guilty, I wasn't brought up on love. It's true that the moment will come when you will turn your back on me, and I'll stab you right in the back."
The song has sparked a heated debate in Israel, with multiple online comments across social media accusing the singer of being racist.
Lyrics to Amir Benayoun's song about arabs: Salaam Aleikum, my name is Ahmed. I reside in Jerusalem, I study at... http://t.co/oHneOjQWnG

— Torah Lectures (@TorahLectures) November 25, 2014
A member of the Knesset, Issawi Frej, has called on police to investigate the singer for inciting violence.
"As an Arab-Israeli citizen, this song refers to me and to Arab society as a whole as murderers. These lyrics are outrageous incitement," Frej wrote in a letter to Police Commissioner Yohanan Danino, according to Israel Hayom.
President Reuven Rivlin chose to revoke Benayoun's invitation to a high-profile, November 30 event, marking the expulsion of Jews from Arab countries.
"His statements made at this time of conflict and tension, even if uttered out of frustration and pain, do not, to say the least, help bring calm to the streets, and are inconsistent with the responsibility required of the President's Residence... to promote cooperation," the director general of the President's Residence, Harel Tubi, wrote to the event's organizers, according to The Times of Israel.
Benayoun's press office has defended the song as "having no intention to incite violence" in a statement posted on the singer's Facebook page.
"We will say again for those who don't understand - Amir wrote a protest song that came from his pain over the recent wave of terrorism. Whether it's good or not is debatable, but we stress: The song discusses violence against Israeli citizens and their pain," the statement reads, as cited by the Jerusalem Post.
The president's decision to ban the controversial singer from the event has sparked no less controversy than the song itself, with several politicians accusing the president of going against freedom of expression.
Deputy Religious Services Minister Eli Ben-Dahan, on Wednesday, called on another singer, Kobi Oz, not to take part in the "silencing" event.
Minister for Senior Citizens Uri Orbach announced he was boycotting the ceremony, for what he said was "infringement on the freedom of expression."
"Boycotting artists over their opinions is wrong and therefore I will be unable to attend the ceremony. If Benayoun can't sing, I won't speak," Orbach said, according to Arutz Sheva.
You can share this story on social media: