Israeli soldiers protect settlers attacking Palestinian villagers (VIDEO)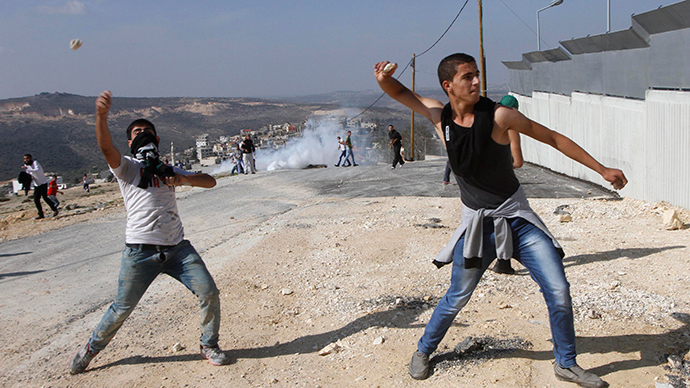 The IDF troops did nothing to stop Israeli settlers from attacking Palestinian villagers, according to videos released by the Yesh Din rights group, showing soldiers pointing guns at Palestinians while Israelis are throwing stones from behind their backs.
In the three amateur videos released by the Yesh Din human rights group, the IDF soldiers appear to be protecting the masked Jewish settlers from Yitzhar during their confrontation with Palestinians in the village of Urif in the West Bank on Tuesday.
"IDF soldiers have the obligation, based on international law and High Court of Justice rulings, to protect Palestinian residents from violence, and IDF soldiers have the authority to detain suspects, including Israeli suspects, until the police arrive," Yesh Din said in a statement.
The footage shows at least 5 armed IDF soldiers standing amongst the settlers and at times pointing guns at the Palestinians.
"The disturbing video footage demands vigorous investigation and the immediate prosecution of the soldiers involved. An examination must also be carried out of whether the soldiers' commanders bear liability for the conduct of their subordinates," attorney Emily Schaeffer Omer-Man, legal advisor to Yesh Din's said.
The Israeli settlers' attack on Palestinians reportedly took place just hours after a deadly attack on a synagogue in Jerusalem which killed 5 Israelis.
READ MORE:3 US & 1 UK rabbis, policeman killed in attack at Jerusalem synagogue
According to the IDF around 200 Palestinians engaged some 50 settlers by throwing stones in an area between the settlement of Yitzhar and the Palestinian village of Urif, Haaretz reports. The army said the confrontation started before the soldiers arrived and had to use gas canisters to disperse the youths – something the videos cannot confirm.
The IDF said there were no injuries, but Yesh Din claims that a 13-year-old boy suffered a light head wound. The boy was reportedly treated at Rafidia Hospital in Nablus.
READ MORE:Israel violence spiral: '3rd Intifada will be different'
Beside the stone throwing exchange, Israeli settlers also attacked a Palestinian school in Urif, Ghassan Daghlas, an official who monitors settler activity in the northern West Bank told Ma'an news agency. He claimed that after Palestinians intervened and clashed with Israelis, IDF forces interfered in clashes by firing tear gas and stun grenades and injured six Palestinians with rubber-coated steel bullets. Cases of teargas suffocation were also reported.
#Palestinians#clash with group of alleged #Jewish settlers following #attack to #Urif village #Nablus#WestBank#AApic.twitter.com/ORtob1L6Sk

— Anadolu Images (@anadoluimages) November 18, 2014
You can share this story on social media: