#JeSuisCharlie hashtag tweeted over 5mn times, #JeSuisAhmed on the rise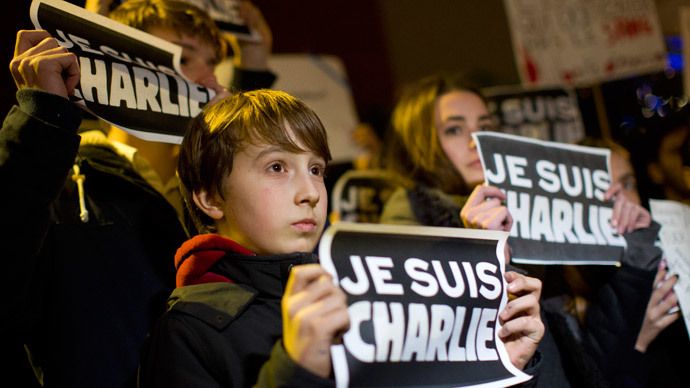 The symbolic #JeSuisCharlie hashtag, which has recently appeared on social media to express solidarity with the Charlie Hebdo magazine in the aftermath of the fatal shootings, has gathered over 5 million retweets, Twitter France said.
READ MORE: Charlie Hebdo massacre aftermath LIVE UPDATES
The now famous hashtag #JeSuisCharlie ("I am Charlie") reached 5,044,740 tweets by Friday evening and peaked at 6,300 tweets a minute.
Social media users launched #JeSuisCharlie-related hashtags, such as #JeSuisAhmed to honor a Muslim policeman slain in the Charlie Hebdo shooting.
READ MORE: One police officer killed in Charlie Hebdo attack was Muslim
The 42-year-old Ahmed Merabet was shot at point-blank range despite apparently pleading for mercy, and his tragic death was caught on camera.
RIP to a Muslim Cop who tried saving a man who mocked his own religion. #JeSuisAhmedpic.twitter.com/clzd1K2DAz

— Hanan El-Omari (@versacearab) January 10, 2015
Another officer who was protecting the magazine's editor was also killed. #JeSuisFlic [flic for police officer] commemorates him on social media.
READ MORE: #JeSuisCharlie rallies held worldwide to condemn Paris massacre (PHOTOS)
Thoughts with French colleagues and grieving families. Twitter silence follows with deep respect.. #RIP#JeSuisFlicpic.twitter.com/FA0HL57DMg

— Ch.Insp Simon Nelson (@CISimonNelson) January 8, 2015
Offline, thousands of people across the world have rallied against the shooting carried out in retaliation to the controversial cartoons published by Charlie Hebdo. The weekly often satirizes religion, and was known for controversial cartoons of the Prophet Muhammad.
Thank you so much from France.. #YoSoyCharlie#IamCharlie#JeSuisCharlie#JeSuisFlicpic.twitter.com/iZUUyzEvOW

— thanks tristan (@Rey_Horan) January 9, 2015
#NotInMyName: Muslims condemn Charlie Hebdo massacre worldwide
The hashtag #NotInMyName, previously used by Muslims to condemn the atrocities perpetrated by Islamic State militants, came back into the spotlight to condemn the attacks across France that have killed 17 people.
READ MORE: 'Not in my name': French Muslims rally to denounce ISIS beheadings
I strongly condemn the attack against Charlie Hebdo Magazine. A muslim can not be terrorist and a terrorist can not be muslim..

— Emre Soncan (@soncanemre) January 7, 2015
A small tribute to the victims of #CharlieHebdo As A Muslim I condemn this barbarous attack. pic.twitter.com/5v5hBnMqVE

— Sheheryar Ahmad (@sheriahmad) January 7, 2015
As a Muslim, I condemn these senseless extremist acts. We are a religion of peace and not manslaughter #CharlieHebdo

— Hakim Kharbouch (@Hakimkharbouch) January 8, 2015
as a #muslim i am offended by those images created by #CharlieHebdo But I am A million times more offended by the killings of innocent lives

— Almis A. Aman (@Almis310) January 8, 2015
As a #muslim and #pakistani ,I condemn the #terrorist attack on #CharlieHebdo. #JeSuisCharlie#FreedomOfExpressionpic.twitter.com/CUIYFQMypT

— Sarah Mushir (@SarahMushir) January 7, 2015
As a Muslim I apologize to the community for the Paris terrorist attack. But it was an act of few individuals not the Muslim community

— Arsh Mirza (@ArshMirza2) January 7, 2015
During Friday prayers, French imams condemned the violence. The message was relayed at more than 2,300 mosques across the country.
"We denounce the odious crimes committed by the terrorists, whose criminal action endangers our willingness to live together," said Dalil Boubakeur of the Grand Mosque of Paris, as cited by AFP.
An imam in Bordeaux, southwestern France, Muslim theologian Tareq Oubrou, said that Muslims are furious that Islam has been "confiscated by crazies... and uneducated, unbalanced people."
"The people who carried out that attack in the name of Islam are not Muslims... The Prophet did not advocate violence against non-Muslims," added Abdel Qader Achour, of the conservative Omar Ibn Al Khattab mosque in Paris.
The cover of next week's issue, by Ana Juan: http://t.co/ZRpEtN1BcG#JeSuisCharliepic.twitter.com/Ejl3c7wBaY

— The New Yorker (@NewYorker) January 8, 2015
Abdallah Zekr, the president of French Council of the Muslim Faith (CFCM), a group that serves as an official interlocutor with the French state in the regulation of Muslim religious activities, said: "Muslims are caught in a trap, between those who kill in the name of Islam and those who are using this to stigmatize Muslims."
"I am afraid that their acts will get worse in the coming days," added Zekr.
Tensions have been running high across France following the worst terror attack to strike the country in a generation, after gunmen attacked Charlie Hebdo magazine HQ, killing 12 people.
READ MORE: Four killed in Paris store hostage crisis, Charlie Hebdo suspects also dead
A nationwide manhunt ended in the killing of the hostage takers in two separate locations. Several hostages died, too.
READ MORE: Four killed in Paris store hostage crisis, Charlie Hebdo suspects also dead
You can share this story on social media: