One police officer killed in Charlie Hebdo attack was Muslim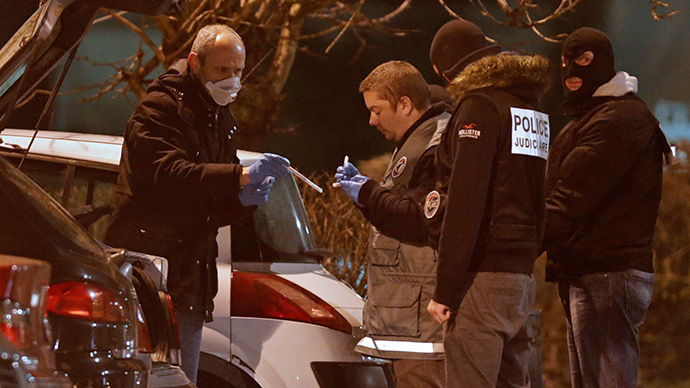 French police have identified one of the two officers killed in the shooting attack at the offices of satirical newspaper Charlie Hebdo in Paris. The victim was a follower of Islam, media reported.
READ MORE: Fatal shooting at Charlie Hebdo HQ in Paris LIVE UPDATES
The 42-year-old Ahmed Merabet was shot at point-blank range despite apparently pleading for mercy, and his death was tragically caught on camera.
This is the policeman who #CharlieHebdo terrorists executed on sidewalk. His name was #AhmedMerabet. He was a Muslim pic.twitter.com/WgS07Nmt4t

— Trita Parsi (@tparsi) January 8, 2015
Merabet, a Muslim by faith, was serving as a patrolman in the 11th arrondissement, which is the district where Charlie Hebdo's office is located in Paris, the Daily Caller reported.
The identity of the second officer has not been confirmed by officials, but media reports stated that he was assigned to protect the defiant editorial director of the provocative outlet, Stéphane "Charb" Charbonnier.
Charbonnier was known as a staunch defender of his freedom of expression, as he dismissed both personal threats and the advice of the French government when publishing satirical cartoons deemed sensitive for believers. In 2011, Charlie Hebdo's offices were firebombed after the outlet published a spoof issue which mocked Sharia law and was "guest edited" by the Prophet Muhammad. In 2012, Charbonnier oversaw publication of an even more provocative issue on Muhammad, which showed the prophet naked and in sexual poses. The journal mocked Christianity and other religions, as well.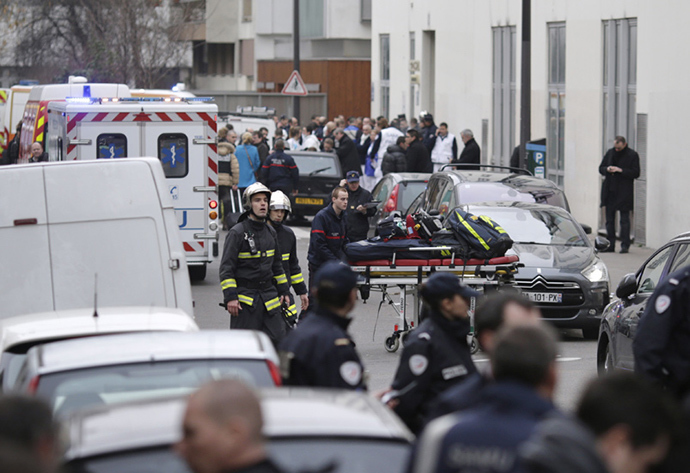 On Wednesday morning, at least two black-hooded gunmen armed with Kalashnikov rifles entered the building of the French satirical weekly Charlie Hebdo, killing 10 journalists and two policemen. According to survivors of the massacre, the gunmen shouted "Allahu Akbar" and claimed they were from Al-Qaeda.
READ MORE: France manhunt: Police raid homes, suspect surrenders after 3 gunmen kill 12 at Charlie Hebdo HQ
Police have launched a manhunt for three suspects, identified as Said Kouachi, 34, Cherif Kouachi, 32, and Hamyd Mourad, 18.
The youngest suspect, Mourad, reportedly handed himself in at a police station in Charleville Mézières after seeing his name on the list of shooting suspects on social media, French outlets reported. The 18-year-old claims to have alibi of his innocence, which is being investigated.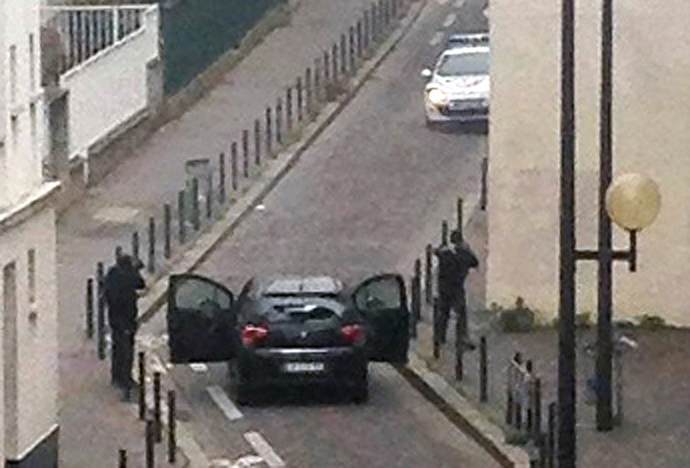 Dozens of police raided a building in a council estate in Reims overnight into Thursday, and then carried out another raid in the northern commune of Charleville Mézières. The raids resulted in no confirmed arrests or incidents, with media reports saying that evidence was gathered at one site and a relative of a suspect was detained for questioning at the other one.
Meanwhile, thousands of people across the world have reacted to the shooting, which is believed to have been carried out in retaliation to the controversial cartoons by Charlie Hebdo, targeting religion and particularly the Muslim Prophet Muhammad.
While some held vigils and rallies in protest of the massacre, others took to social media to decry the murders and discuss the implications and consequences of the attack, including for Muslims living in Western states.
You can share this story on social media: