France probes mayor who 'refused burial for Roma baby'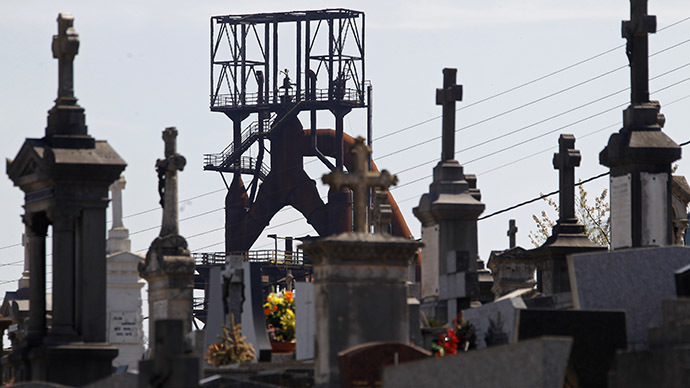 French authorities have launched an investigation into the actions of a mayor who allegedly refused an infant Gypsy girl burial at a public cemetery of Champlan, saying that it has just a "few available plots" with priority given to those "paying taxes."
The country's human rights ombudsman, Jacques Toubon, said that he was "shocked and stunned" by the scandal and announced an investigations into the allegations that Mayor Christian Leclerc denied the family of the two-month-old a burial.
VIDEO. Bébé rom : le maire de Champlan ... http://t.co/UKbCRrJ2VC via @babyrun974#bébé | https://t.co/Sz21G3bgz4pic.twitter.com/YvTa44evF0

— BabyRun (@BabyRun974) January 5, 2015
The baby, identified only as Maria Francesca, was born on October 14 and died from sudden infant death syndrome on December 26. "The mother tried to breastfeed her at 5:00 am and the little girl was cold. She was dead," said Marie-Helene Brelaud, a member of the ASEFRR association, a pro-Roma NGO.
The family of the child asked the burial firm in Corbeil-Essonnes to bury the infant but according to the manager Julien Guenzi, the mayor refused without explanation. "He doesn't have to justify himself, but responses like that are very rare," Guenzi told AFP.
Tiens"@franceinter Le maire de Champlan nie avoir refusé d'inhumer un bébé rom #Rom#Champlanhttp://t.co/z7sXnzTc0xpic.twitter.com/3uPSxb4TMi"

— Sabrina Kah (@SabrinaKah) January 4, 2015
"Priority is given to those who pay their local taxes," Leclerc was cited as saying by Le Parisien daily on Saturday. That stirred more controversy before the mayor had a chance to defend himself, explaining to AFP that his words had been "taken out of context", and that he was "really sorry."
"At no stage was I opposed to this burial. It's been blown out of proportion," Leclerc said as over fifty people gathered to mark her death on Sunday. "There was a choice between Corbeil and Champlan. I agreed on Wednesday morning to either scenario. I have a text message proving this," Leclerc told AFP.
However Lecrerc's rhetoric was not heard as a barrage of criticism overshadowed the situation.
#Champlan > La famille du bébé dont l'inhumation a été refusée est effondrée http://t.co/PXTzI8LNbNpic.twitter.com/l2sqF5ew4c

— itele (@itele) January 4, 2015
Prime Minister Manuel Valls said that "refusing a child a burial because of its roots is an insult to its memory, an insult to France."
Laurence Rossignol, a junior government minister for the family, said on Twitter the refusal was "an inhumane humiliation" to the family, adding the hashtag #honte, meaning "disgrace".
To save the dignity of the nation, the mayor of neighboring Wissous offered to bury the body, calling it "a question of humanity".
"The pain of a mother who carried a child for nine months, and lost her after two and a half months must not be worsened," Mayor Richard Trinquier told AFP. ASEFRR for its part agreed to cover the costs of the funeral.
READ MORE: Hollande allows deported Roma girl to return to France – but not her family
Anti-Roma sentiment is widely spread across European countries with France hosting approximately 20,000 Gypsies. It often results in violence towards members of the Roma community and Romanian immigrants in general. Gypsies frequently face discrimination, with many of them living in very poor conditions and having no access to education and medical care.
READ MORE: Belgian town deploys loud music to drive Roma caravans out
You can share this story on social media: