Belgian town deploys loud music to drive Roma caravans out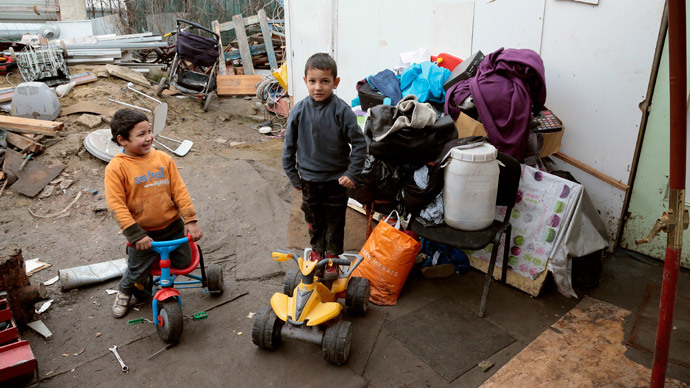 The mayor of a Belgian town took an unusual approach to ejecting Roma caravans on Wednesday, opting to blast them out with music, rather than by using force. However, as the DJ spun Dire Straits' 'Sultan's of Swing', the Roma decided to dance instead.
The Roma moved into the village of Landen, located some 50 km east of Brussels. They had entered into an agreement with the mayor to stay there until Tuesday with some 14 caravans in total.

The Mayor, Gino Debroux, said that they still haven't left despite the term of their agreed stay having come to an end. "Since then, they've said they won't leave and they're there with 30 caravans," he told Reuters via telephone.

"This is an industrial site and is not designed for camping," Debroux added.

The DJ was subsequently hired to drive them out. He started blasting Dire Straits' 'Sultans of Swing' at 9am on Wednesday.

"This is a way of putting pressure on them. It was very difficult to negotiate with the gypsy king, as he called himself," Debroux said. "It's a non-violent method to ask them to come to an agreement."

However, the deployment of the DJ proved immediately ineffectual. The Roma children danced to the music, with some camp residents expressing thanks towards the mayor.

"It's very nice that he sent a DJ for us to have a party," one said.

However, around midday the Roma decided that they would be picking up and leaving by Thursday.

The music had been limited to a maximum of 95 decibels which is comparable to the sound of a pneumatic drill from a distance of 15 meters.

Former mayor, Theo Francken, decried the idea, comparing the action to practices in Romania where Roma are chased away.

"The arrival of gypsies in Lubbeek triggered a lot of commotion last year. We talked with them and made agreements and the council designated a location where they could stay. They have to pay a daily rate but can use power and get rid of their rubbish," he said, reported FlandersNews.be.

Jos Vander Velpen, chair of the human rights league, told the Belgian news outlet that the matter indicated an attitude of growing intolerance towards minorities.

"It's pretty ironic that gypsies, musicians par excellence, are being set to flight using music," he added.
You can share this story on social media: