2014 as we saw it: Top 10 NEWS videos of the year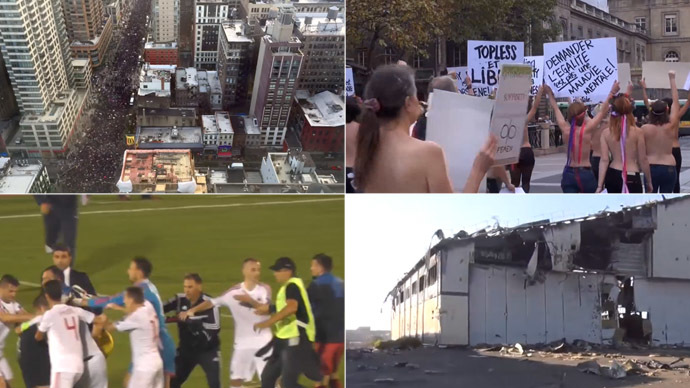 From planes to protests to presidents – and even the odd pitched battle. Plenty of videos gave us pause for thought in 2014, bringing a new dimension to news stories from around the world.
Immediate aftermath of MH17 crash
Amateur video surfaced showing the horrific aftermath of the Malaysia Airlines MH17 crash in eastern Ukraine, which killed all 298 people on board in July. Shocked residents can be seen descending on the scene as a massive pillar of black smoke fills the sky. People rush about carrying buckets of water to put out small fires in the vicinity caused by the burning debris. Others are just walking around the site in a state of apparent shock. Responsibility for shooting down the plane has been hotly contested by Kiev and rebel forces. It has also triggered the deterioration of already-strained relations between Moscow and Western governments, which blame Russia for supplying the rebels, whom they blame for the disaster.
Millions march in New York
A time-lapse video depicting December's Millions March in New York City shows just how many people took to the streets to protest against police brutality in America. They were also demonstrating against the killings of Michael Brown, Eric Garner, and Tamir Rice, as well as the non-indictment of police officers in the first two cases. The time-lapse video, uploaded by YouTube user Vinay Pulim, shows the view from New York's Sixth Ave and 29th Street, with people marching past the site for around 1.5 hours.
Maidan burning
Fresh clashes between rioters and police erupted in central Kiev on February 19, a day after talks between the Ukrainian government and the opposition collapsed. The rioters burnt tires, and threw Molotov cocktails and cobblestones at security forces. The police retaliated with tear gas and rubber bullets in an attempt to disperse the crowds. The conflict would only continue to escalate, leading to an armed coup that ousted President Viktor Yanukovich, with fierce battles taking place in the east of the country.
Drone causes mayhem at Serbia v Albania football match
A dull game looked to be heading for a 0-0 draw as Serbia took on Albania in a Euro 2016 qualifier in Belgrade in October. With visiting fans banned from Partizan Stadium for security reasons, due to the tensions surrounding Kosovo, a drone carrying a 'Greater Albania' flag flew over the pitch, with a Serbia player, Stefan Mitrovic calmly plucking it out of the air. Mayhem ensued as Albanian players attacked their Serbian counterparts, trying to get the nationalist symbol back. Serbian fans ran on to the pitch as the home side's players tried to escort the Albanians to the safety of their dressing room. The match was subsequently abandoned.
Missile strike causes chaos in Gaza
Palestinians in Kahn Younis, in the southern part of the Gaza Strip, were sent running for cover after an Israeli rocket struck on July 12. Dozens of locals were left in shock and fled the vicinity, which was quickly surrounded by smoke. A rocket also hit the house of Hamas militant leader Yehiya al-Sinwar from the group's military wing, Al-Qassam Brigades. There were no casualties in the attack, according to health officials in Gaza. Two weeks later, Israel's military struck Gaza's Shijaiyah neighborhood, leveling a building complex, approximately 20 minutes before the beginning of a 12-hour ceasefire.
Ferguson erupts
The St. Louis suburb of Ferguson turned into a virtual warzone, with cars and buildings set ablaze. Locals took to the streets following the acquittal of white policeman Darren Wilson, who faced charges of unlawfully killing black teenager Michael Brown. Looting and riots followed for two days and spread across the country as millions of Americans believed justice had not been served. Concerns of police brutality were once against raised as dozens uopn dozens of peaceful protesters were rounded up, at times quite brutally.
Putin and Obama not seeing eye to eye
Vladimir Putin and Barack Obama may have seemed to have been giving one another a friendly glance. However nothing could have been further from the truth as the two Presidents were in Normandy to commemorate the 70th anniversary of the D-Day landings in World War II. The image was captured by two separate cameras and displayed on a big screen, with Putin and Obama nowhere near one another.
FEMEN's topless protest in Paris
Twenty-five FEMEN activists were arrested in Paris in October after carrying out their trademark topless protest in front of the Palace of Justice to rally against a sentence given to fellow member Yana Zhdanova for exhibitionism. The activists, including FEMEN's Inna Shevchenko, chanted slogans such as "Feminist not exhibitionist" and "Not criminals" and held signs reading "Naked and free" and "My body, my manifesto." Zhdanova was fined €1,500 (US $1,897) by the Parisian court for destroying Russian President Vladimir Putin's wax statue at the Grevin Museum in June.
Donetsk airport in ruins
Just under three years ago, Donetsk's brand new airport, which cost in the region of half-a-billion dollars, was opened ahead of Euro 2012 Football Championships. Today it has been reduced to rubble, with Ukrainian government forces and local militias fighting over the strategic location for over six months. Named after the legendary Soviet composer Sergey Prokofiev, the hub handled around 5 million passengers a year. However it now resembles a wasteland, with burnt out cars and planes, as well as walls riddled with bullet holes litter the landscape.
Indian men meet their match
When three men began harassing two sisters on a bus in India, the last thing they expected was the young women striking back, beating their attackers with belts, while other passengers sat idle. The video went viral and prompted police to arrest the assailants. Aarti, 22, and Pooja, 19, were returning from Rohtak College to the town of Sonepat in the state of Haryana, when they were approached by three men. The males made obscene gestures towards the women and then started to hit them. However, the sisters didn't succumb: they mustered enough courage to thrash their assailants with their hands and belts, trying to push them out of the bus. Police later arrested all three men on charges of molestation and assault.
You can share this story on social media: