'Winter hell': Snowstorm paralyzes major Russian highway (PHOTOS)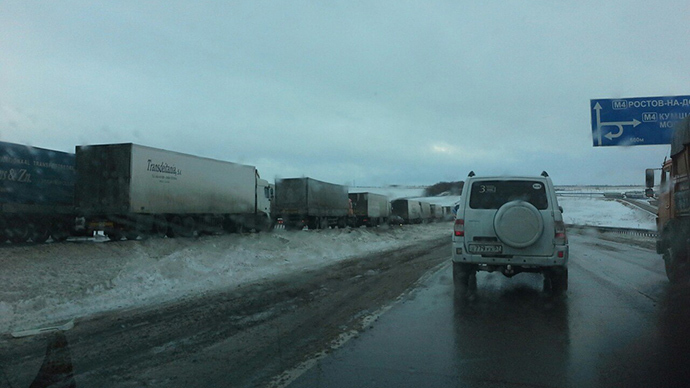 Russia has seen many harsh winters – but even here, drivers don't welcome wintry roads. Heavy snow and hail turned part of a highway running from Moscow to Rostov into a parking lot. Cars were reportedly buried under snow upon stopping for just a minute.
Though the Rostov Region Traffic Authority told local media that the problem area covers only a two to three kilometer stretch of the M4 – Russia's only nationwide expressway – witnesses say the devastating traffic jam covers tens of kilometers and has lasted for several days.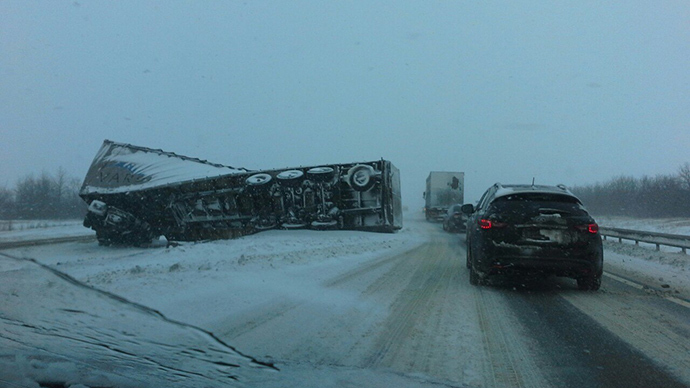 #м4 как всегда стоит#200кмза6ч

Фото опубликовано @ralnikovaanya Дек 12, 2014 at 10:19 PST
Eyewitness Konstantin Ozerov told RT in a phone interview that although he saw emergency service cars, he couldn't ascertain exactly what they were doing. He also underscored the severity of the jam, calling it a "winter hell."
"You can't call this traffic. It's a collapse," he said. "Driving was completely impossible. As soon as cars stopped they were immediately covered in snow."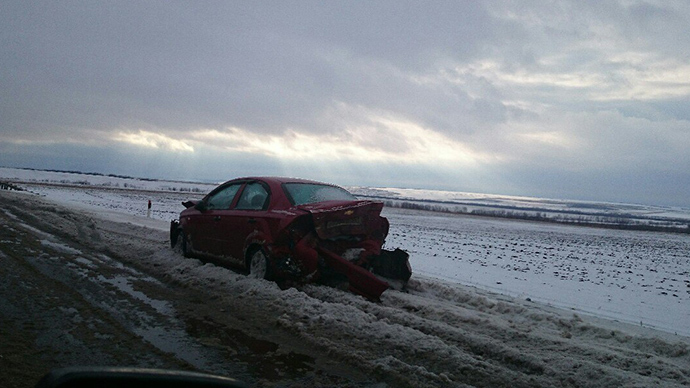 Ozerov said he personally saw around 30 accidents.
Dmitry, another witness, told RT that some cars were at a dead stop for hours.
#Ростовскаяобласть #м4 #снегопад

Видео опубликовано Dmitriy Fau (@fau_vstk) Дек 12, 2014 at 12:33 PST
Many trucks that had been parked overnight were unable to pull out of the snowdrift. When they finally managed, the trucks ended up blocking the road, bringing all traffic to a halt, Ozerov said. The trucks also had trouble scaling the steep icy hills.
Ozerov praised the conduct of drivers and passengers in the grim circumstances, noting that everyone did what they could to help each other – including pushing stalled cars.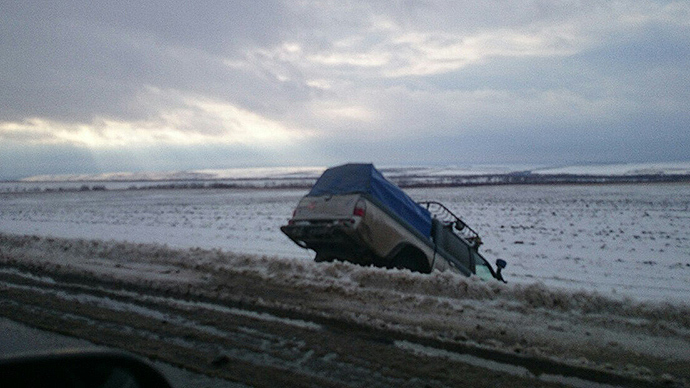 The traffic authority has confirmed that currently 25 emergency clearance workers, three snow plows, and 17 other snow clearing vehicles are working to improve the area.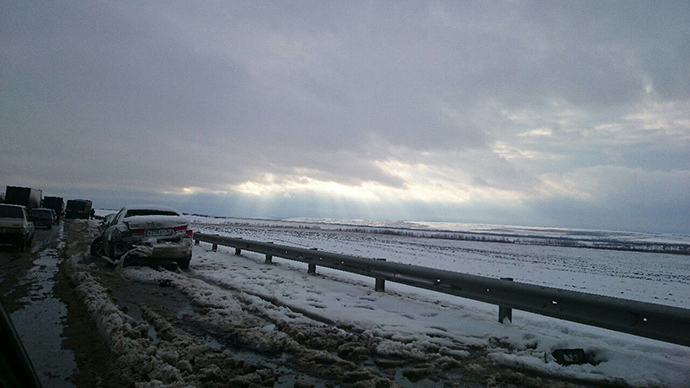 While trucks were stuck along the highway in double columns, many smaller cars were able to use the shoulder to escape. Some, however, remain stranded. Many of those stuck on the M4 were headed south to ring in the New Year with their families.
#Ростовскаяобласть #м4 #снегопад #28декабря #снег #трасса #пробка

Фото опубликовано Dmitriy Fau (@fau_vstk) Дек 12, 2014 at 12:46 PST
You can share this story on social media: