Search for missing AirAsia flight resumes as 24 hours pass
Anxious family members of the missing AirAsia flight have gathered at the airport in Surabaya to await news of their loved ones. Meanwhile, the search operation for the missing plane was resumed at the first light of morning.
READ MORE: Missing AirAsia flight QZ8501 LIVE UPDATES
Indonesia has deployed seven aircrafts, four navy ships, and six search vessels to help find the missing plane.
Australia also deployed an AP-3C Orion Maritime Patrol Aircraft on Monday to join the Indonesian-led operation.
JUST IN: #AirAsia#QZ8501: Search operation resumes, relatives await news http://t.co/LmbEx3iHGGpic.twitter.com/6DGuzZ4WxX

— ST Foreign Desk (@STForeignDesk) December 28, 2014
Singapore has sent its second military transport aircraft, C-130 Hercules, to help with the search operation.
Some small boats continued looking for the plane throughout the night, while air search operations over the Java Sea resumed on Monday morning, Indonesia's National Search and Rescue Agency said.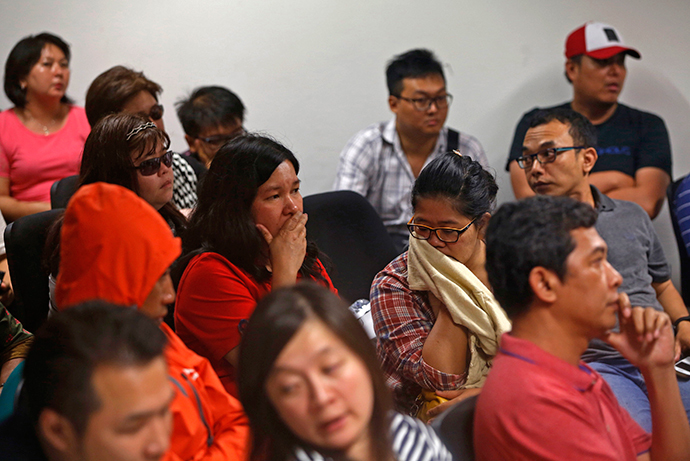 The passenger jet, carrying 162 people, went missing during a flight between Indonesia and Singapore on Sunday morning after losing contact with air traffic control at 7:24am. Before disappearing, the pilot had asked for permission to deviate from the flight path due to storm clouds, said the Malaysian based airliner. He requested to climb to 11,000m in order to avoid a large cloud.
Indonesia authorities have said that the plane went missing somewhere between the islands of Belitung and Borneo.
Indonesia's acting director general of transportation said that the jet didn't issue a distress signal.
"We hope we can find the location of the plane as soon as possible, and we hope that God will give us guidance to find it," Djoko Murjatmodjo told reporters. "We don't dare to presume what has happened except that it has lost contact."
This is an estimated position of #QZ8501 at 23:18 UTC when AirNav Indonesia say they lost radar contact pic.twitter.com/IMMht5xbEG

— Flightradar24 (@flightradar24) December 28, 2014
Those aboard AirAsia flight QZ8501, an Airbus A320-200, included 155 passengers, two pilots, and five cabin crew members. Most of the passengers were Indonesian. One French citizen, a UK national, one Malaysian, a Singaporean, and three South Korean, were also on board, according to an AirAsia statement. Seventeen children, including a baby, are among the passengers.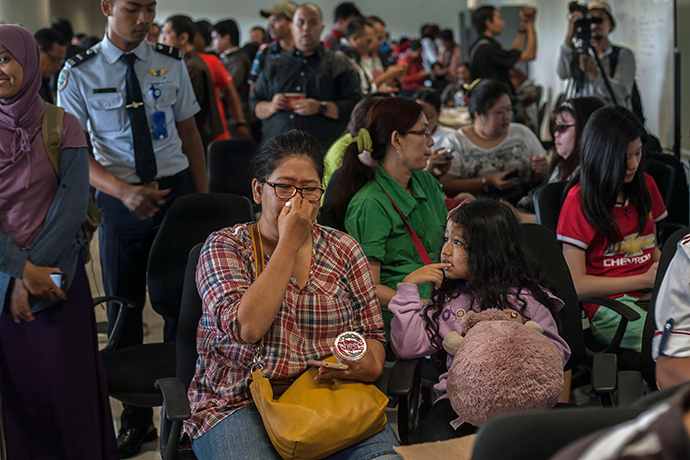 AirAsia CEO and founder, Tony Fernandes announced that he was traveling to Surabaya, where most of the passengers are from. Earlier he tweeted, "Thank you for all your thoughts and prayers. We must stay strong."
To all my staff Airasia all stars be strong, continue to be the best. Pray hard. Continue to do your best for all our guests. See u all soon

— Tony Fernandes (@tonyfernandes) December 28, 2014
I as your group ceo will be there through these hard times. We will go through this terrible ordeal together ... http://t.co/6iO2zKcFzN

— Tony Fernandes (@tonyfernandes) December 28, 2014
Airport officials have been attempting to keep media away from passengers' relatives, dozens of whom have gathered at Juanda airport in Surabya and Singapore's Changi airport for any word of their loved ones. Help and support has been provided by airport care officers and counsellors from the Ministry of Social and Family Development.
Airport workers held up panels to shield distressed relatives from the media storm.
Louise Sidharta, 25, was waiting for her 27-year-old fiancée Alain who had been aboard the flight with his family. The two were supposed to meet in Singapore for a holiday.
"It was supposed to be their last vacation, before we got married. It was supposed to be his last vacation with his family," she told reporters.
Another man named Purnomo recounted his lucky escape to TVOne in Surabaya. "I should have been on the flight ... but this morning I had an emergency. I had my passport in hand," he said.
2014 has been a rough year for Malaysian carriers. Malaysian Airlines lost two jets earlier this year. One was shot down over eastern Ukraine in July, and the other disappeared over the Indian Ocean in March.
READ MORE: AirAsia flight from Indonesia to Singapore confirmed missing