AirAsia flight QZ8501 found off Borneo coast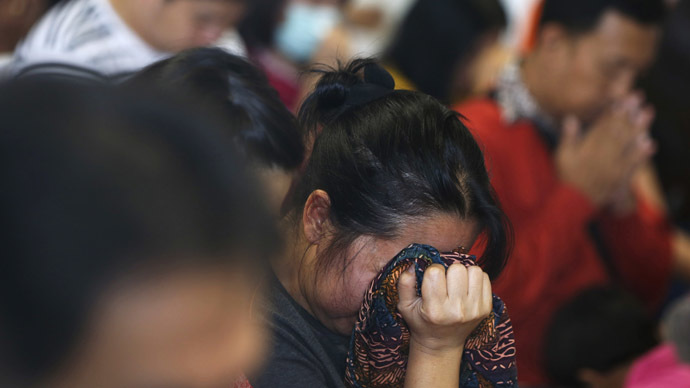 The missing AirAsia flight has been found off the coast of Indonesia's Kalimantan coast according to a search and rescue team. Some bodies have been recovered according to local reports, but there are thought to be no survivors.
13 January 2015

05:04 GMT

An investigator at the National Transportation Safety Committee has confirmed to Reuters that the cockpit voice recorder from the wreck of an AirAsia passenger jet was retrieved from the Java Sea on Tuesday morning.

03:46 GMT

The second black box was retrieved and lifted from the wreck onto an Indonesian navy vessel on Tuesday morning, Indonesian news channel MetroTV said, quoting a transport ministry official. It is expected to be sent to the capital for analysis.

31 December 2014

03:08 GMT

02:53 GMT

One of the three newly recovered bodies was female dressed in a stewardess uniform, F. H. Bambang Soelistyo, chief of Indonesia's search and rescue agency said. The other two bodies were male.

02:13 GMT

Around 75 ambulances are waiting to receive bodies of the victims at Juanda International Airport. The remains will then be transported for forensics and identification.

02:01 GMT

Three additional bodies have been found in the morning, according to the National Search and Rescue Agency (BASARNAS) chief, Channel News Asia reports. The total of six recovered bodies have not yet been brought to shore to Pangkalan Bun in Kalimantan due to bad weather.

01:52 GMT

Poor weather conditions are hampering recovery efforts off the island of Borneo.

"Our assets are standing by, but we can't dispatch divers yet because of the bad weather," Tatang Zaenudin, deputy operations officer of Indonesia's search and rescue agency, told The Wall Street Journal.

"We have to move quickly as [the meteorological agency] had warned us that the weather will get worse Friday," Zaenudin added.

30 December 2014

15:13 GMT

A pilot flying a C-130 Hercules aircraft taking part in the search operation said he spotted seven or eight bodies in the water at the Karimata Strait on Tuesday, Indonesian media outlet Kompas reported. He added that three of the bodies appeared to be holding hands.

13:11 GMT

The US has announced it is sending a second ship to help in the recovery operation. The USS Fort Worth is preparing to leave Singapore and will be at the scene in a day or two.