Emergency shutdown at Ukraine's largest nuclear power plant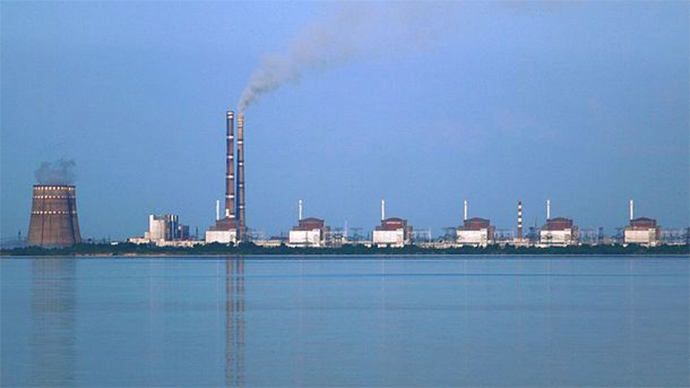 One of the reactors at the Zaporozhye Nuclear Power Plant was automatically shut down after a glitch. This was the second halt in operations in recent weeks at the plant in Ukraine's southeast, which covers at least one fifth of the country's power needs.
"Unit 6 atZaporozhyeNPP was disconnected from the network by the automatic system that prevents damage to the generator. The reactor is running at 40 percent of nominal power," the plant's official website says stressing that radiation at the facility is equal to the natural background, which is 8-12 microroentgen/hour.
This accident took place on Sunday morning at 05:59 am local time (03:59 GMT). Causes are still being investigated, while the Energy Ministry hopes to restart the unit in the coming days. The remaining five reactors continue to generate an estimated 4,530 MW.
Late on Sunday, the problem had been fixed and the power plant's sixth power block had been plugged back into the network, the plant said on its website.
"Unit №6 was plugged back in after an error was corrected...At this moment all six power blocks are working," the statement said.
The previous incident at Zaporozhye NPP happened on November 28, but the fact went public five days later, when Ukraine's Prime Minister Arseny Yatsenyuk revealed it during the first session of his new cabinet.
READ MORE: Accident at largest nuclear power plant in Europe revealed by Ukraine PM
At that time the shutdown was caused by a short circuit. As a result, Unit 3 was switched off and put into maintenance to resume operations on December 5.
#Zaporizhia IS it logical to have Nuclear Power Plants in an UNSTABLE, financially BROKE Country? @DrHCaldicottpic.twitter.com/OzJuDLqpth

— MP Garza (@mpgarza2012) December 4, 2014
Zaporozhye is the largest nuclear power plant not only in Ukraine, but also in Europe and also the fifth largest NPP in the world. It is on the bank of the Kakhovka water reservoir on the Dnieper River, some 200 kilometers from the rebel Donetsk region.
Ukraine's four nuclear power plants constitute a huge part of the country's energy system. Fifteen nuclear reactors produce at least 50 percent (over 13 megawatt) of all electric power in Ukraine. Zaporozhye NPP alone produces up to 22 percent of all electricity generated in the country.
Two Zaporozhye NPP reactors are to be decommissioned for complete overhaul in February 2015 having operated for 30 years. Unit 1 will be out for maintenance for 129 days.
The new accident at Zaporozhye NPP might deteriorate the catastrophic energy shortage Ukraine is currently witnessing, as its fossil power plants have run out of coal.
National energy company Ukrenergo has launched emergency power cuts all over the country to help sustain energy. Consumers are experiencing blackouts that last for hours every day. Ukrainian enterprises are forced to limit their energy consumption and to switch to night production.
Kiev authorities have been refusing to buy coal from the Donetsk and Lugansk regions, as they don't want "to sponsor" the rebels, and instead turned to other countries. Those attempts were unsuccessful due to general inability to pay or the fact that the supplied coal didn't fit Ukraine's energy production.
On Saturday, the Russian president's spokesman said Russia will supply coal and electricity to Ukraine without prepayment.
READ MORE: Moscow to supply coal, electricity to Ukraine without prepayment
NUCLEAR Accident @ #Zaporizhia! 50% o #Ukraines power cmes fr nukes. NEEDS all 15Reactrs operatnal2 keep t lights on pic.twitter.com/TeVNiEZNz2

— MP Garza (@mpgarza2012) December 3, 2014
Throughout 2014 Zaporozhye NPP came into the spotlight of world media on several occasions. In May, Ukrainian police prevented a group of armed men, reportedly from the Right Sector neo-Nazi paramilitary group, from entering Europe's largest nuclear power plant.
READ MORE: Gunmen attempt to enter Ukraine's largest nuclear power plant
Then the news came that Kiev had signed a new deal with America's leading nuclear fuel producer, Westinghouse Electric Company, instead of the Russian TVEL company that has been supplying fuel rods to Ukraine for years. This was done despite the fact that using US fuel rods was banned in 2012 due to dangerous incompatibility.
READ MORE: Chernobyl memories faded? Kiev turns blind eye to disaster risk in nuclear deal with US
In August, Greenpeace expressed concern that Zaporizhia NPP is vulnerable to 'direct bombardment' in Ukraine if caught in the conflict.
READ MORE: Ukrainian nuclear plant vulnerable to Kiev's artillery strikes – Greenpeace expert
You can share this story on social media: