Chernobyl memories faded? Kiev turns blind eye to disaster risk in nuclear deal with US
In order to alleviate energy dependence on Moscow, the coup-imposed government in Kiev has resurrected a contract with a US company to supply fuel to Ukraine's nuclear power plants. Using US fuel rods was banned in 2012 due to dangerous incompatibility.
The rivalry for nuclear fuel supply to Ukraine between Russia's nuclear fuel cycle company TVEL and America's Westinghouse took a twist when in April 2014, shortly after the armed coup, Kiev signed a new deal with America's leading nuclear fuel producer, Westinghouse Electric Company, instead of the Russian TVEL company that has been supplying fuel rods to Ukraine for years.
Ukraine's 4 nuclear power plants constitute a huge part of the country's energy system. The country's 15 nuclear reactors produce at least 50 percent (over 13 megawatt) of all electric power generation in Ukraine. All nuclear fuel for Ukrainian reactors (worth hundreds of millions of dollars a year) has been produced in Russia, which also recycles Ukraine's nuclear waste.
Moreover, Russia's Rosatom state-owned nuclear monopoly is currently constructing a nuclear fuel fabrication plant in Ukraine, where nuclear fuel rods will be assembled using uranium enriched in Russia.
All in all, Ukraine has relied on Russia in all atomic matters – but the West has muscled in on the relationship.
The Westinghouse Electric Company has been trying to 'ease' the former Soviet-bloc countries energy reliance on Russia and enter the market in Eastern Europe for over a decade. For that purpose the company was also using political leverage. Back in 2012, the then US Secretary of State Hillary Clinton attempted to convince Czech leaders to pick up America's Westinghouse as a primary nuclear fuel supply partner instead of Russia, which would create thousands of new jobs in the US.
Actually, Westinghouse has already supplied nuclear fuel to Ukraine's Energoatom nuclear power generator company. In 2005, six experimental Westinghouse fuel assemblies, adopted for use in USSR-developed reactors, were tried at the South Ukraine plant in one reactor together with Russian fuel rods.
Though nuclear engineers were skeptical of the pilot probe, the government of former president Viktor Yushchenko signed a deal in 2008 with Westinghouse on fuel rod supply, despite the fact that American nuclear fuel is significantly more expensive and technologically different: Russian nuclear fuel rods are hexagonal in section, while Americans produce fuel assemblies of square section.
This time a batch of 42 fuel assemblies was loaded into three reactors at the South Ukraine nuclear power plant for a standard three-year period of commercial operation.
When in 2012 the time came to replace the fuel assemblies, Ukrainian nuclear engineers found that Westinghouse assemblies deformed during exploitation and got stuck in the core.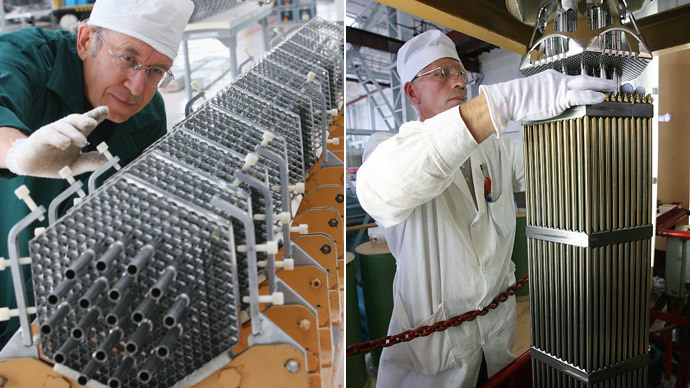 Energoatom accused Westinghouse of producing poorly engineered assemblies, whereas Westinghouse countered, accusing the Ukrainian engineers of installing the rods badly.
After the incident the use of American nuclear fuel was banned in Ukraine fuel rods were returned to the producer 'to get fixed' and Russian experts were summoned to help with the repair of the equipment produced in the USSR. The Energoatom Company lost an estimated $175 million.
Similar problems with Westinghouse fuel assemblies occurred at a number of other USSR-constructed nuclear power plants: NPP Krško in Slovenia, NPP Loviisa in Finland and NPP Temelin in the Czech Republic. All these countries opted to return to time-proved fuel assemblies produced by Russia's TVEL Company.
Now Ukraine appears to be ready to fall into the same trap twice. The coup-imposed Kiev regime has renewed the 2008 nuclear fuel deal till 2020, to replace 25 percent of the Russian-made fuel rods with an option to "provide more if needed," reported the Associated Press in April - all this for the sole purpose of 'diversifying' supply.
Kiev's interim authorities may be not familiar with nuclear energy technologies, but they surely have a clue about theconsequences of a Chernobyl-like tragedy.
What happened back in 2012 at Zaporozhskaya NPP could have potentially ended with another Chernobyl, because having unextractable fuel assemblies loaded means a potential loss of control over the fission processes inside the reactor.
But the new Kiev authorities, supported by Washington, are making every effort to cut Ukraine's economic ties with Russia, so crossing over from Russian nuclear fuel to American sounds attractive to Arseny Yatsenyuk's government despite the 2012 incident.
Furthermore, Westinghouse won't recycle its fuel rods when they 'burn out', so Ukraine will be spending even more budget money to prepare special storage facilities for nuclear waste. Also, the company may have its sights set on a much-hotter prize.
"This move by Westinghouse is really to secure not just a fuel contract, which will go on for many years, but to put its foot in the door to build a fuel fabrication plant in eastern Ukraine. And that's what's most important and that's what they're after," John Large, an independent nuclear analyst from London, told RT.
Experts generally agree that nuclear power plants are constructions that should not undergo drastic transitions.
"A nuclear reactor demands a coherent structure of operations. The active reactor core is the most dangerous when it comes to the impact it may have on people and the environment. All reactors differ in smallest details, and toying around with them leads to no good," Evgeny Akimov of the International Union of Nuclear Energy Veterans told RT.
And if something goes wrong, Kiev may find that they are lonely in facing the consequences.
"As far as I know, Westinghouse signs contracts in which the company bears no responsibility, so the burden will lie with Ukraine," said Rafael Arutyunyan, a nuclear security expert and professor at the Moscow Institute of Physics and Technology.
With Chernobyl and Fukushima being the prime examples, nuclear power is a force to be handled with great care. Yet, Kiev's actions seem to be dictated by politics rather than risks, even when the consequences may affect not just Ukraine, but the entire European continent.
When the Chernobyl tragedy occurred back in 1986, it was a pure coincidence that Ukraine's wind direction, usually directed into Europe, changed, sending radioactive fallout in the direction of Russia and Belarus.
In this over-politicized case, European capitals would do well to learn how the wind blows beforehand.
You can share this story on social media: