11yo Jewish girl critically injured as firebomb hits West Bank settlers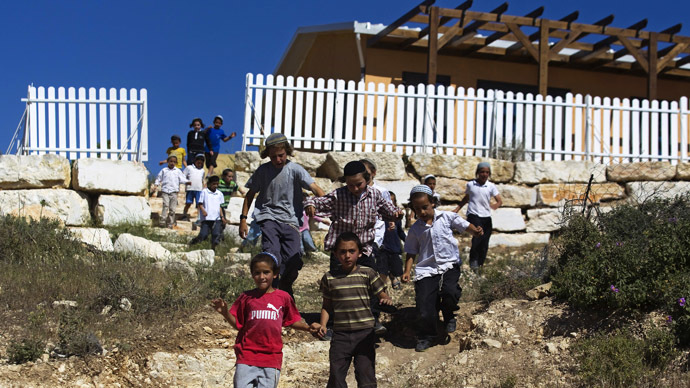 An 11-year-old Israeli girl has been seriously wounded after her father's car was struck with a Molotov cocktail on their way to a West Bank settlement. The Israeli government promised to respond to the incident with "harshness."
Avner Shapira and his daughter Ayala were driving home to El Matan near Maale Shomron settlement in the West bank when their car was attacked with a firebomb at about 6:30 pm on Thursday. They managed to escape the burning car, but Ayala received serious burns.
Shapira had to carry his daughter for about a kilometer to ask for medical assistance.
TODAY IN ISRAEL: Israeli girl, father wounded by firebomb thrown at car. Ayala Shapira, 11, is fighting for her life. pic.twitter.com/3Wi81Bx2yh

— Andreas Fagerbakke (@afagerbakke) December 25, 2014
READ MORE: Israel approves over 350 new settlements in occupied Jerusalem

According to paramedics, the father received minor injuries and the daughter had third degree burns that covered half of her body. She also needed a respirator. Ayala's condition was life threatening and she was transferred to the hospital.

"She was admitted to the trauma unit for surgery. She is suffering from injuries to the areas of the head and hands and medical teams are working to stabilize her condition," Prof. Zeev Rothstein told Channel 2.
Picture of 11 y/o girl Ayala Shapira and father in hospital after being attacked by firebomb earlier. pic.twitter.com/J1U5JaXyGB

— Israel News Flash (@ILNewsFlash) December 25, 2014
The Israel Defense Forces have immediately started a search for the attackers.

READ MORE: IDF strikes Gaza in retaliation to rocket fire

Meanwhile, Interior Minister Uri Ariel has called on the government and army to respond to attackers with "severity and harshness."

"Firebombs have one goal – to kill Jews," he said in a statement.

The attack follows an incident in which Israeli police fired a rubber bullet at a five-year-old Palestinian boy's face as he was getting out of a school bus on his way home on Wednesday. The boy sustained a skull fracture under his eye.

READ MORE: Israeli serviceman shoots 5yo Palestinian in the face (GRAPHIC IMAGES)

Earlier in November, an 11-year-old Palestinian was shot at close range in the face by a sponge bullet in al-Issawiya. Saleh Samer Attiyeh Mahmoud lost his left eye, and the vision of his right eye was also severely damaged.
You can share this story on social media: