Police shoot & kill armed black teen in St. Louis area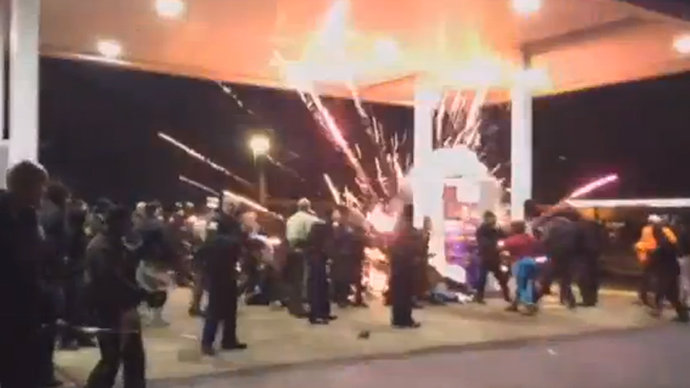 An 18-year-old armed teenager identified as Antonio Martin has been shot by officers in the St. Louis area, police confirmed. The incident was followed by protesters clashing with police at the scene, accompanied by the sound of loud bangs.
A police officer was conducting a routine check at the Mobil gas station in the suburb of Berkeley, St. Louis at about 11:15 pm local time, St. Louis County Police said. The officer saw two male suspects and approached them. One man pulled a handgun and pointed it at the police officer.
The officer then fired several shots and wounded one of the suspects fatally. The second man managed to escape the scene.
The St. Louis County Police Department is conducting an investigation into a shooting death involving a Berkeley,... http://t.co/MkxfC47B0L

— St. Louis County PD (@stlcountypd) December 24, 2014
Police added they can't yet confirm the identity of the victim. However, the mother of the deceased said it was her son - Antonio Martin, 18.
Soon after the incident protesters clashed with law enforcers at the scene. Loud bangs and smoke have also been reported.
In Berkeley at fatal officer involved shooting, fights, explosive device thrown into fight, brief fire at QT put out pic.twitter.com/0JovSbrJVp

— David Carson (@PDPJ) December 24, 2014
According to the St. Louis Post-Dispatch, at least three people have been arrested in the clashes.
Hundreds of protesters are in the area. YouTube videos show several people letting off fireworks at the gas station, while others are smashing the windows of a shop there.
UPDATE: police and protesters are clashing at #Berkley's gas station, St. Louis, where #AntonioMartin was killed - our producer is there

— Ruptly Newsroom (@RuptlyNewsroom) December 24, 2014
Social media users posted photos and videos of the victim's emotional mother bursting into tears the moment she learns her son is dead.
"They started shooting," Toni Martin, the teen's mother told reporters.
She added that her son was with his girlfriend at the time of the incident. The girlfriend remains at the scene, but won't speak to reporters.
"That's my baby," Toni Martin was crying over and over again.
Photos reportedly showing Antonio's girlfriend with him at the time of the shooting were released by the St. Louis Post-Dispatch.
Mother of #Antonio Martin https://t.co/uZyzDbbea6

— Search4Swag (@search4swag) December 24, 2014

Martin attended Jennings Senior High School in St. Louis, Missouri, according to Twitter users.
Antonio's mother later told the St. Louis Post-Dispatch that her son was expelled from school, but was trying to gain employment via Jobs Corps, a US program offering free-of-charge education and vocational training to young people.
Antonio Martin's mom told me he was expelled from Jennings high school but was trying to get a job through Job Corps.

— Valerie Schremp Hahn (@valeriehahn) December 24, 2014
The medical examiner has reportedly arrived at the scene of the incident.
This is Officer Griffin he is the one who told me it was a #Berkeley police officer who shot #Antonio Marti... https://t.co/rS0blet0GU

— Search4Swag (@search4swag) December 24, 2014
Dozens of Twitter users claim Martin was unarmed when he was shot. People gathered at the scene, demanding police explain what happened.
They are shouting "Innocent people!" and "What is that?"
"You drop four bodies, I'm giving you four seasons of protest," a woman was heard shouting at a police officer.
"@Nettaaaaaaaa: No name badges #AntonioMartin#Berkley#Fergusonpic.twitter.com/UDR2S7g2E6" because they have on coats/jackets.

— Lord Baeless (@Free_Ace) December 24, 2014
Some angry witnesses have managed to break through police tape and are now at the scene.
Twitter users report the body of Antonio has been blocked from view. According to bystanders, the teen was alive for about 30 minutes after being shot.
The incident occurred as US police are being widely criticized for their brutal tactics against suspects, especially African Americans. Over the past weeks tens of thousands of Americans across the country have taken part in massive marches protesting the slaying of unarmed black men by police.
READ MORE:Anti-police brutality rally paralyzes Mall of America (PHOTOS, VIDEO)
Protesters are now on the scene. Have crossed the tape line and made it to edge of the Mobile parking lot. pic.twitter.com/Qn747zoJyC

— Search4Swag (@search4swag) December 24, 2014
The protesters spoke out against grand jury decisions not to indict the white officers responsible for the deaths of Michael Brown and Eric Garner. They staged rallies and 'die-ins' under the banners 'Black Lives Matter' and 'Justice for All.'
READ MORE:2 New York cops murdered in 'execution style' ambush
READ MORE:Police officer shot to death in Florida
On Saturday, two NYPD officers were shot dead at point blank range by a black suspect who ambushed their patrol car 'execution style' in Brooklyn. The perpetrator, Ismaaiyl Brinsley, 28, fled the scene and committed suicide, authorities confirmed.
You can share this story on social media: