​Police officer shot to death in Florida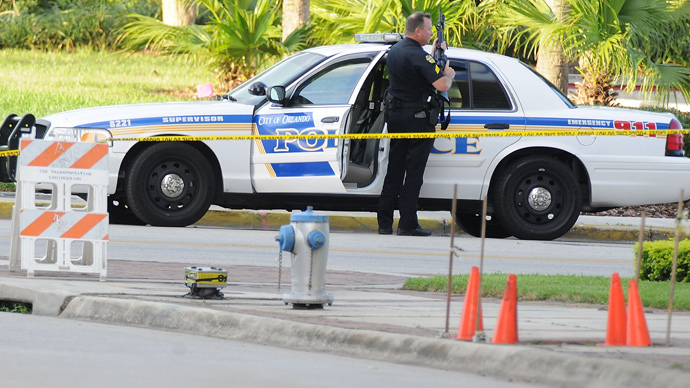 A suspect has been taken into custody and charged with first degree murder for fatally shooting and running over a police officer in Tarpon Springs. The incident comes after a gunman killed two officers in NYC after issuing threats against police.
The suspect, identified as 23-year-old transient, Marco Antonio Parilla Jr. shot and killed veteran officer Charles Kondek early Sunday morning near the coastal town's Sponge Docks, local media reports. The 45-year-old father of five had been on the force for 18 years.
After shooting the officer, the suspect fled the crime scene in a white Hyundai sedan, before crashing into a pole, where he was arrested. Several city blocks around the crime scene were cordoned off Sunday morning as investigators collected evidence.
During a press conference on Sunday afternoon, Pinellas County Sheriff Bob Gualtieri said Parilla had a trail of criminal activities with almost 30 felony arrests, and 15 misdemeanor arrests.
Parilla w/ history of drug charges in FL. Was on community supervision after being released Mar 2014 from prison. pic.twitter.com/a1dlWmR7yg

— IONTB.COM (@IONTB) December 21, 2014
"He should never have been on the streets to begin with," Gualtieri said announcing that Parilla was released from the Florida Department of Corrections in March.
Police established the suspect came to the apartment complex to confront a resident who Parilla thought had reported his probation violation. The assailant went on knocking on doors trying to locate the person he was looking for. That is when a resident noticed a gun on Parilla and called the police.
Gualtieri said Kondek got to the area at around 2 am in response to a noise complaint and noticed something that made him call for back up.
The Sheriff said that's when Parilla began walking to the car, he fired a .40 caliber handgun at Kondek, striking him in the upper chest. Parilla then ran over the officer as he fled the scene, Gualtieri said.
Two Tarpon Springs police officers were in pursuit of the fleeing car before it crashed into a power pole on Athens Street. Parilla then fled on foot, but was eventually taken into custody.
Police in Florida have arrested 23-year-old Marco Antonio Parilla Jr. on suspicion of fi... http://t.co/smoiauPBbrpic.twitter.com/jSiQaLwhBB

— bonnie (@boniemylurv) December 21, 2014
"He had no reason to do this, absolutely no reason to take a police officer's life," said Gualtieri.
Tarpon Springs Chief of Police Robert Kochen and Tarpon Springs Mayor David Archie who also spoke briefly at the press conference expressed their condolences.
"We grieve for the community that lost a hero but with that grieving we have to have resolve, we have to move on, we have to heal. That's what we do. When one of our own goes down, it doesn't matter what badge you where, people come and help," said Kochen.
The killing comes on the heels of Saturday's double police murder in New York. A 28-year-old African-American man shot and killed two police officers in Brooklyn before turning the gun on himself. The man had posted assassination threats, including pictures of the pistol he would use to kill the officers, on Instagram earlier that day.
READ MORE: NY cops shooter was almost tracked after posting threats to avenge Brown and Garner
The suspect's alleged Instagram posts have led investigators to believe that the gunman was seeking to avenge the deaths of Eric Garner and Michael Brown, two unarmed black man who were killed by police officers earlier this year, spurring mass protests against police brutality and racial profiling nationwide.
READ MORE: Protest against police brutality invades NYC's Times Square
The person believed to be the gunman used the hashtags #RIPEricGarner and #RIPMichaelBrown under the threatening pictures, captioned "They Take 1 Of Ours . . . Let's Take 2 of Theirs" and "I'm Putting Wings on Pigs Today."
You can share this story on social media: