Australian mother charged with murder of 8 children
Published time: 21 Dec, 2014 05:05
Edited time: 21 Dec, 2014 05:06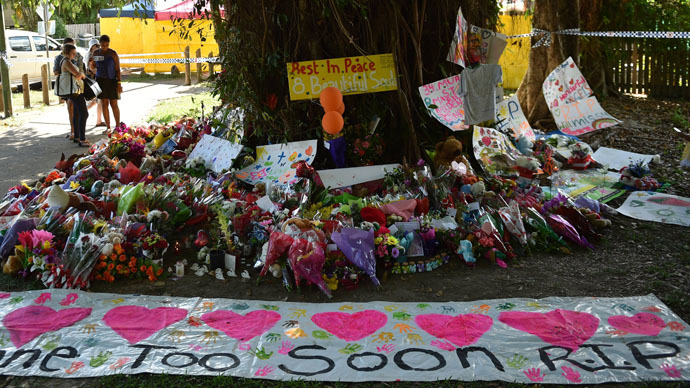 A 37yo woman in Australia has been charged with the murder of 7 of her children and a niece, who were killed in the northern city of Cairns. Four boys and four girls aged between 2 to 14 were found dead on Friday.
The woman, who is not being named, appeared before a magistrate at a bedside hearing in the Cairns Base Hospital, Queensland police said in a statement. She was charged with eight counts of murder.
Northern Region detectives have charged a woman in relation to the deaths of eight children in a house in Manoora... http://t.co/Gw5a4bZULj

— QPS Media Unit (@QPSmedia) December 21, 2014
READ MORE: Australian mother arrested for murder in mass killing of 8 children
She was initially admitted to hospital with non-life-threatening injuries and later on Saturday arrested and put under guard.
Although someone has been charged, the investigation continues. Police expect to be at the house for some time. #Manoora

— QPS Media Unit (@QPSmedia) December 21, 2014
Police so far have not officially announced the cause of death of the children. Investigators were inspecting multiple knives from the house as potential weapons. Other scenarios, including suffocation, are also being considered.
Detective Inspector Bruno Asnicar says the autopsies of the children who died should be completed by this afternoon. #Manoora

— QPS Media Unit (@QPSmedia) December 21, 2014
Autopsies on the children would be completed no sooner than Sunday evening, detective inspector Bruno Asnicar said. "We are considering that [suffocation] and that's why it's taking a bit of timeI Asnicar said cited by AFP.