8 children stabbed to death in Australia, mother in serious condition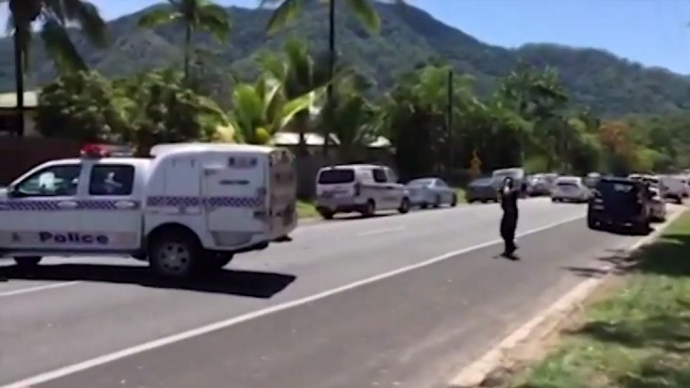 Eight children aged from 18 months to 15 years have been found stabbed to death inside a house in Manoora suburb of the city of Cairns in far north Queensland, police have confirmed.
Authorities were initially called in the scene after reports of a woman with serious injuries around 11.20am local time.
"During an examination of the residence police located the bodies of the children, all aged between 18 months and 15 years," police said in a statement, adding that a 34-year-old woman who was injured in the mass stabbing has been taken to hospital.
We can confirm Cairns detectives have established a crime scene & begun an investigation into the deaths of 8 children in Manoora today.

— QPS Media Unit (@QPSmedia) December 19, 2014
Police have cordoned off the house and closed traffic on Murray St. while detectives are searching through the property. Ambulances also remain on scene.
The children were apparently all siblings and the 34-year-old was their mother, a cousin of the injured woman told AAP. According to Lisa Thaiday, another 20-year-old sibling was the one who found his brothers and sisters dead inside the house.
"I'm going to see him now, he needs comforting. We're a big family ... I just can't believe it. We just found out [about] those poor babies," Thaiday said, as quoted by AFP.
Scenes of terrible grief in #cairns after 8 children found dead in house. @abcnews@ABCFarNorthpic.twitter.com/mUyF1YXWA7

— Sharnie Kim (@sharniekim) December 19, 2014
Police could not initially confirm the relationship between the children and the injured woman. She is in stable condition and assisting the investigation, Cairns Detective Inspector Bruno Asnicar said.
VIDEO: Cairns Detective Inspector Bruno Asnicar speaks about #Manoora deaths investigations. https://t.co/5IaHjZbXtx

— QPS Media Unit (@QPSmedia) December 19, 2014
Police said the situation is under control and there is no need for the public to be concerned about safety.There is no reason to believe that the incident was terrorism related, authorities say.
"Nobody goes in there until our forensic people go in there. Until we have done that, we're not going to be able to clearly establish any relationships," Detective Inspector Bruno Asnicar said, adding that the scene might be locked down for several days, according to ABC news.
BREAKING: 8 dead ranging in age from 18mths to 15yrs. 34yo woman in hospital assisting police w enquiries @abcnews

— Sharnie Kim (@sharniekim) December 19, 2014
Officers from the Cairns Criminal Investigation Branch, Child Protection and Investigation Unit, Scenes of Crime and Scientific section are conducting an investigation of the scene, AAP reports.
Cairns Post reporter Scott Forbes stressed that the local area has a large indigenous population.
"All of the people here are actually related to the people who were involved in this incident," he told the Australian Broadcasting Corporation of those who live on the same street.
"So they're all reeling at the moment. But telling us that she was a very, very protective, very proud mother who loved her children dearly," he added.
Murray Street in Manoora #Cairns blocked off. Police say 8 people including children killed @abcnews@ABCFarNorthpic.twitter.com/WqLx8zsNBo

— Sharnie Kim (@sharniekim) December 19, 2014
Australian Prime Minister Tony Abbott described the latest news as "heartbreaking."
"All parents would feel a gut-wrenching sadness at what has happened. This is an unspeakable crime. These are trying days for our country," Abbott stated.
The tragedy comes as Australia is still in shock following a deadly siege in a Sydney cafe on Monday. It resulted in two hostages being killed along with the gunman after police stormed the cafe some 16 hours into the stand-off.
RIP to the 8 kids found dead in Cairns. You're in a better place now

— Riley Skelton (@ileventeen) December 19, 2014
A 34yo woman is helping police after eight children were fatally stabbed in this Cairns home Details @TenNewsSydneypic.twitter.com/sLV5R1kLh9

— Hugh Riminton (@hughriminton) December 19, 2014
Eight children stabbed to death at a home in Murray Street, Cairns. Area cordoned off, dozens of police. @abcnewspic.twitter.com/1dawraaCI3

— Kristy Sexton (@kristysexton) December 19, 2014
You can share this story on social media: