Porsches sold out: Luxury cars go like hotcakes in Russia amid ruble plunge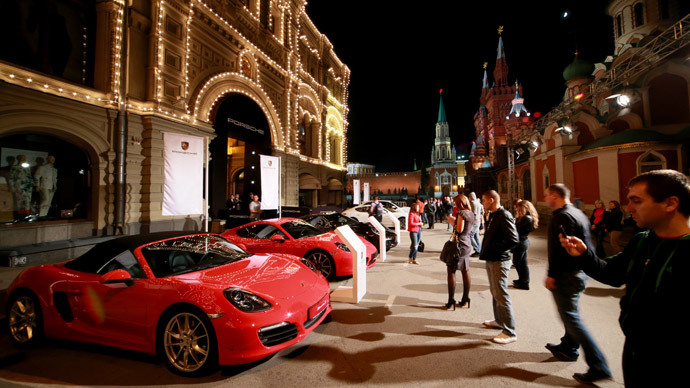 Car dealers in the Russian capital ran out of stock, as customers were buying Porsches, Lamborghinis and BMWs in unusually large numbers, despite growing price tags. The influx was prompted both by holiday spirits and ruble devaluation, experts say.
The national currency, which has crashed almost 50 percent against the US dollar and euro at some stages during the week, has definitely affected Russians' need for speed, but in an unexpected way. Moscow car dealers - primarily those selling luxury vehicles - said queues of customers were growing fast, with almost no stock left in several city showrooms by the end of the week.
READ MORE: Slumping ruble should push Russia to 'live in new reality' – Bank chief
"First of all, it's December and it's time of Christmassy behavior of our clients. The second factor which affected empty showroom is the situation in the currency market here in Moscow," director of Lamborghini Moscow Sergey Mordovin told RT, adding that dealers experienced "the same story" in 2008.
With showrooms emptying fast, out of 23 Italian luxury sports cars, sold by the Moscow dealer this year, six were purchased in December.
READ MORE: Sanctions are of no concern at glittering 2014 Moscow car show
Sellers of another premium brand - Porsche - have also run out of crossovers and sports cars - not just in the capital, but across Russia. Only a couple of German convertibles were on sale in Moscow, with all the Cayennes and new Macans - no matter what color or grade, being generally sold out.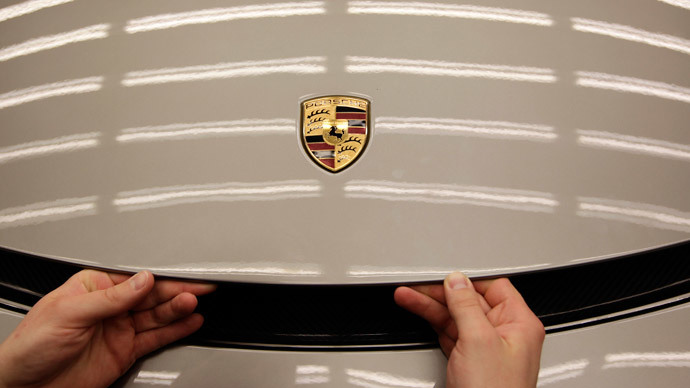 "We have no cars on offer at the moment. New cars will be manufactured in March, so you'll be able to get one in April," manager at one of Moscow's Porsche showrooms told Izvestia, adding that all storage garages were out of stock.
READ MORE: Hot cars: $3.3mn worth of Rolls Royces, Bentleys in flames in downtown Moscow
Making a pre-paid reservation (prices for Porches in Moscow start from 2.5 million rubles - around $42,500) does not guarantee the fixed cost, as dealers warn the manufacturer could still set a higher price in the future and ask for additional payment.
Sales of Porsche vehicles jumped 55 percent last month, according to Bloomberg, and Lexus demand surged 63 percent, with Japan's high-end vehicle dealers having to call in extra staff to handle overly eager customers.
READ MORE: 'Tsar-engine' for president: Russian-manufactured VIP cars will have up to 850 horsepower
"Cars, no matter budget or premium, are being sold like hotcakes currently," Tatyana Lukovetskaya, chief executive officer of Rolf Group, one of Russia's largest auto dealers, told Bloomberg, adding the market has not seen such a boom over a decade.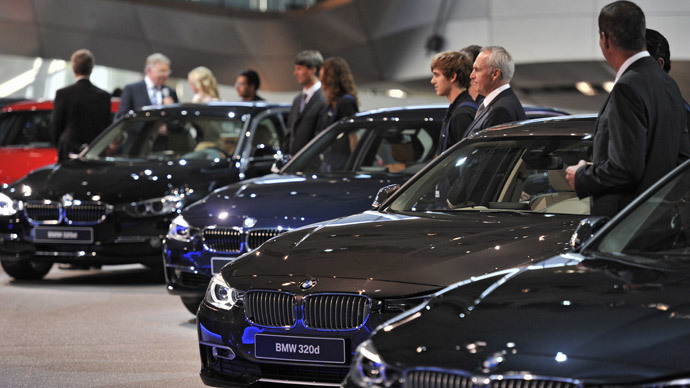 While some local dealers were counting the money they've made on drivers' feverish demand ("At one point we've got a week's revenue just in a day," a BMW representative told RT), others had to halt sales altogether, after foreign manufacturers halted their four-wheel drive vehicles to Russia. Jaguar Land Rover and several BMW dealers have made such announcements over the week.
But with no Porsche or Jaguar being anywhere in low beam, even turning to Russian Lada in an attempt to convert devaluated rubles seems out of option. According to AvtoSreda, local distributors of the Russian-made vehicle said the budget Ladas were also out of stock.
You can share this story on social media: