Slumping ruble should push Russia to 'live in new reality' – Bank chief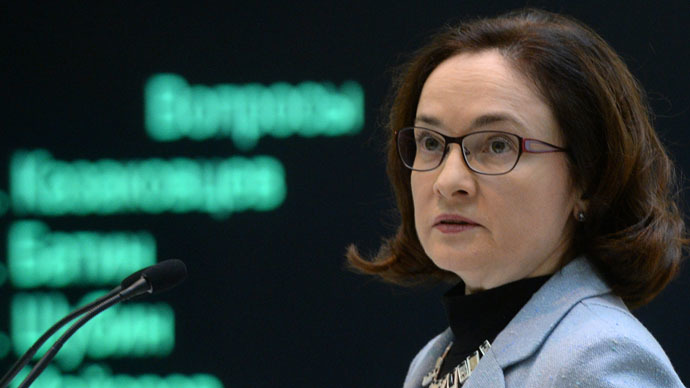 The plunging ruble is a signal for the Russian economy to adapt to new conditions, Russia's Central Bank Chair Elvira Nabiullina said, following the surprise midnight decision to hike the key interest rate to 17 percent.
The regulator decided to increase borrowing costs by 6.5 percentage points to stymie wild inflation and the ruble, which has fallen to record lows after the bank stopped spending billions of dollars intervening. The hike shocked the ruble, bringing it down from 67 to 60 rubles to the dollar. At the time of publication, the ruble exchange rate was 65.59 against the US dollar.
READ MORE: Russian Central Bank hikes key interest rate to 17% to halt ruble roil
"We must learn to live in a new reality, to focus more on our own resources to finance projects and give import substitution a chance," the bank chief said in a televised address Tuesday.
Russia's currency has lost more than 100 percent against the dollar this year, mostly to external factors, according to the bank governor. Nabiullina cited weak oil prices and restricted access to Western capital markets due to sanctions. Hitting new record lows, the ruble traded at 100 to the euro and 80 to the US dollar, more than 55 percent than just one year ago.
The Russian Ruble has been taken to the woodshed. $USDRUB$RSXhttp://t.co/5fkreYMnAfpic.twitter.com/yt9z8ykhQU

— StockTwits (@StockTwits) December 16, 2014
The internalization that Nabiullina is promoting is in line with the vision of Russian President Putin, who has looked for other sources of funding than the West after several countries sanctioned Russia. Import substitution is an economic plan to produce more domestically, as imports are now much more expensive for Russians given the weak currency.
Nabiullina said that the Central Bank has special tools not to restrict development and growth within Russia, citing finance of investment projects, and small and medium-sized business and commodity exports as target industries.
In its worst case scenario, the Central Bank sees a 4.5 percent negative growth in the first quarter of 2015, in other words a recession.
The Central Bank has yet to hint they would start a stimulus project, or money printing, to avoid recession.
"If anything there will be support, not stimulus for banks. It is a priority of the Central Bank to maintain and stabilize this sector," Vladimir Pantyushin, a senior stratist at Sberbank CIB, told RT.
Pantyushin also doesn't see Russia defaulting, as it did in 1998, as the budget is robust enough to combat economic hardships. Russia's foreign currency reserves, though at a 5-year low, stand at $415 billion, compared to just $15 billion when the crisis pushed the country into default in August 1998.
This year alone, the bank spent more than $80 billion defending the ruble. On November 10 the Central Bank announced the currency was officially floating freely.
You can share this story on social media: