​Tour de scallops: French sea products travel to China for cleaning, and then back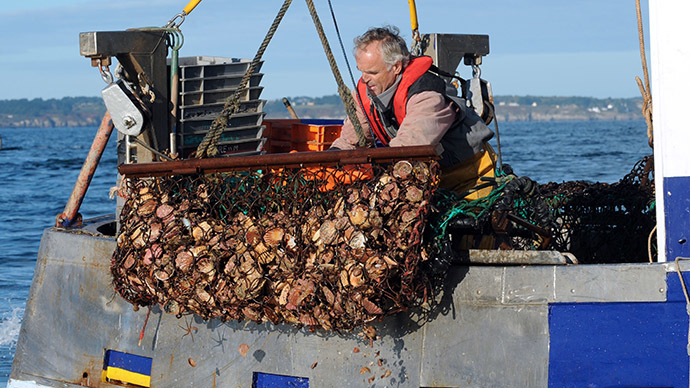 Scallops caught off the western coast of France wind up going on a torturous tour: they are shipped to China for cleaning, and then sent back to France for cooking. Authorities insist the far-flung trip is worth it.
Scallops, or "coquilles saint-Jacques", as they are called in France, are produced by the Celtigel company in northwestern Saint-Quay-Portrieux, Brittany, and are served in ready-made meals.
Millions of scallops are sent to China to be cleaned and then shipped back to France for further processing and cooking. Only a small portion of the scallops are cleaned at a local work center for disabled people, French media report.
The producers say the procedure actually saves money.
"It sounds weird, but it's a matter of cost. We are on wage differences ranging from one to 100," George Brézellec, vice-president of fishing cooperative Cobrenord that owns 40 percent of the Celtarmor factory, told Europe 1 radio.
It goes without saying that the whole process looks a little ponderous, Brézellec added.
"It's a bit shocking. Like everybody else, I'd prefer it if it were done here," he said.
The local community disagrees with the current status quo and is hoping to find an alternative that would see French workers doing the job. If a European grant was forthcoming, more disabled people could be employed for the task.
"You could create local jobs and avoid shipping the scallops around the world, at the same cost if possible," said the mayor of Saint-Quay, Thierry Simelière, as quoted by The Local.
The local community project's projected budget is about €150,000, which could be obtained through a European grant, as the fishermen are planning to hire disabled people.
However, 60 percent of the production is owned by L Graet Group, which might protest the relocation.