Moscow to Sweden: Alleged 'colliding' jet 70km from civil route, used NATO tactics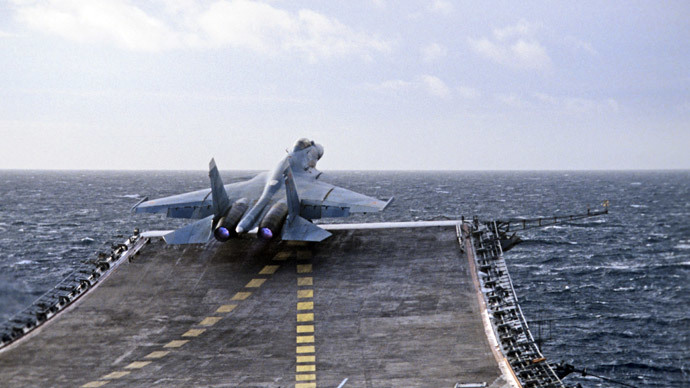 Russia's Defense Ministry has dismissed Sweden's accusation that an unresponsive Russian military aircraft nearly collided with a passenger plane over the Baltic Sea. The ministry added that NATO planes in the area also have their transponders turned off.
READ MORE: Retraining reservists and rearming! Baltic countries got bellicose over 'Russian threat'
The Russian aircraft in question was 70 kilometers away from the flight path of a passenger jet taking off from Copenhagen, and thus there were "no prerequisites" for collision between the two, Defense Ministry spokesman Major General Igor Konashenkov said in a statement. He also denied allegations that the military jet was flying right above southern Sweden, breaching its airspace.

"The flight was in strict accordance with international laws on the use of airspace and did not violate state borders while remaining at a safe distance from the routes of civil aircrafts," Konashenkov said.

Earlier on Saturday, Swedish Defense Minister Peter Hultqvist told local radio that the Russian jet had its transponders turned off so it could fly undetected, and claimed that it nearly crashed into a passenger plane over Sweden.

"This is serious. This is inappropriate. This is outright dangerous when you turn off the transponder," Hultqvist said.

Konashenkov called Hultqvist's assessment of the Russian jet being invisible – and thus dangerous – a "deception," pointing out that none of NATO's spy and patrol jets operating in the region have their transponders turned on. That, however, does not prevent Russia from detecting them.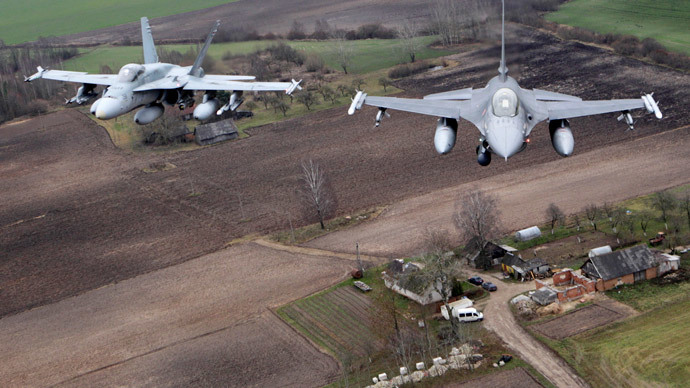 "I want to particularly stress that the flights of NATO military planes in the international space on Russia's borders – which have intensified more than threefold over the last months – are always conducted with disabled transponders. But that does not mean that the Russian airspace control are not able to detect them," the spokesman stressed.

As recently as December 12, the country's detection system spotted a NATO RC-135 reconnaissance aircraft in the same area where the supposed "incident" with the Russian jet took place – only closer to the civilian aircraft route, Konashenkov revealed.
READ MORE: Mistaken identity: French plane entered Swedish air space – not Russian as reported
NATO has recently stepped up its military flights in the region, due to a perceived Russian threat and the need to reassure the allied Baltic states. It comes against the backdrop of tensions over Ukraine.

Meanwhile, the defense minister of the non-NATO Sweden announced that the nation is planning to retrain about 7,500 reservists who have served in the Swedish army since 2004.

"The armed forces will be able to carry out fully-manned war preparations which will result in increased operational capacity," Hultqvist explained, justifying the plans.

Peace activist Jan Oberg told RT that the move is in line with the anti-Russian mood in the country's media and politics, triggered by the Ukraine crisis.
"The whole thing comes from the Ukrainian crisis – and that was predominantly not created by Russia, but by the West," Oberg said. "It could be very much to show that we are doing something. You have to follow up on the fact that the Swedish media and political debate in this country are very anti-Russian and that the interpretation what happened in Ukraine has not been very balanced."

"There is a very uniform media structure in this country. I am sad to say that it is the case. It has become worse over time."

Back in October, Swedish media went on a wild goose chase for a phantom submarine, alleged to be Russian – even though the knowledge of identity was later denied by the Swedish military.

It all started with a blurry image. A week of searches led to nothing, but cost the Swedish taxpayers almost $3 million dollars.

READ MORE: Sweden confirms mysterious foreign vessel entered its waters back in October
NATO's reach
NATO has recently launched a massive military build-up of troops in the Baltic states and other Eastern European NATO member states, following the crisis in Ukraine.

The alliance argues that the expansion is needed to show support and assure that NATO members are protected from a possible attack by Russia.

The US-led alliance has also been boosting its presence through military exercises held on a regular basis.

NATO's new chief, Jens Stoltenberg, boasted of the bloc's successes in December.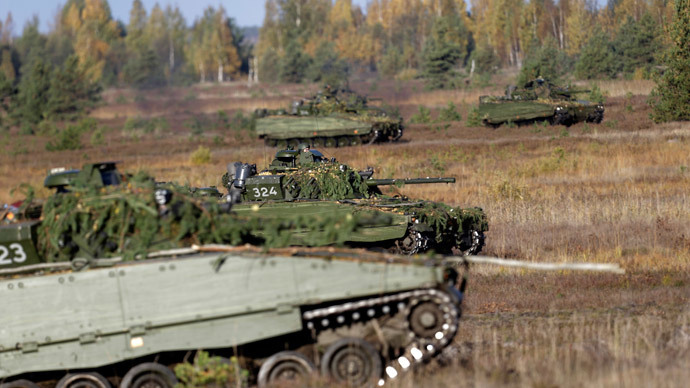 "We have already boosted our presence in the eastern part of our alliance. We have five times more planes in the air. Our forces start an exercise every two days. And we have also increased the number of ships in the Baltic and the Black Seas,"
Stoltenberg told reporters.
One of the most recent war games included servicemen from nine NATO member states participating in nearly two weeks of military exercises in Lithuania.
READ MORE: Iron Sword 2014: NATO stages massive military drill in Lithuania
However, Moscow sees NATO expansion towards its borders as an aggressive move, and a violation of post-Cold War agreements.
In early December, Russia's deputy foreign minister Sergey Ryabkov called the build-up of NATO forces in Eastern Europe hostile and destabilizing to the Baltic, once the safest region in Europe.
READ MORE: NATO destabilizing Baltic by stationing nuke-capable aircraft – Moscow
In November, Moscow said that NATO exercises next to Russian borders have "a clearly anti-Russian nature," and will scarcely contribute to European safety. [https://www.rt.com/news/204415-nato-europe-drills-russia/]
You can share this story on social media: