Facebook AI 'mediator' will analyze every upload…to warn against drunk selfies?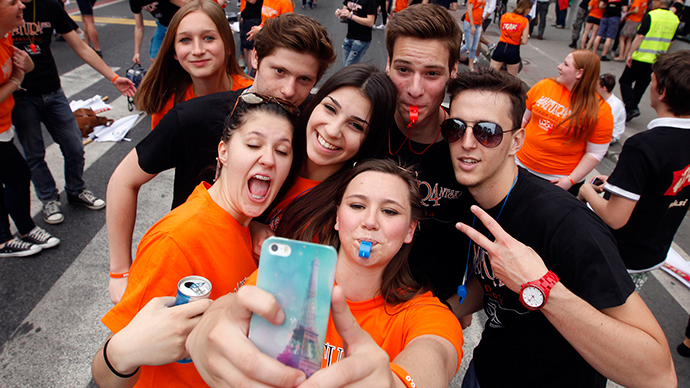 Facebook says it is developing artificial intelligence that will not just monitor – but will also understand – every single action you make on the social network, so that it can guide and control your online behavior.
READ MORE: Facebook v 1st Amendment: Supreme Court to consider limits of social media rights
"Imagine that you had an intelligent digital assistant which would mediate your interaction with your friends and also with content on Facebook," Yann LeCun, who heads FAIR – the company's fast growing AI division – told Wired.

As an example, LeCun described a Facebook that would prevent users from posting unflattering photos. More than just identifying your face, the social network would note the time you are posting, whether there are drinks or unusual people in the picture, and whether it is appropriate for your workplace, and from this context draw a conclusion.
Facebook doesn't want your drunken photos, is developing a personal assistant http://t.co/NTNAJzRw6e#tech#newspic.twitter.com/UP03oXPOaw

— The_News_DIVA (@The_News_DIVA) December 10, 2014
"Uh, this is being posted publicly. Are you sure you want your boss and your mother to see this?" the digital assistant would ask.
READ MORE: Nip, tuck & selfie: Social media addiction spurs boom in plastic surgery
LeCun says this aim can only be achieved through 'deep learning' – a complex set of computer algorithms that do not just follow a small set of tight rules, but process elaborate, abstract concepts that can be applied in different situations – like true human intelligence.

"You need a machine to really understand content and understand people and be able to hold all that data," said LeCun.
The end of the drunken selfie? Facebook's new AI asks, "Are you sure you want your boss and your mother to see this?" http://t.co/VptMC2Mt6P

— GeekWire (@geekwire) December 10, 2014
Getting a computer to understand complex real-life behavior is a lofty aim, and for the moment the social network is working on an equivalent of Siri, an assistant that will try to recognize natural language queries. As anyone who has used it can testify, it is hardly a paragon of perception and independent thought.
READ MORE: 'Don't bamboozle users': MPs urge social media to use simpler warnings on privacy issue
But LeCun believes the reality of genuine AI is close, not only due to the improved processing abilities of computers, but also Facebook's ability to collect huge amounts of data. From watching the actions and posts of hundreds of millions of users, the social network can fish out patterns of human behavior that can then be taught to a constantly learning machine.

Despite concerns that this will give Facebook the capacity to intelligently spy on the private lives of all of its users, LeCun says the technology will be tuned to protect the privacy of users – not violate it. As a short-term example, he cited a notification that arrives in your inbox any time someone posts a photograph of you, even if they are a stranger.
READ MORE: Cyber espionage predicted to worsen in 2015 – security experts
You can share this story on social media: