3,400 dead at sea: UN slams Europe for snubbing safety over immigration barriers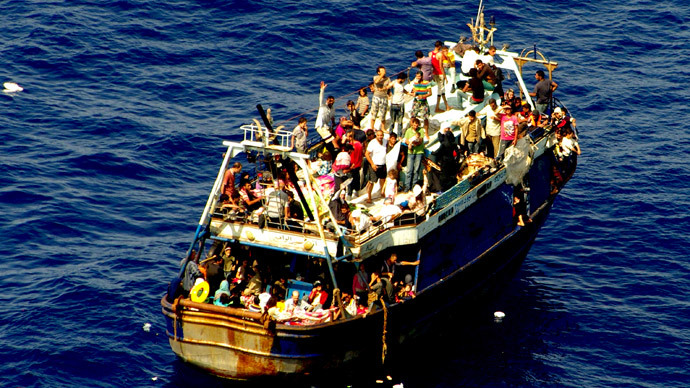 The UN High Commissioner for Refugees has slammed Europe's attitude towards over 3,400 migrants and refugees who drowned in the sea this year, suggesting that the countries care more about implementing stricter immigration policies than ensuring safety.
"Security and immigration management are concerns for any country, but policies must be designed in a way that human lives do not end up being collateral damage," the UNHCR said in a statement released Wednesday.

"This is a mistake, and precisely the wrong reaction for an era in which record numbers of people are fleeing wars," UN High Commissioner for Refugees Antonio Guterres said.

More than 207,000 people have attempted the crossing to Europe over the Mediterranean Sea this year – "almost three times the previous known high of about 70,000 in 2011," the UN pointed out. The year 2011 saw a spike on account of the Libyan civil war.
World's four deadliest sea crossings in 2014. #Protectionatseahttp://t.co/La5vJYPw0X

— UN Refugee Agency (@Refugees) December 10, 2014


Out of those attempting the Mediterranean crossing, some 3,419 have died. Large proportions of those came from Syria and Eritrea, "accounting for almost 50 percent of the total," said the body.

However, in total, UNHCR has received information on 4,272 reported deaths. Conflicts in Libya, Syria, and Iraq have all contributed to the snowballing numbers.
READ MORE: 'Fatal Journeys': 1,000s of migrants die each year traveling to richer states, watchdog says
Although UNHCR did not name specific countries, Italy has been a hotbed of activity, being one of the further southern points in Europe.

Italy has managed to rescue more than 150,000 people this year – a large number of whom have congregated around the island of Lampedusa near Sicily.

Last week, some 17 bodies were recovered from the area; they had died of either dehydration or hypothermia while attempting the crossing in a rubber dinghy. Seventy-five were rescued.
READ MORE: 30 euros a day keeps migrant away? Italians offered cash for sheltering refugees
"You can't stop a person who is fleeing for their life by deterrence, without escalating the dangers even more," said Guterres.

"The real root causes have to be addressed, and this means looking at why people are fleeing, what prevents them from seeking asylum by safer means, and what can be done to crack down on the criminal networks that prosper from this, while at the same time protecting their victims. It also means having proper systems to deal with arrivals and distinguish real refugees from those who are not."

In November, Italy ended its year-long operation Mare Nostrum, which saved more than 150,000 migrants making the dangerous sea crossing from North Africa to Europe. It came as the EU started taking responsibility for a more modest rescue operation.
You can share this story on social media: