Athens on fire as rioters mark anniversary of police killing of teen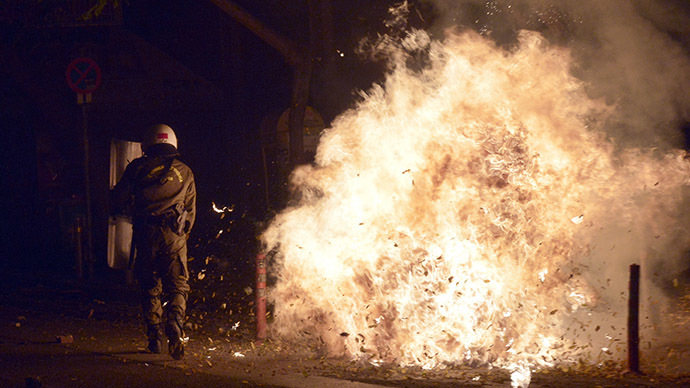 Greek police used tear gas and water cannons to disperse crowds during clashes in the capital. Athens was gripped with protests marking six years since police shot dead an unarmed teenager during an anti-austerity rally.
At least 8,000 demonstrators marched in Athens on Saturday commemorating the sixth anniversary since the police slaying of Alexandros Grigoropoulos. Grigoropoulos' murder on December 6, 2008 sparked violent clashes across Greece, with cars being burned, shops looted, and police attacked in a number of Greek cities.
The violence on Saturday began at 19:30 in the evening by a group of some 200 black-clad masked men, local media reported. They started setting on fire cars and bank ATMs and threw Molotov cocktails and other projectiles at police in the bohemian neighborhood of Exarchia, where Grigoropoulos was killed.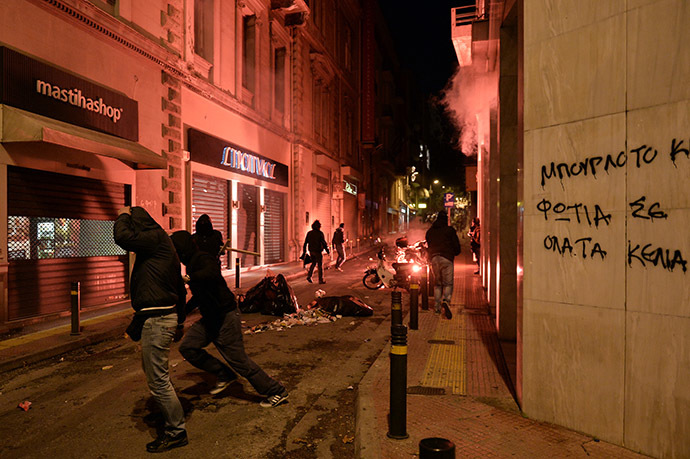 Police in anti-riot gear engaged the rioters firing tear gas at the demonstrators and deploying the water cannons.
At least two shops were set on fire amid the rioting while dozens of others were damaged. Athens police said they detained 211 demonstrators.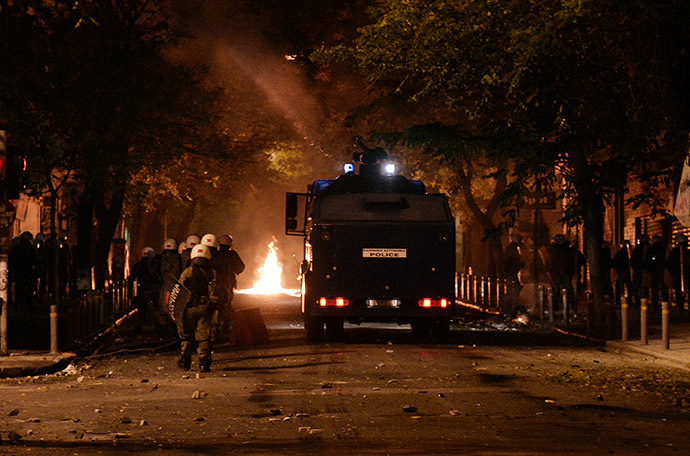 Clashes in central #Athens tonight (© Orestis Seferoglou) #Greece#6dgr#Exarchia#photojournalism#clashes#policepic.twitter.com/1OeAClDU9j

— Orestis Seferoglou (@o_sefe) December 6, 2014
Clashes also broke out between police and demonstrators in the northern city of Thessaloniki, the second-largest in Greece. Police fired tear gas and stun grenades after a crowd of activists beat up two plainclothes policemen observing the protest.
READ MORE:Greek protesters smash cars, clash with police in Athens (PHOTOS, VIDEO)
Saturday's protests were also held in solidarity with a jailed anarchist, Nikos Romanos who witnessed the death of Grigoropoulos. He was sentenced in October for robbery and is now on hunger strike in prison demanding he be allowed to attend university classes. Lately his condition became critical.
Romanos was good friends with Grigoropoulos. He was fifteen when he witnessed his friend being killed. Romanos then became one of the focal points of public rage against the authorities and police brutality, which escalated into nationwide rioting.
Water canon truck heads to Exarchia Square during clashes on 6th anniversary of police killing. #Greecepic.twitter.com/p4vFDcrqG8

— Elena Becatoros (@ElenaBec) December 6, 2014
You can share this story on social media: