Greek protesters clash with police near US embassy (PHOTOS, VIDEO)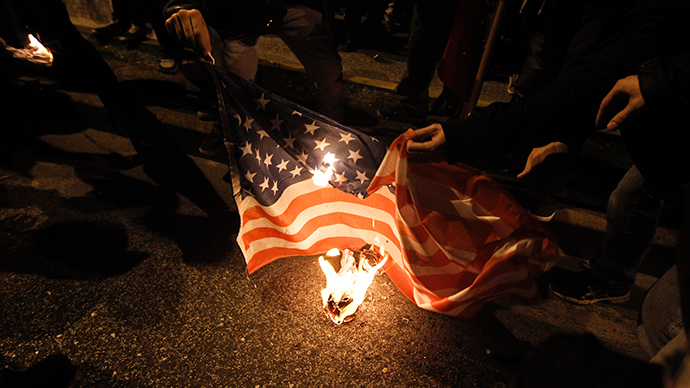 About a dozen people have reportedly been injured in clashes with riot police outside the US embassy in Athens following mass protests marking the 1973 revolt against the US-backed military junta, in which 40,000 people took part.
Over 70 arrests from various parts of Athens were made after clashes broke out following the mass march, according to social media sources. Police fired tear gas at groups of youths who hurled stones and plastic bottles while burning US and EU flags.
Official figures from #17ngr demo & clashes in Exarchia 73 detentions & 10 arrests 7 protesters & 5 cops injured @doleross#rbnews#17ngr

— Joanna P. (@Inflammatory_) November 17, 2014
German boy got beaten by #greek#police#greece#polytexneio#17Nov2014#17ngr#Grčijahttps://t.co/OdXhzd5ecapic.twitter.com/ndi2H765aU

— Katja Lihtenvalner (@Lihtenvalner) November 17, 2014
Shortly after 8:30 p.m. local time, a group of young protesters attacked a squad of riot police, which led to a manhunt in the surrounding streets. Police used tear gas and stun grenades and deployed Delta and Dias motorcycle police brigades to chase the youths.
#Athens: police attacks 2 reporters, raids #Exarchia, uses stun grenades & teargas for no obvious reason http://t.co/LpJRODHB76#Greece

— Ἱερώνυμος Λάμδα (@LePsychonaute) November 17, 2014
According to the Keep Talking Greece portal, a female photo reporter and a male journalist – both working for the Greek section of VICE – were assaulted by police while covering the raid in the Exarxeia district of Athens.
Riot police allegedly beat the photo reporter and pulled her by the hair at the rally. A little later, the reporter was "harassed by eight policemen on motorcycles, the famous DELTA units, he was injured on the hand and knee, while right after four policemen got off their motorcycles and pushed him on the ground," the portal reports.
Other information alleges that police also injured two kiosk workers, the Greek Tribune reports.
Police officers attacked a kiosk in Exarchia square and reports suggest they beat up two of the people working there. pic.twitter.com/HeBfCD0Y2F

— Yiannis Βaboulias (@YiannisBab) November 17, 2014
The clashes came just after 40,000 students, workers, and pensioners marched from parliament to the US embassy. The protesters – who accuse the US of backing the 1967-74 military dictatorship – shouted "EU, IMF out!" while marching.
About 7,000 police officers were deployed, with many stationed at the Polytechnic University – where dozens were slain by tanks that crushed the 1973 revolt.
#Athens, #Greece: Police brutality in #Exarchia. Protesters attacked with batons & gas #17ngr#ACAB#FTPpic.twitter.com/wecDEPwpMS

— Insurrection News (@InsurrectNews) November 17, 2014
The demonstration takes place every year, with activists marching to denounce the alleged role that US intelligence agents played in the military dictatorship's rise to power.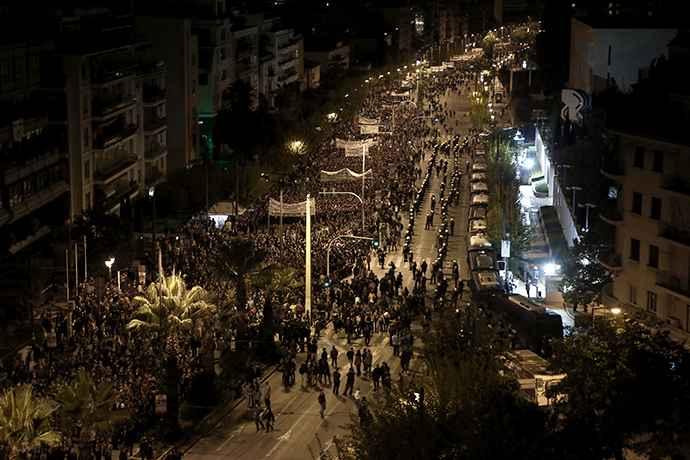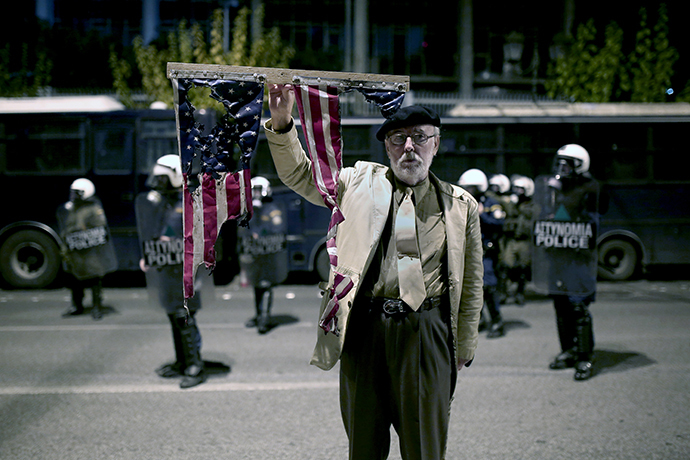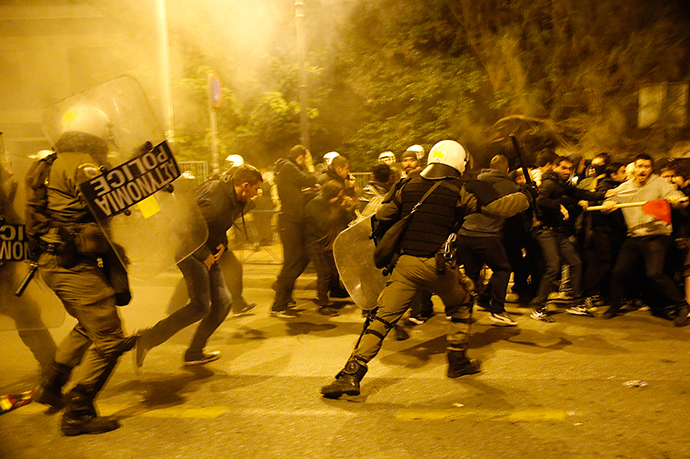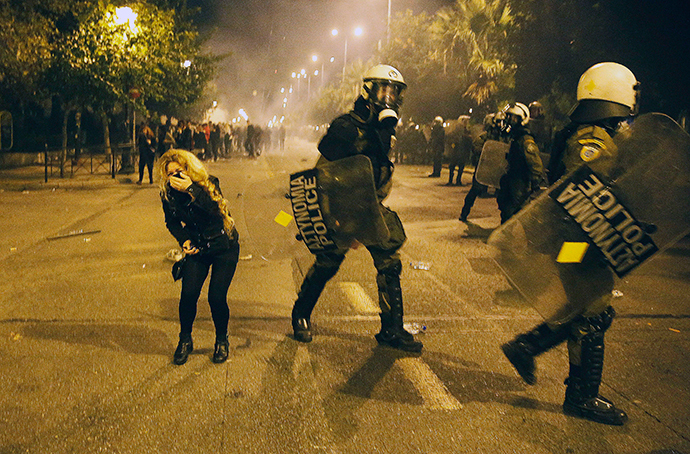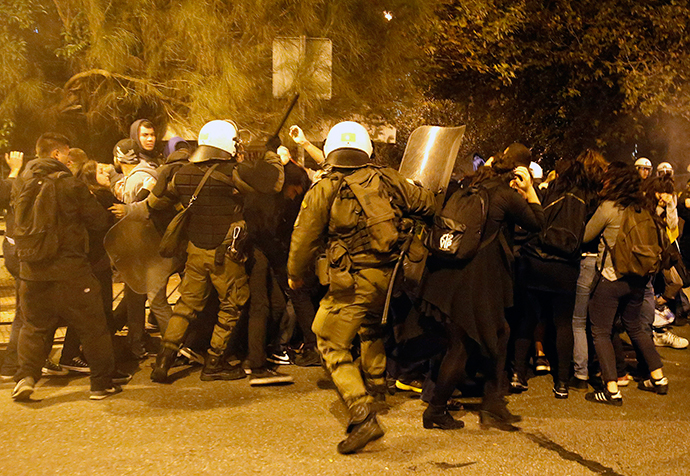 You can share this story on social media: