'Hard to breathe': Anarchists, riot police clash outside Athens as nation strikes
Clashes broke out between the police and anarchist protestors outside the Greek capital after a public sector workers' walk-out against planned cuts and forced job transfers. The violence prompted riot police to deploy tear gas.
Thousands of Greek doctors, teachers and other public sector workers marched through Athens Wednesday afternoon slamming planned cuts and forced job transfers – an unprecedented move under Greece's constitution.
Following the core rally a large group of anti-fascist demonstrators initiated a march against the Golden Dawn party in Keratsini, some 40km off the capital. Tension was in the air ahead of the march, following the brutal murder of an anti-racist hip-hop artist, Killah P (Pavlos Fyssas), who on Tuesday was stabbed to death by a man who said he belonged to the extreme-right Golden Dawn party.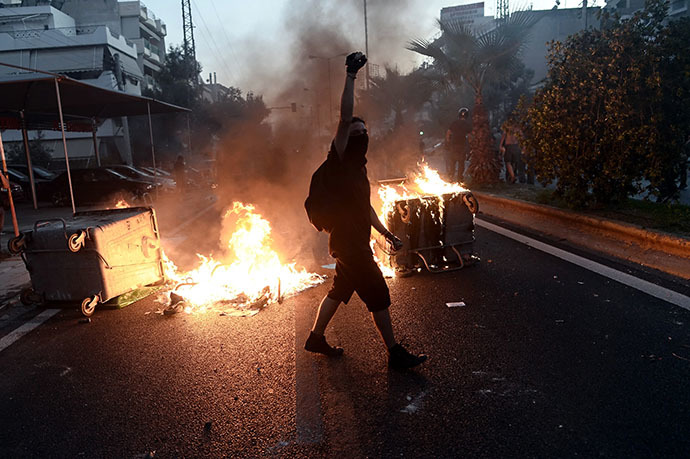 The protestors shouted anti-fascist slogans, including "Blood for blood" and "Kill fascists in every neighborhood," with calls to head for Golden Dawn, RT's Lucy Kafanov reported from the scene.
The rally attracted anarchists, with masked young men starting throwing rocks, gasoline bombs and assaulting the riot police, who retaliated with tear gas, Kafanov said. Law enforcers responded after an attempted attack a police station.
hard to breathe. Fires all around. Cops clashing with protesters

— Lucy Kafanov (@LucyKafanov) September 18, 2013
We're basically trapped between two crowds of protesters with police. Loud bangs... Smoke pic.twitter.com/tO4WeQWvYB

— Lucy Kafanov (@LucyKafanov) September 18, 2013
Riot police are here. Anarchists destroyed a barricade and police fighting back. Tear gas in air.

— Lucy Kafanov (@LucyKafanov) September 18, 2013
Some 5,000 demonstrators took to the streets of Keratsini in protest, a police source told AFP.
Similar scenes could be seen Thessaloniki, Greece's second-largest city, AP reports. There, some 6,000 demonstrators rallied. Marches also rolled through the western city of Patras, in the northeastern city of Xanthi, in the central city of Larissa and in Chania on the southern island of Crete.
So this thing missed my head by about 5 inches. #Greecepic.twitter.com/iPmoOMouDp

— Lucy Kafanov (@LucyKafanov) September 18, 2013
The unions' walk out earlier in the day was a part of a 48-hour strike set for September 18-19. It's been called by Greece's largest public sector union ADEDY, which represents about half-a-million state workers.

"A long, onerous and painful winter has begun," said ADEDY, which together with private sector union GSEE represents about 2.5 million workers in the crisis-hit country.
The strike comes days before the 'troika' of the European Union, European Central Bank and International Monetary Fund lenders visits Athens to check what progress it has made on promised reforms.
"The truth is that with every troika visit, our national dignity is destroyed. The economy and society are ruined," ADEDY lamented.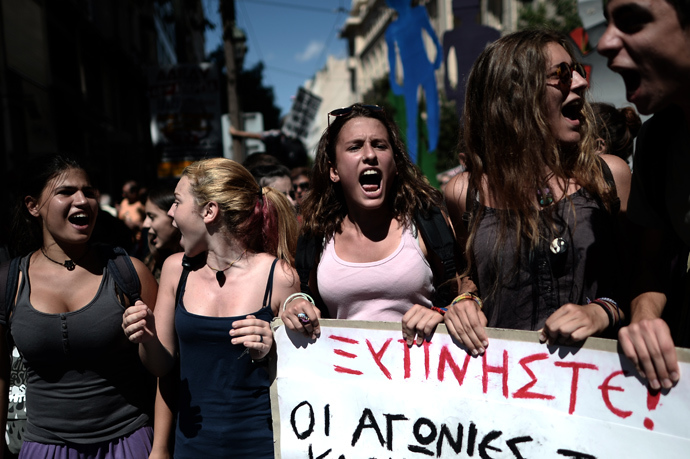 Meanwhile, European Commission President Jose Manuel Barroso noted that the implementation of the program has already brought positive results, stressing that further efforts are necessary because the economic situation remains fragile and there is no room for relaxation.
But he also said, "It is proved that the sacrifices of the Greek people bear fruit" – something ordinary Greeks do not agree with.
"We want our jobs back!" protester Eleni Stathaki, a 53-year-old former school guard, told Reuters, in tears. "They threw us out but want us to keep paying taxes. It's impossible to live like this."
Despite the turnout being lower than during the previous protests, violence has already been reported in the strike, with dozens of striking school guards clashing with security forces on Tuesday.
Thousands of protesters also took to the streets in Athens, chanting "Let's kick the government, the EU and the IMF out!" and holding banners "No firings!"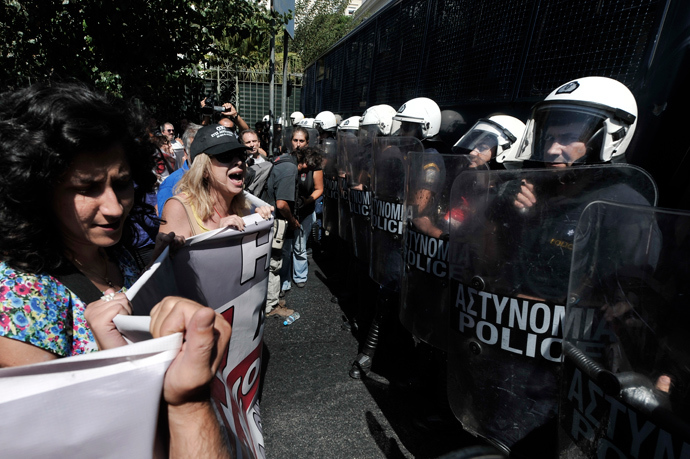 The reason the workers are protesting is the government's plan to 25,000 civil servants on a reduced salary before being redeployed or dismissed. In such a way, 15,000 jobs are set to go by 2015.
It is the first time under the Greek constitution that public sector workers will lose their jobs. The protesters say that the older staff will be targeted, and that the plan will lead to an increase in the record-high 28 percent unemployment.
However, the Greek prime minister says the deficit will soon be wiped out and his country could be back to pre-crisis levels in six years.
A reform in the sector would save taxpayers millions of euro, Education Minister Konstantinos Arvanitopoulos stressed.
"We need to move forward with all the structural reforms that will make our educational system better and less wasteful," Arvanitopoulos said.
The plan is in fact the condition for the next 1-billion-euro tranche of Greece's bail-out. The condition for the loan was set by the troika.
So far, the debt-stricken state has received two aid packages, about 240 billion euro in total. To fill in the funding gap, the country will need 10 billion euro more.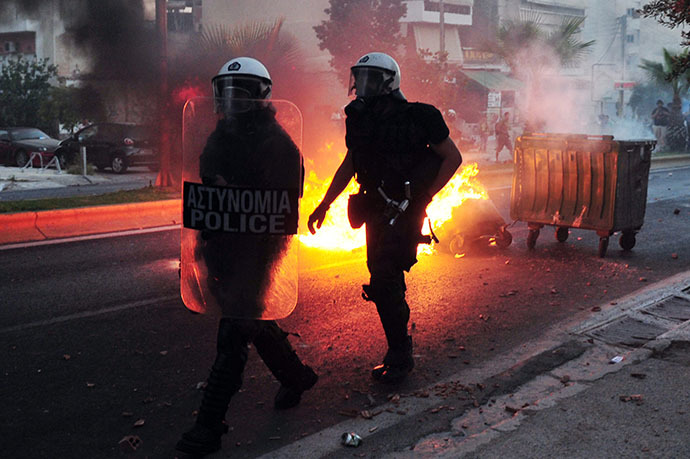 You can share this story on social media: