'Never on Sunday': Greece riots over shop openings end with tear gas, clashes (PHOTOS)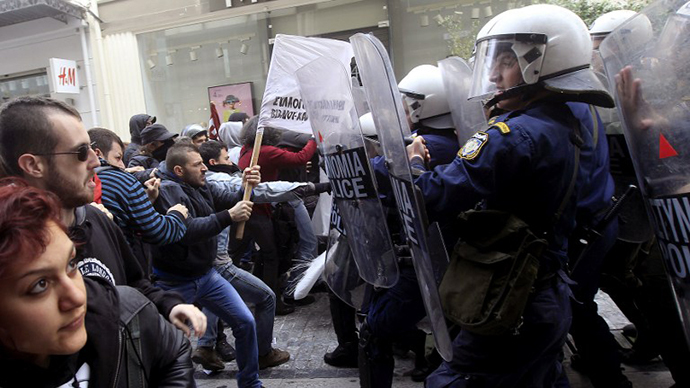 Two people have been injured as Greeks rioted over the opening of shops on Sunday. Hundreds of protesters gathered in Athens' main shopping district, resulting in clashes with riot police who tried to disperse the protesters with tear gas.
Local media reports stated that some 300 retail employees participated in the riots. Unconfirmed social media reports stated that as many as 1,000 participated. During the tension, balls were thrown at shop windows and banners reading "Never on Sunday" were unfurled on Ermou St., in the northeast of the capital, shattering them.

Demonstrators shouted slogans and called on people not to shop. Many retailers conceded to the demands of protesters and shut.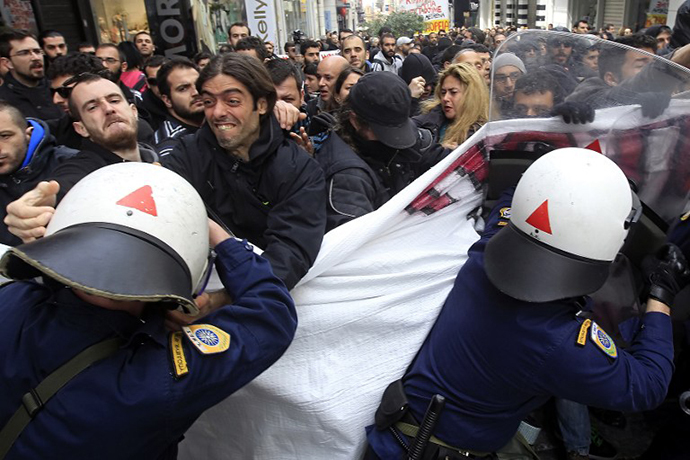 Local media reports stated that police confronted protesters with "chemicals and brutal repression."

The unrest began shortly after 11 am local time. As police efforts grew more concerted they succeeded in pushing protesters into a different road.

Shops in Greece close at 6 pm, with supermarkets open until 8 pm.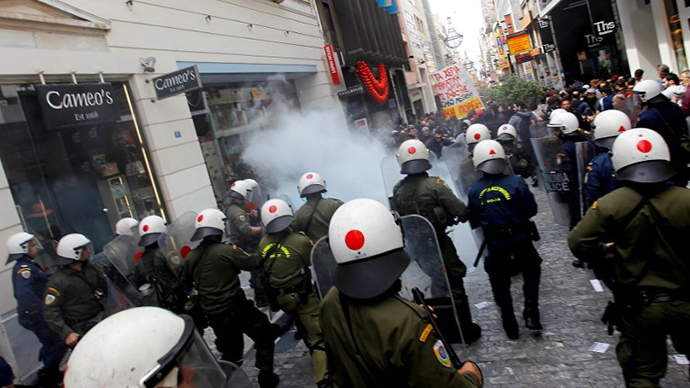 "What is missing from the citizens is not the time for shopping, but money," said economist and mayoral candidate Gabriel Sakellaridis in a statement released on his website.

General Secretary of the Union of Private Sector Employees of Greece, Thanos Vasilopoulos, said that Sunday opening would not necessarily increase turnover, but would lead to further worsening of working conditions.

He added that in Athens there are many employees who have not been paid for some 15 months.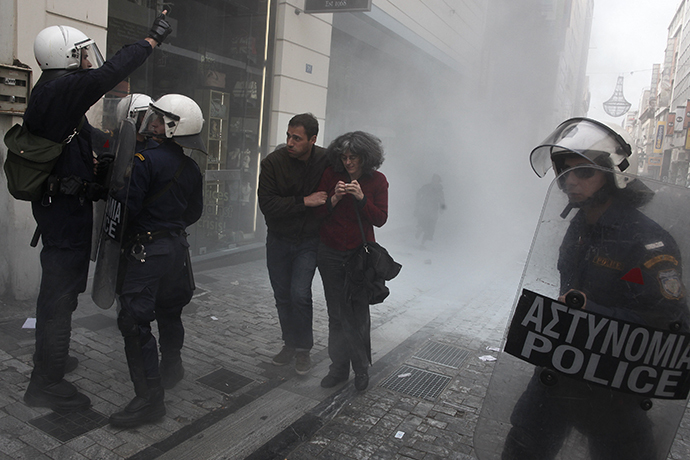 Instability has rocked the country since the debt crisis in 2010. Greece responded to German Chancellor Angela Merkel's visit on Friday with thousands of Greeks flooding the streets staging a nationwide strike in protest of austerity measures implemented after multibillion euro bailouts by the EU and IMF four years ago. The demonstrations unfolded despite a protest ban during the visit.

Merkel's six hours of scheduled negotiations with Greek Prime Minister Antonis Samaras on Saturday rendered the government district of Athens out of bounds to protesters.
You can share this story on social media: