Greek protesters smash cars, clash with police in Athens (PHOTOS, VIDEO)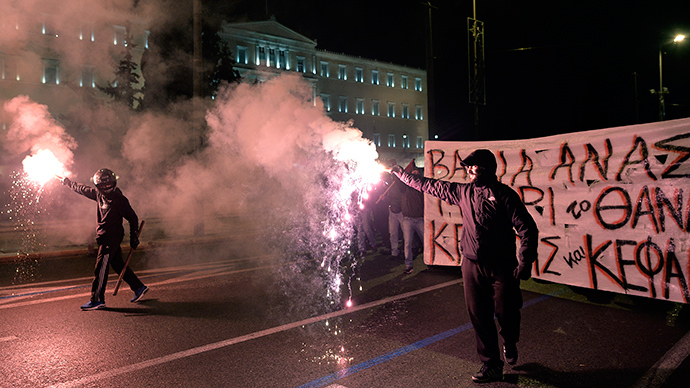 At least 15 people have been arrested after a peaceful support rally for jailed hunger strike anarchist turned into violent confrontation with police. Authorities used tear gas and stun grenades to quell rioters carrying Molotov cocktails.
As an estimated between 8,000 and 10,000 protesters marched through the central Athens shouting slogans in support of Nikos Romanos, the imprisoned anarchist who is staging a hunger strike as he demands the right to be able to attend university, anarchists' march got violent on the streets of Exarchia, downtown Athens.
Protesters have been smashing cars, setting fire to bins, burned cars and erected barricades in several streets of the popular neighborhood. At least 10 cars have been overturned with five of them destroyed, local media reports.
Youths wearing hoods broke the glass front of the National Bank while overturning a bus to make barricades.
The focus of the riots became the gate of the Athens University, on Stournari road, where some 80 rioters entered the premises.
By 21:30 local time police responded by using tear gas and stun grenades as they engaged the anarchists who responded with stone-throwing and Molotov cocktails. The police arrested at least 15 people on the narrow streets of Exarchia, Tovima news reports.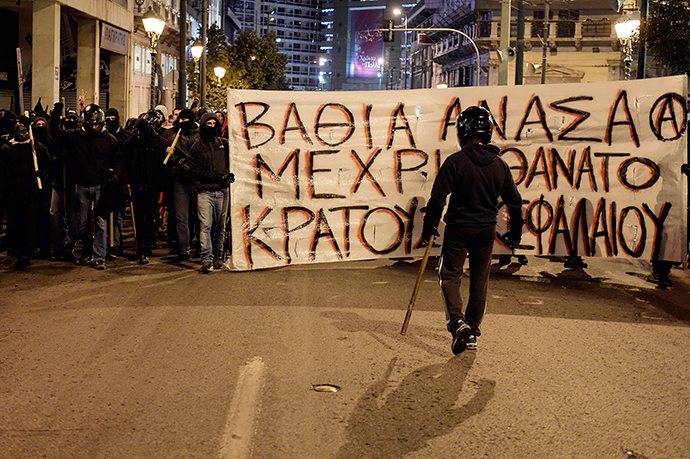 Tuesday's violence followed a large, up to 10,000 people strong rally in support of a jailed Romanos, who has been on hunger strike since November 10 to protest prison authorities' refusal to let him leave the prison to attend university.
Romanos, now serving a term for robbery, was denied leave to attend classes, even after he was accepted to Athens University while in a prison education program.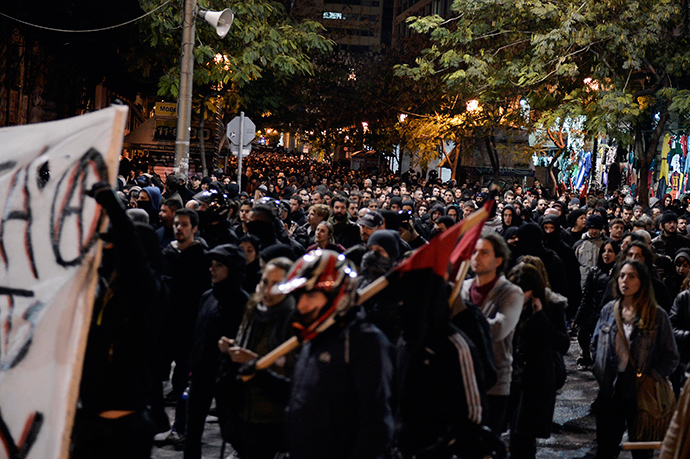 Doctors have earlier voiced concern about his health.
On Tuesday, Nikos Romanos's father Giorgos told reporters that his son's life is in mortal danger.
"The life of my child is in great danger and the Minister of Justice, with his hypocritical and calm and sober style has been dealing with [electric] bracelets for two years," Giorgos Romanos said Thetoc online quotes.
#Greece: Two cars burn as barricades after massive demonstrations tonight for imprisoned #NRomanos. p/v @koukouvavapic.twitter.com/IjVTihIG4E

— ѕyndιcalιѕт (@syndicalisms) December 2, 2014
#Greece: Resistance against police repression after solidarity march for the imprisoned #NRomanos. p/v @kinimatinipic.twitter.com/1kqJPfKBGY

— ѕyndιcalιѕт (@syndicalisms) December 2, 2014
Nikos Romanos was good friends with Alexandros Grigoropoulos, the unarmed pupil who was shot dead by a policeman during the anti-austerity riots in the Greek capital in 2008. Fifteen years old at the time, he witnessed his friend die. Romanos then became one of the symbols of public rage against authorities that has triggered rioting against police violence.
Polytechnic school in Exarchia full of cops. Two detentions 40mins ago @risinggalaxy@melpakipic.twitter.com/BFDTRemeBl#rbnews#NRomanos

— Joanna P. (@Inflammatory_) December 2, 2014
See how riot hit #Athens looks at dawn http://t.co/WLVpYDY4YI#antireport#NRomanos#Greecepic.twitter.com/ycU42E4kXh

— Ruptly (@Ruptly) December 3, 2014
You can share this story on social media: