4 killed, 1mn evacuated as Typhoon Hagupit engulfs Philippines (PHOTOS)
Published time: 6 Dec, 2014 21:00
Edited time: 21 Oct, 2016 10:40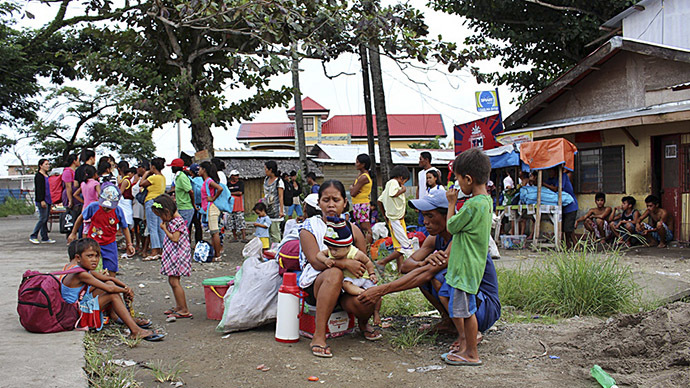 In one of the world's largest peacetime evacuations, 1 million people in the Philippines have flocked to shelters to take cover against Typhoon Hagupit, which has brought heavy rains and strong winds. At least four people are feared dead.
A 65-year-old man and a one-year-old girl died from hypothermia, a municipal disaster risk management officer told the Bangkok Post, adding that a 35-year-old woman died from complications while giving birth and a 75-year-old woman drowned during the typhoon.
Two people were also injured in Negros Oriental province, the local civil defense office said.
More than 1 million people have already sought shelter in local churches, schools and public gymnasiums in about 30 provinces.
"We received reports of about a million people evacuating already. There is increased awareness to take early action and cooperate and [carry out] pre-emptive evacuation," Reuters quoted Gwendolyn Pang, of the Philippine Red Cross, as saying in a television interview.
Heavy rains and vicious gusts caused by the typhoon have toppled trees, downed power lines and ripped off tin roofs. Meanwhile, power was cut across swathes of the central Philippine island Samar and the Leyte province.
"Typhoon Hagupit is triggering one of the largest evacuations we have ever seen in peacetime," said Denis McClean, spokesman of the United Nations Office for Disaster Risk Reduction in Geneva.
According to Philippines Interior Secretary Manuel Roxas, Hagupit's "lashing will be severe."
"Let's be alert," he added. "Let's evacuate to prevent any harm to your families."
The eye of the typhoon hit the town of Dolores, Eastern Samar, the Philippine Atmospheric, Geophysical and Astronomical Services Administration (PAGASA) said, adding that the winds reached speeds of 175 kilometers per hour near the center of the typhoon.
"We can expect that heavy rains were dumped on Eastern Samar because Ruby [the local name for Typhoon Hagupit] hovered for a long time over the coastal areas," weather forecaster Jori Loiz said on radio.
About 100 flights have been canceled by Philippine Airlines and Cebu Pacific to central and southern areas of the country.
At least 50 municipalities in central and southern Luzon Island are at risk, the Science and Technology department said.
In the meantime, Refugees International said it was "deeply concerned" about the safety of evacuation centers.
"A damage assessment of designated evacuation centers in typhoon-affected areas indicated that in some places – such as Eastern Samar, where Hagupit is headed – less than 10 percent of evacuation centres were likely to withstand future typhoons," the group said.
The typhoon has weakened, however, as it moves toward the nation's eastern provinces and is now considered a Category-3 storm – two notches below a "super typhoon" like last year's devastating typhoon Haiyan.
Haiyan - 2013's deadliest natural disaster - killed over 7,350 people and displaced over 4 million.