UN doubles Philippines typhoon death toll to over 4,400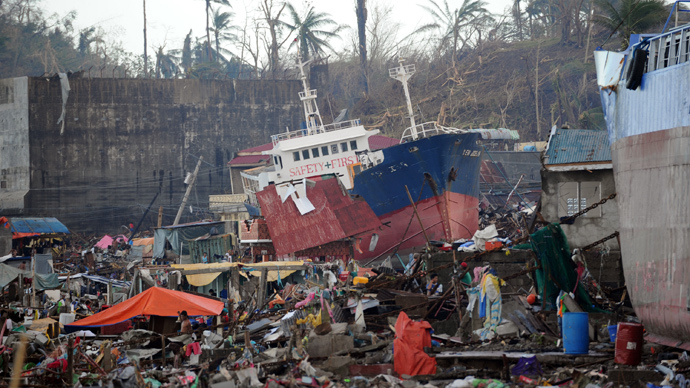 The United Nations has nearly doubled the death toll from the devastating typhoon that struck the Philippines to over 4,400 people - a substantial rise from an earlier estimate of 2,357.
However, the Philippines' National Disaster Risk Reduction and Management Council has raised the number of deaths to 3,621, still below the UN count, which has caused friction between the world body and the Philipino government.

The preliminary number of missing as of Friday, according to the Red Cross, rose to 25,000 from 22,000 a day earlier.

Thousands have been trying to evacuate stricken communities across the central part of the country.
The relief efforts have been delayed, but as of now hundreds of international aid workers set up makeshift hospitals and trucked in supplies.
It's as helicopters from a US aircraft carrier ferried medicine and water to remote areas.
"There's a change in the pace of the response. I can see the international support coming here. Day one we treated 600-plus patients. Day two we had 700-plus patients. Day three we lost our count," Captain Victoriano Sambale, a Philippine military doctor, told Reuters.
The situation is getting grave, as there are a lot of dead people on the street by the trash, which forced officials to start burying bodies in a mass grave on Thursday.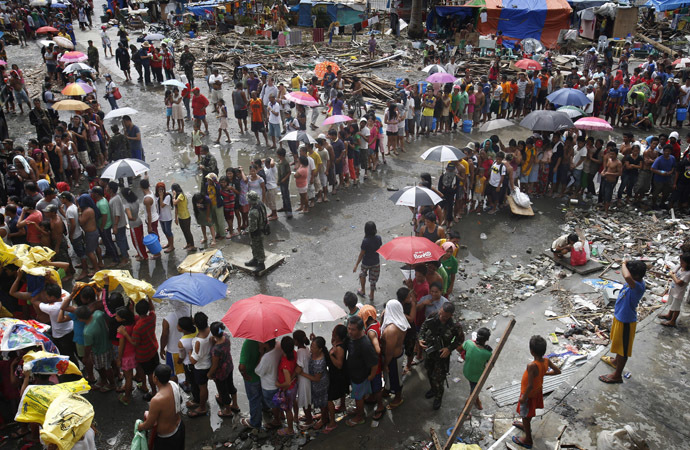 "There are a lot of dead people on the street in our neighborhood, by the trash," Aiza Umpacan, a 27-year-old resident of San Jose, said. 
"The smell is getting worse and we actually have neighbors who have been brought to hospital because they are getting sick," Umpacan said.

President Benigno Aquino, caught off guard by the scale of the disaster, has been criticized for the slow pace of aid distribution and unclear estimates of casualties, especially in Tacloban, capital of hardest-hit Leyte province.
Typhoon Haiyan has also displaced more than 900,000 people, with the city of Tacloban expected to run out of fuel within a few days. Almost 12 million people have been affected by the storm, which is thought to be one of the most powerful to ever strike land, UN said on Thursday. 
The death toll of 2,000 to 2,500 was forecast by Filipino President Benigno Aquino earlier this week, and local authorities estimated there were 10,000 deaths.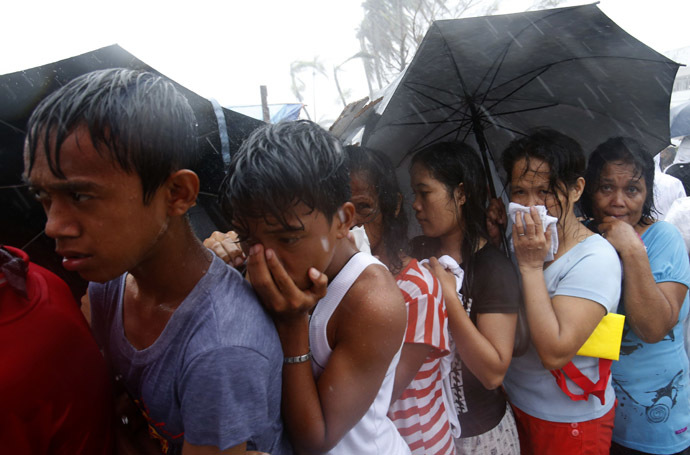 "Tens of thousands of people are living in the open or sheltering in the remains of their homes and badly damaged public buildings, exposed to rain and wind. Many have lost loved ones and are traumatized by their experience. Our focus is now on scaling up our efforts," Emergency Relief Coordinator Valerie Amos said at a press conference in the capital, Manila. 
"As of 13 November, the government reported that 4,460 people have died," the UN Office for the Coordination of Humanitarian Affairs said in its situation report issued on November 14. 
Making matters worse are the logistical challenges that come with delivering aid to the region. Airports are slowly reopening, yet much of the area is not expected to have power and electricity restored for some time. Roads are impassable because of the debris, and fuel shortages are rampant. 
"Today and in the next few days things will get even better as our capacity increases," Amos said. "We know that much more is required." 
Aid capabilities increased Thursday with the arrival of the USS George Washington, a naval carrier that parked in the Philippine Sea near the Gulf of Leyte. The carrier, which can produce 1.5 million liters of fresh water daily, can also serve as a staging platform for essential incoming and outgoing flights.