Western warships, Japanese troops dispatched to aid 'corpse-choked' Philippines
The US and UK have dispatched warships to the typhoon-ravaged Philippines to help facilitate relief efforts. Japan is also set to deploy troops to the country to aid affected areas gruesomely described as a corpse-choked wasteland.
The US has deployed an aircraft carrier and several other naval vessels to the Republic of the Philippines on Tuesday "to make best speed" in order to provide humanitarian assistance and disaster support, Pentagon Press Secretary George Little said.

The nuclear-powered carrier USS George Washington, which carries 5,000 sailors and more than 80 aircraft, will be accompanied by the cruisers USS Antietam and USS Cowpens, as well as the destroyer USS Mustin.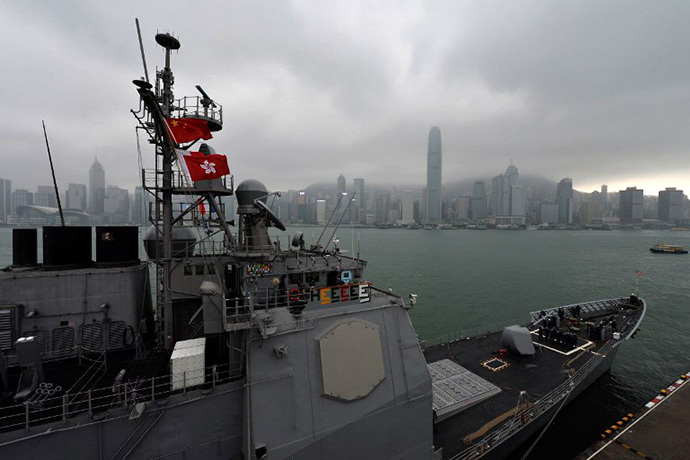 The supply ship USNS Charles Drew which previously set sail, will rendezvous with the group en route to the Philippines. In addition, the guided missile destroyer USS Lassen departed for the region on Monday.  

The ships are expected to arrive in the next two to three days.

"The weather is pretty bad out there, so we are limited by seas and wind," Reuters cites Captain Thomas Disy, commander of the USS Antietam, as telling reporters in Hong Kong "But we are going to be going as fast as we possibly can."

The UK also announced it has also dispatched the Royal Navy destroyer HMS Daring, which was docked in Singapore, to help provide humanitarian assistance alongside a military transport aircraft. The warship, which is equipped to make potable water from seawater, is also expected to arrive in two to three days.

Japan, meanwhile, is to send troops to the Philippines to help with relief efforts after Typhoon Haiyan battered parts of the island nation and killed what was initially estimated to be 10,000 people, though the government has now said that the death toll is likely between 2,000 and 2,500. Forty soldiers are set to leave as soon as possible, Reuters reports.
Chief Cabinet Secretary Yoshihide Suga said the decision to send the troops followed a request from Manila. He also said Tokyo would provide $10 million in emergency aid.
"We hope to make every effort to get the aid to the people who need it as soon as possible," the agency cites Suga as telling a press conference. Suga added that the number of troops will be increased if conditions on the ground warrant it.

Aid effort picking up momentum
International relief efforts have started to pick up steam, with 22 countries and dozens of aid organizations pledging tens of millions the Philippines, which has been overwhelmed by a super typhoon which ripped through central Philippines on Friday, leaving a trail of death and destruction in its wake. The US for its part has pledged $20 million in aid to the Philippines, while the UK has increase its total donation to 10 million pounds (US$16 million).


Following news of the warship and troop deployments to the country, on Tuesday the UN launched an appeal for $301 million to help relief efforts in typhoon-hit areas of the Philippines.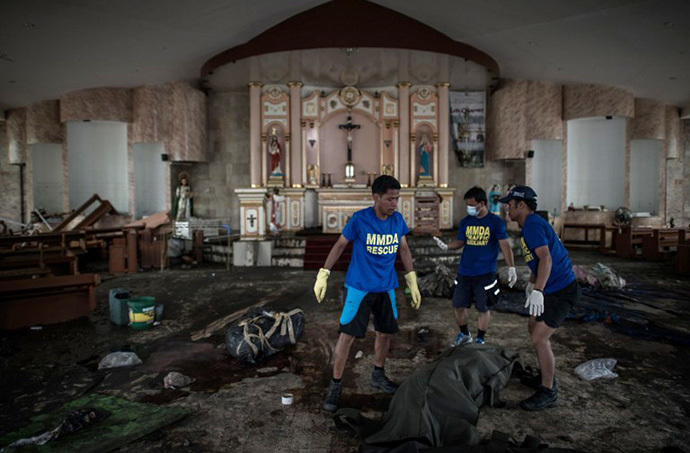 "We've just launched an action plan focusing on the areas of food, health, sanitation, shelter, debris removal and also protection of the most vulnerable with the government and I very much hope our donors will be generous," UN Under-Secretary-General for Humanitarian Affairs and Emergency Relief Coordinator Valerie Amos told reporters in Manila, AFP reports.

"That plan is for $301 million dollars."

On Monday, the UN aid chief released $25 million for aid relief from the UN Central Emergency Response Fund.

'Total devastation'
Among the worst affected areas was Tacloban, the coastal capital of Leyte province. The country's government has so far confirmed 1,744 deaths, although that figure is certain to rise as infrastructure damage has hampered government efforts to survey more remote areas.

"There are hundreds of other towns and villages stretched over thousands of kilometers that were in the path of the typhoon and with which all communication has been cut," Natasha Reyes, emergency coordinator in the Philippines at Medecins Sans Frontieres, told Reuters.

"No one knows what the situation is like in these more rural and remote places, and it's going to be some time before we have a full picture."

The typhoon also flattened Basey, a seaside town in Samar province across a bay from Tacloban. About 2,000 people were missing in Basey, its governor said. Guiuan, a town of 40,000 in eastern Samar province, was also largely decimated, although it does not figure into the casualty tabulations. Farther west on the islands of Cebu and Panay, which also suffered direct hits from the typhoon, authorities have been hampered in their ability to assess the devastation.

Overall, the United Nations estimates 9.8 million people have been affected by the typhoon, 2.5 million need food,  and 659,268 have been displaced.

Forty-one of the country's 80 provinces were affected, with Secretary to the Cabinet Rene Almendras saying that in the worst affected areas, the destruction has been "total."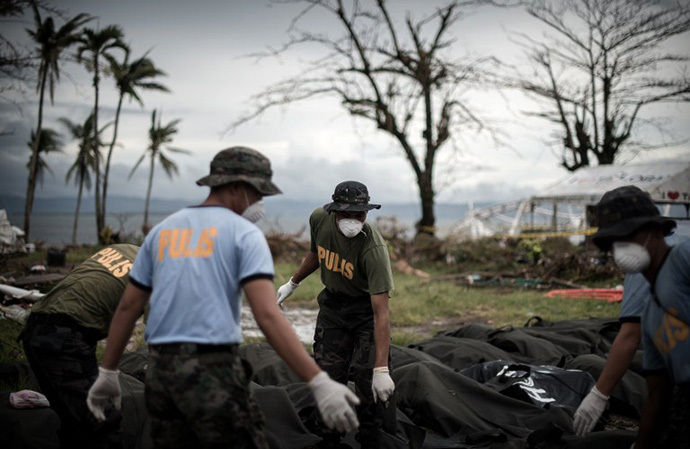 On Monday, President Benigno Aquino declared a state of national calamity. Following reports of widespread looting, which included a Philippine Red Cross truck carrying medical supplies attacked while heading to the city.

Aquino deployed hundreds of soldiers to Tacloban, which has been characterized as a "corpse-choked wasteland." Stymied aid efforts have hampered abilities to cover, let alone remove many of the corpses which are littered throughout the ravaged city. Health workers have also expressed fears that ground water could be contaminated by the putrefied bodies, leading to a deepening public health disaster.

Aid agencies have been desperate to get supplies to the millions affected by the storm. Lynette Lim from Save the Children told the UK's Independent children had been particularly impacted by the typhoon.   
"We are witnessing the complete devastation of a city. In Tacloban everything is flattened. Bodies litter the street, many, many of which are children. From what I saw, two out of every five bodies was that of a child", he said.
 
"Children are particularly vulnerable in disasters. We fear for how many children have been washed away in floods, crushed under falling buildings and injured by flying debris. Many are separated from their families amid the devastation, and all are in desperate need of food, water and shelter."
Two Philippines Air Force C 130 cargo planes landed at Tacloban airport early on Tuesday, offloading more troops than relief supplies, Reuters reported. Several of the troops were from the country's Special Forces, highlighting ongoing fears of civil unrest.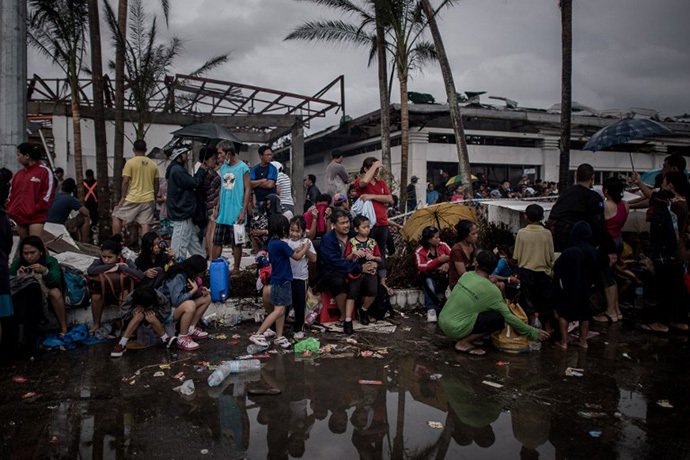 The troops were forced to keep the emotional and desperate families at bay who lined up in the rain in hopes of boarding the planes returning to the capital Manila.
The sick, infirm and infants were taken on board first. Pale-faced babies were passed over the crowd and taken aboard alongside many injured people. Other people were reduced to tears as they begged officials to let them on, with shouts of
"Get back! Get back in the building!"
blared over the megaphones.
Although the situation in Tacloban remains dire, Philippines Army Captain Ruben Guinolbay offered Reuters tentative signs of improvement.  
"Today, we have stabilized the situation. There are no longer reports of looting. The food supply is coming in. Up to 50,000 food packs are coming in every day, with each pack able to feed up to a family of five for three days,"
he said.
Ring of Fire

Meanwhile, a 4.8 magnitude earthquake hit the Philippines island of Bohol on Tuesday.

The Philippines, an archipelago nation of 7,107 islands is particularly prone to extreme weather events, being located along the Ring of Fire, an area where a large number of earthquakes and volcanic eruptions occur in the basin of the Pacific Ocean.

Straddled along the typhoon belt, most of the islands experience annual torrential rains and thunderstorms from July to October, with an average of 19 typhoons entering the Philippines region, and six to nine of those making landfall annually.

You can share this story on social media: