5 months on rainwater & raw fish: 2 men rescued after 1,000-mile drift in Pacific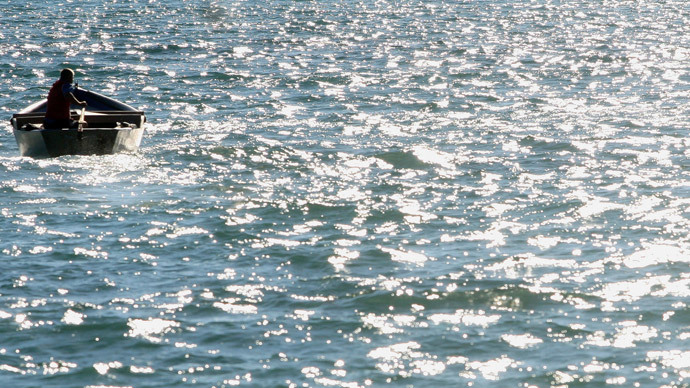 Two Papua New Guinea men are claiming to have spent five months drifting in a small open boat in the Pacific Ocean and surviving on rainwater and fish, before being rescued by a fishing vessel 1,000 miles (1,600 kilometers) from their departure point.
Michael Bolong, 54, and Ambros Wavut, 28, told Micronesia officials they set off from an island in Papua New Guinea's New Ireland in July, Radio New Zealand reports. They intended to have a short fishing trip between some nearby islands, but their boat ran out of fuel and was sent adrift by a storm.

There were actually three men on the boat initially, according to the survivors' testimonies. The third fisherman, Francis Dimansol, 48, died after suffering from serious health problems and being unable to get medical treatment, they say.
Two PNG men have been rescued in Federated States of Micronesia, claiming to have spent five months adrift at sea http://t.co/o6iRoAleEt

— Jamie Tahana (@JamieTahana) December 4, 2014
The men had to endure hunger, storms and exposure to scorching sunlight in the Pacific, desperately waiting for a passing vessel to notice and save them.

"They saw passing ships but could not get the message across that they were in trouble," a Micronesia official told The Daily Mail.

It was eventually the Yap Seagull, a Micronesian ship, which picked up the men in the boat about 200 kilometers south of Kapingamarangi Island and took them to the hospital in Pohnpei, where the two men had to be treated primarily for severe sunburn.
The fishermen's story is not unique in the region, though Micronesian officials say that five months adrift is an exceptionally long time.

"We would have a case or two each year, mostly have drifted in from the east, from Kiribati, but this time it's coming from the west in PNG," Assistant Secretary of Foreign Affairs for the Micronesian Government, Carl Apis, told Radio New Zealand.

"Based on some information I've come across, there are usually some of the islands around Rabaul, they have to transport back and forth on boats and sometimes these boats get lost at sea, whether it's engine problems and so forth."

The survivors are now waiting to return to Papua New Guinea. Officials say this is likely to happen next week.

The claim of five months spent drifting at sea is not a record breaker. In February, Mexican fisherman Jose Alvarenga claimed that he survived 13 months drifting across the Pacific by eating fish, turtles and birds before his boat was washed ashore in the Marshall Islands.