'Day of silence' for E. Ukraine: Poroshenko orders ceasefire on Dec. 9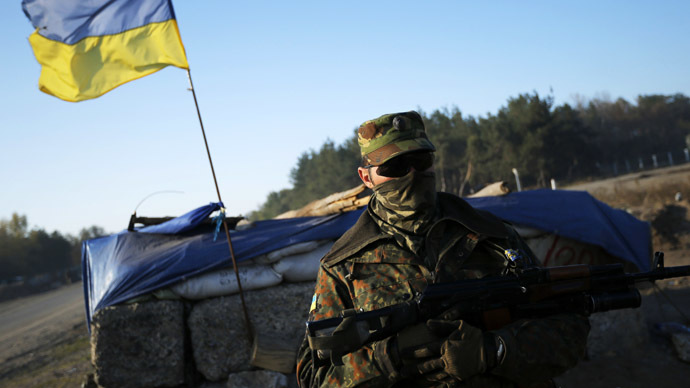 President Petro Poroshenko has announced a 'day of silence' in eastern Ukraine, to start from December 9. The move is aimed to secure previous ceasefire agreements reached in Minsk in early September.
Meeting Ukraine's top military officials on Thursday, including Ukraine's defense and interior ministers, Poroshenko pronounced measures to deal with the crisis in eastern Ukraine.
The "day of silence" should be launched in the region on December 9, with further moves to be applied should the anti-government forces violate the previous Minsk agreements, the president's official website reported.
The leaders of the People's Donetsk and Lugansk republics have said they are eager to accept the move suggested by Kiev, but doubt government forces will observe the ceasefire.
READ MORE: Kiev, E. Ukraine militia agree on ceasefire starting 1500 GMT Friday
"Militia troops only return fire," Donetsk military representatives told the Tass news agency.
22 year old civilian Maksim killed & 6 wounded by #Ukrainian army shelling of residential area in #Donetskpic.twitter.com/MWIyMqePq4

— Roman Kosarev (@Kosarev_RT) December 4, 2014
Agreement on the "day of silence" has been reached with no preliminary conditions, with the ceasefire terms to be discussed in Minsk next week, the Donetsk rebel forces' representatives told RIA Novosti news agency, adding that the exact date of the talks has not been set yet.
Despite previous ceasefire accords, reached as a result of the contact group meeting in the Belarusian capital on September 5, fighting in eastern Ukraine has continued.
#Ukrainian army shelled this residential building in #Donetsk overnight. 1 civilian critically wounded. pic.twitter.com/nunh9qeBHM

— Roman Kosarev (@Kosarev_RT) December 1, 2014
Quoting a figure of "1,000 deaths" since the September talks, the outgoing president of the European Council, Herman Van Rompuy, said last month that he could no longer call the situation a ceasefire.

READ MORE: EU chief calls for decentralization and federalization of Ukraine
On Thursday, EU foreign policy chief Federica Mogherini called for the Minsk ceasefire to be complied with, as it was the "only framework document" agreed upon by all sides of the conflict. Speaking at the Council of Foreign Ministers at the Organization for Security and Cooperation in Europe (OSCE), she also demanded that Ukrainian authorities launch a national dialogue.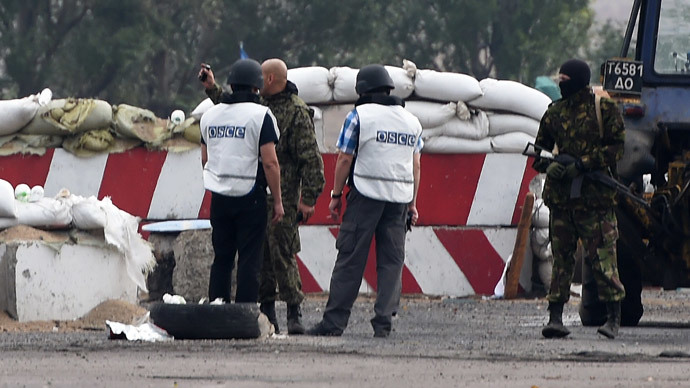 In his opening address to the council in Basel, the OSCE Chairperson-in-Office and Swiss Foreign Minister Didier Burkhalter highlighted the importance of the Minsk protocol, saying its implementation was currently limited in the region.
READ MORE: Over 4,000 dead, almost 10,000 injured in E. Ukraine fighting since April - UN
Describing the situation in Ukraine as "fragile," Burkhalter called for the international community's support toward OSCE initiatives in Ukraine, adding that Switzerland would support the Special Monitoring Mission with a further 2 million Swiss francs ($2.07 million), and remains committed to supporting the mission beyond the end of the Swiss chairmanship of the OSCE.
You can share this story on social media: