EU chief calls for decentralization and federalization of Ukraine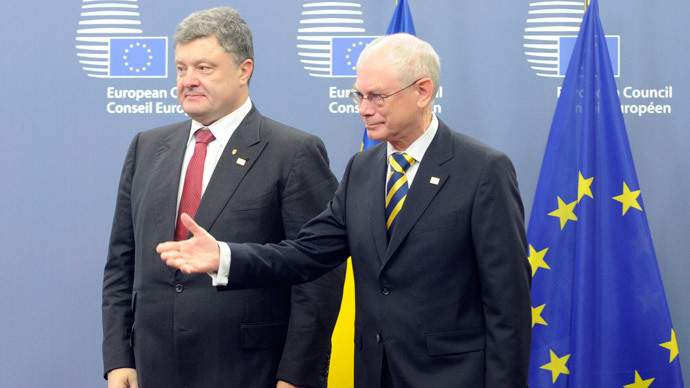 To solve the current crisis in Ukraine, the country should become decentralized and federalized, Herman Van Rompuy, the president of the European Council, announced in his political anniversary speech in Paris this week.
Quoting "1,000 deaths" in the country since the cease-fire agreement was reached in Minsk on September 5, Van Rompuy said he could no longer call the situation a cease-fire. And a new cessation of conflict, if controlled by the same players, would have the identical outcome, the politician said in his speech, marking his five years presidency of the European Council.
Urging a "global solution," the EU chief said a way for Ukraine to become a "decentralized (or federalized) country" must be found. He called for the country's closer ties with the EU. However, he also said, "Europe has become unpopular among Europeans" in the past five to six years.
Kiev should "establish a correct relationship with Russia, its neighbor, with which it shares history, culture and language," Van Rompuy said, adding that the interests of minorities in Ukraine should be respected.
Sharing his EU "experiences and perspectives" with students at the Sciences Po institute of political studies in Paris, he pointed out that the current crisis in Ukraine is "the most grave geopolitical crisis we've experienced in Europe since the end of the Cold war." What makes it even worse, according to the Rompuy, is the fact that the "war" is happening on European soil.
Van Rompuy is not the first European politician to suggest Ukraine's federalization. Earlier in August, Germany's Vice Chancellor Sigmar Gabriel, who is also the country's economy minister, spoke out for federalization to be introduced in Ukraine once the conflict in the east of the country is resolved.
The same measures to help settle the crisis in eastern Ukraine have been voiced by Moscow. However, Ukraine's President Petro Poroshenko keeps ruling out such political changes, saying the country's federalization is out of question.
You can share this story on social media: