'Wanna kill Kim?' N. Korea isn't denying hack in revenge for Sony comedy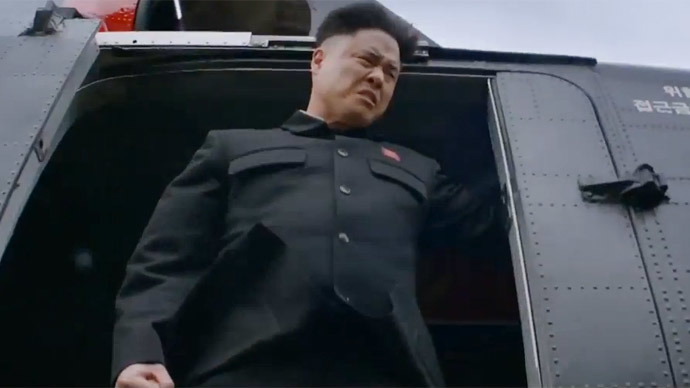 Pyongyang refused to kowtow when asked if it was behind a massive cyberattack against Sony Pictures, telling the world to "wait and see." The hack came a month before Sony releases a comedy film centered on an attempted assassination of Kim Jong-un.
"The hostile forces are relating everything to the DPRK (North Korea). I kindly advise you to just wait and see," a spokesman for North Korea's UN mission told Reuters when asked about a cyberattack against the studio's computer network.
READ MORE: 'Fury', unreleased Sony movies leaked online in suspected N. Korea hack
Pyongyang frequently refers to the United States and South Korea as "hostile forces," the agency reports.
The attack on Sony's corporate systems occurred on Nov. 24, as an image of a skeleton appeared on the studio's computers with an accompanying message saying, "Hacked by #GOP," a group known as "Guardians of Peace." The GOP threatened to release Sony's "secrets and top secrets."
Sony Pictures Entertainment Hacked by "Guardian of Peace" #GOP Hackers. 5 movies released on streaming sites. pic.twitter.com/zUHJ8niJMP

— ___ (@MTL_36) December 2, 2014
At least five new films produced by Sony Pictures were leaked online, resulting in around 2 million downloads from file-sharing sites.

READ MORE: 'Merciless response': N. Korea vows revenge over Seth Rogen film plotting Kim Jong-un assassination
According to Variety, the leaks came from copies of DVD screeners of four unreleased Sony films - "Annie," "Mr. Turner," "Still Alice" and "To Write Love on Her Arms" – and one movie, "Fury," already in theaters.
"Fury" is the most pirated of the five films, according to the IT forensics firm Excipio, with more than 1.2 million downloads as of mid-Sunday. "Annie" was next, with more than 206,000 downloads.
"The theft of Sony Pictures Entertainment content is a criminal matter, and we are working closely with law enforcement to address it," a Sony spokeswoman said in a statement to Variety.
#Sony leak data in the torrent released by #GOP seems to be seeded/tracked from some Sony EC2 Nodes from amazon... pic.twitter.com/COMXIFyP31

— Yonathan Klijnsma (@ydklijnsma) December 2, 2014
Recode first reported Friday that Sony was looking into alleged connections between the leaked films and North Korean hackers.
Speculation about possible North Korean involvement stem from analysis of the text of the GOP's message, which originated from Chinese IP addresses, according to Ars Technica. The text was in a format conducive to Chinese and Korean characters, although those conditions could be misinformation planted by the hackers.
On Monday, the FBI released a statement saying it was working with other US law enforcement agencies to determine who was behind the attack.
Bromance sparks an international incident?
There has been much speculation that if North Korea is behind the attack, it might be retaliation for a recent Sony film entitled "The Interview," which is set to premiere on Christmas Day, a month after the cyberattack took place.
The film stars Seth Rogen, who also co-wrote, co-produced and co-directed the movie. Long-time friend and collaborator James Franco plays the other male lead.
The Interview first made waves when its trailer was released in June.
The plot of the movie involves celebrity journalists who, after landing an interview with the reclusive North Korean leader, are approached by the CIA with the mission of killing him.
"Wanna go kill Kim Jong-un?" Franco's character asks in a movie trailer for film.
"Totally. I'd love to assassinate Kim Jong-un – it's a date," Rogen's character replies.
Although North American audiences might be used to such irreverent humor, Pyongyang isn't laughing.
"The act of making and screening such a movie that portrays the attack on our top leadership... is a most wanton act of terror and act of war, and is absolutely intolerable," North Korea said in June.
North Korea's Foreign Ministry called on Washington to ban the film from being screened, warning that failure to do so would trigger a "resolute and merciless response."

In July, North Korea filed a complaint with the United Nations, demanding the film be banned.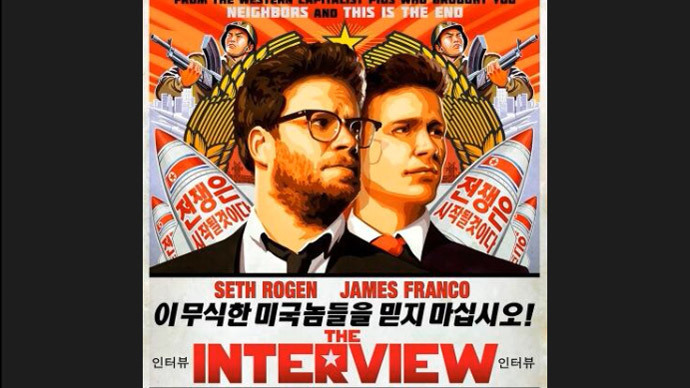 Rogen for his part has taken the entire thing with a grain of salt, sending out a host of tweets over the past month relentlessly promoting the film while taking the occasional potshot at Kim.
North Korea couldn't stop us!!! Here's the newest trailer for The Interview!!! http://t.co/EAICoJJiFi

— Seth Rogen (@Sethrogen) November 25, 2014
"North Korea couldn't stop us!!! Here's the newest trailer for The Interview!!!," one tweet read.
Meet Kim Jong Un in the new trailer for #TheInterviewMovie! He's gonna love the Super Bowl halftime show. http://t.co/EAICoJJiFi

— Seth Rogen (@Sethrogen) November 25, 2014
In another, he mentions a now infamous Kim propaganda picture, with stuffed animals in quite a compromising position, can be seen in the background.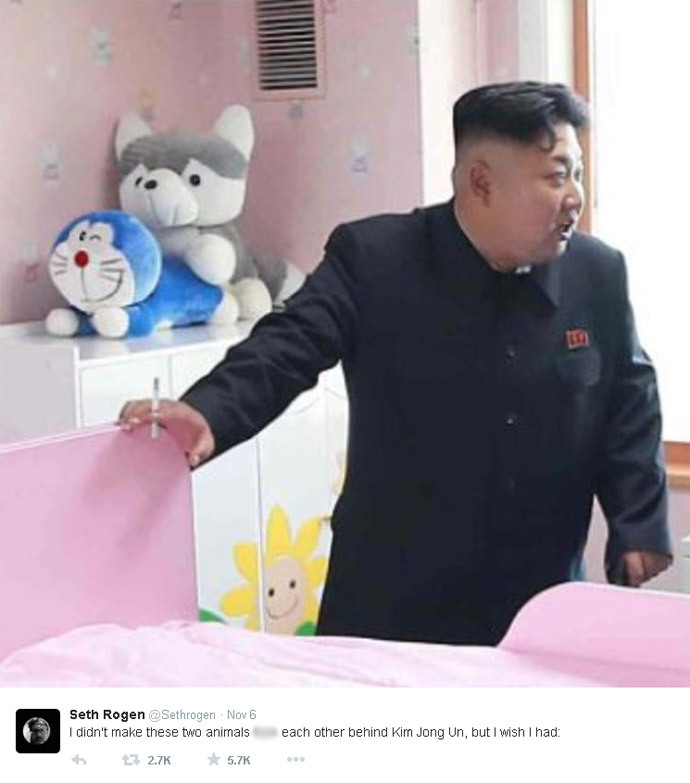 The Interview isn't the first time North Korea's leadership has been on the receiving end of Hollywood's particular brand of parody.
In the 2004, the South Park creators portrayed Kim's late father Kim Jong-il as a speech-impaired, mass-murdering alien despot in "Team America: World Police." While Kim Jong-il, a noted film buff, never publicly commented on the film, North Korea's embassy in Prague demanded that the film be banned in the Czech Republic.
"It harms the image of our country," a North Korean diplomat said at the time. A Czech Foreign Ministry spokesman rebuffed Pyongyang, saying "it's absurd to demand that in a democratic country."
You can share this story on social media: