Lebanese Army detains wife, son of ISIS leader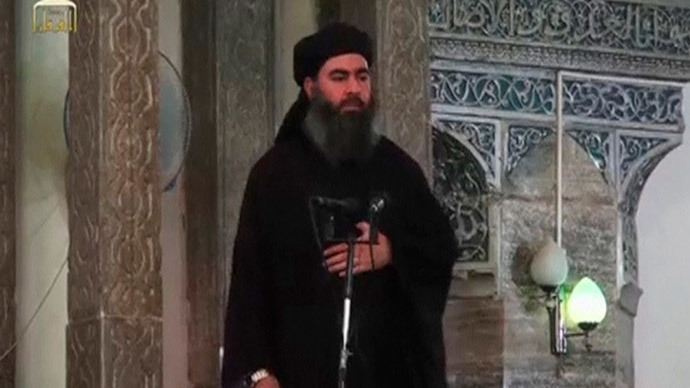 A wife and a son of Islamic State leader Abu Bakr al-Baghdadi have been arrested by the Lebanese Army, Beirut security officials said. They were detained in coordination with "foreign intelligence apparatus," reported the local press.
The woman was described by officials as one of al-Baghdadi's wives, Safir daily newspaper reported. However, they didn't provide any details on her nationality or name.
The woman, who was accompanied by her son, was arrested while crossing the border from Syria. According to the officials, she was using a fake ID.
The pair was taken to Lebanon's Ministry of Defense in Beirut for interrogation.
"Military intelligence detained one of his wives who was traveling with their son, near Arsal [in northeast Lebanon] 10 days ago," a security source told AFP.
In July, photos of one of al-Baghdadi's wife, Saja Hamid al-Dulaimi, emerged on the internet, showing a small glimpse into the private life of the mysterious IS leader. However, it's not yet known if she is the wife currently detained in Beirut.
Revealed: Saja Hamid al-Dulaimi, the wife of #ISIS leader #Baghdadihttp://t.co/B1M4O1j0F9pic.twitter.com/zhq9XmlEuv via @AlArabiya_Eng

— Raphael Gluck ツ (@einfal) July 17, 2014
Al-Baghdadi , the self-proclaimed as caliph of the Islamic State, was reportedly "critically wounded" during an air operation in the Iraqi town of al-Qaim November 8, Iraqi officials confirmed. The Pentagon said at the time it had no such information.
"We do not have any information to corroborate reports out of Iraq that Baghdadi has been either killed or wounded," Colonel Steve Warren, a Pentagon spokesman, told reporters.
READ MORE:ISIS chief alleged audio calls for 'jihad volcano' after reports of his death
On November 13 the militants released an audio-taped message on which a voice, purporting to be Baghdadi's, urged IS supporters to "erupt volcanoes of jihad" across the world.
An October UN report on IS violence slammed the group for committing a "staggering array" of systematic human rights abuses – including mass executions, abducting women, and using girls as sex slaves. Many of the atrocities are of a sectarian nature against minority groups such as Christians, Yazidis, and Shiite Muslims.
"These include attacks directly against women and children, forced recruitment of children, destruction of places of religious or cultural significance, wanton destruction and looting of property and denial of fundamental freedoms," the report stated.