Microsoft, Yahoo start 'forgetting' EU search results, in Google's footsteps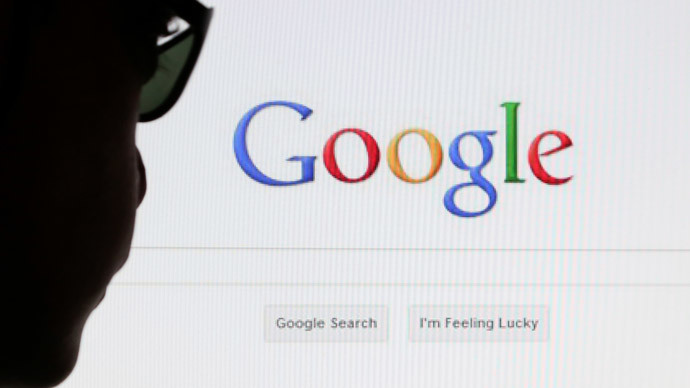 Search giants Bing and Yahoo have begun to address European customers' requests regarding the "right to be forgotten" policy on the removal of search results, taking their cue from Google.
The Right to be Forgotten stands for people's ability to remove links to personal information that is "inadequate, irrelevant or no longer relevant" from search results.

Google has so far been the first in line to publish a request form for removals, and already received more than 174,000 requests adding up to 600,000 URLs, removing 41.5 percent from its search results.

Microsoft's Bing engine put up a request form back in July, but the first removals appear to have started taking place only now.

"We've begun processing requests as a result of the court's ruling and in accordance with the guidance from European data protection authorities," Microsoft told The Next Web, a tech blog. "While we're still refining that process, our goal is to strike a satisfactory balance between individual privacy interests and the public's interest in free expression."
Google likewise promised to "carefully evaluate each request with the goal of balancing the individual's rights to privacy with considerations of the public's right to information," The Wall Street Journal quoted them as saying.
READ MORE: Google should apply 'Right to be Forgotten' worldwide – EU watchdogs

Bing addressed its European customers through reputation management firm Reputation VIP, which runs the Forget.me site.

"There have been 699 demands for 'search engine result' removal requests on Bing handled via Forget.me since the 23rd of July, representing a total of 2 362 URLs. So far, 79 requests have received an answer from Bing," Bing said on the Forget.me site.

On Forget.me, Bing constitutes 22 percent of removal requests; Google the other 78 percent. Something Reputation VIP finds interesting is how Google receives nearly three times more requests for removals than Bing.

Invasion of Privacy is the most popular category of reason for removing a search result, with Google scoring 55 percent of all requests, versus Bing's 64 percent.

The companies, however, have also been known to refuse requests: on two occasions they deemed a request "unjustified." An additional 77 cases involved users missing the point of what was being promised – the companies refused to remove the information on the grounds that it was posted on social media websites.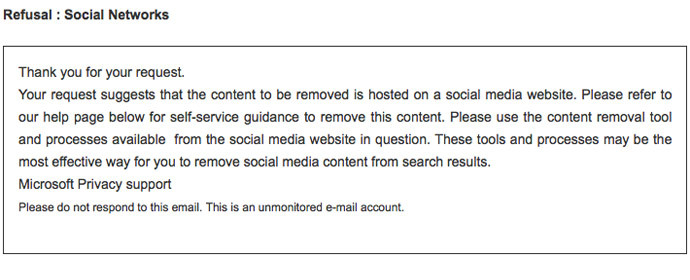 At present, only local versions of the search engines are dealing with requests, but EU law may soon compel the companies to extend the practice outside Europe, too.

The ruling is still contested across the continent, as some believe criminals and terrorists could simply be using it to their advantage.