Mickey Rourke's Russian adventure: Boxing, meeting Putin, looking to adopt dog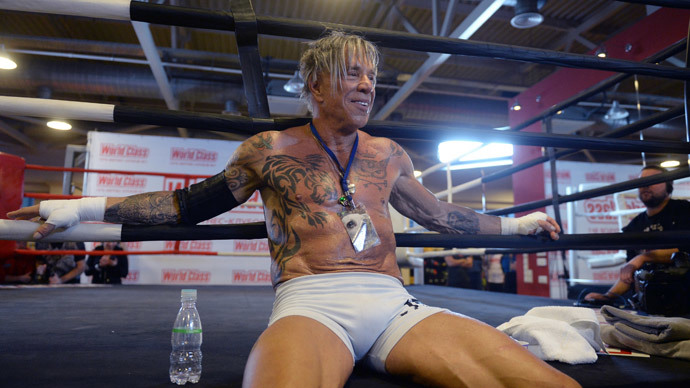 Hollywood star Mickey Rourke – a sex symbol of the 1980s – is enjoying his time in Russia this week. The actor, who is not a newcomer to the Russian capital, is getting ready for a boxing match in Moscow on Friday.
UPDATE: Church-blessed Rourke sports gold gloves, KOs 29-yo boxer in Russia (PHOTOS)
The 62-year-old, who has also been pursuing a boxing career, will appear in the ring in a five-round match versus a much younger American boxer.

Apart from starring in dozens of films, Rourke has been training in the ring since the early 1990s, and his Moscow match will be his ninth professional fight. He has won six of his previous eight bouts, and his current opponent – 29-year-old American boxer Elliott Seymour – has lost nine out of 10 fights.
"When you're older you can't be aggressive, you have to learn to use the defense, and fight with your head," Rourke, who has lost 15 kilos (35 pounds) in preparation for his Moscow fight, said.
Rourke started boxing when he was 12 years old, but left the sport in favor of an acting career. He became an acclaimed actor – and developed a large female fan base – after starring in the famous 9 ½ Weeks drama alongside Kim Basinger in 1986. He also won a Golden Globe for his performance in The Wrestler in 2008.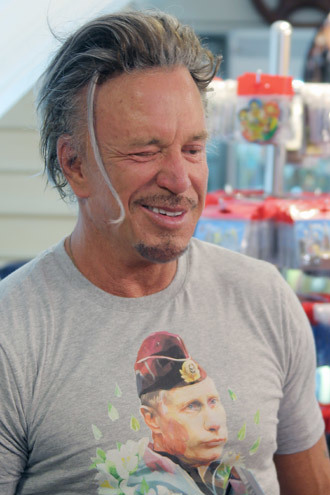 "I've always had a very good time here. The last several times I've come to Russia I've never seen the daylight, so it's sort of nice [this time] because I only know the nightlife," Rourke said, adding that he's changed his attitude and no longer parties hard when preparing for matches.
The American A-lister recently made headlines in connection with Russia, after he publicly expressed his favor towards the country's leader, President Vladimir Putin.

"I actually met Putin and I had a good feeling about him. I liked him, we got along very well and he seemed like a really ok guy to me," Rourke said at a news conference in Moscow.

When asked by RT why he bought a t-shirt with Putin's image on it, Rourke simply said he "felt like it," adding that he actually bought a few more because several of his friends in New York also "wanted some."

READ MORE: 'Putin the peacemaker' T-shirts now on sale at designer store in NYC
To tighten his connection with the country even more, Rourke – a longtime lover of dogs and a canine activist – said he would like to bring a four-legged friend back to America – if he "could find the right one." He then announced his plans to go to a dog shelter following his November 28 boxing match.
You can share this story on social media: